1 Cross Street
Main details
Address:
Present Occupier:
Present Owner:
Ground Floor:
Other Floors:
Date when first used by present occupier:
1 Cross Street
Grape Tree Health Foods

retail

Before and After Images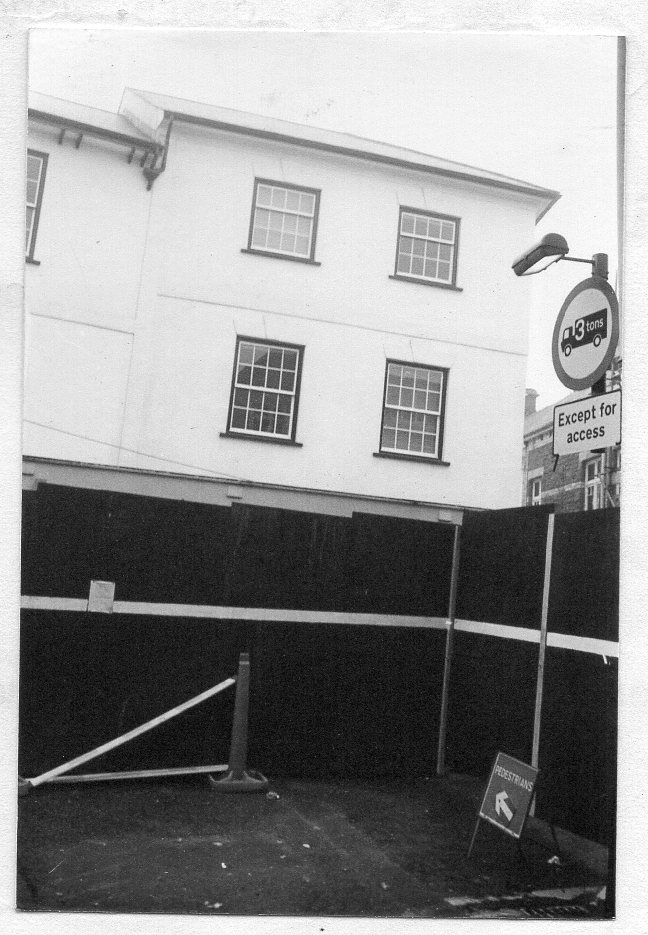 1979/80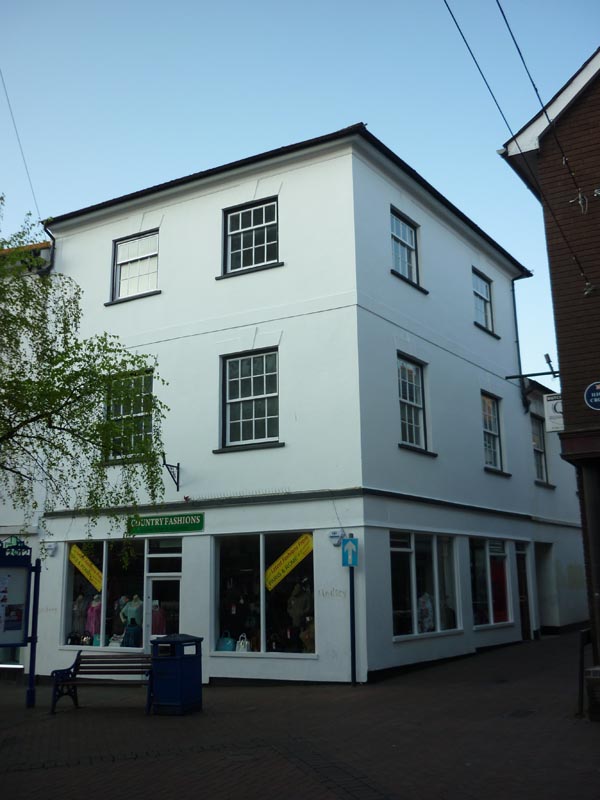 2015
---
About the building
Information from Abergavenny Local History Survey 1980:
1979/80 was rebuilt, restoring original 18th century frontage features but without the chimney stacks
Date stone – W  1713     D   1
This was the vicarage (or curate's house) for St John's Church
Was certainly a flannel factory . Part of a loom was left as part of the roof structure and seen by Gwyn Jones, before being demolished.   The street level is raised on this cross-roads . The original street level became the basement (cellar) and oak panelling and windows were still in situ (Alfred Jackson)
Alfred Jackson said there were probably 12th century foundation. There was a Tudor fireplace, oak stairs, old beams and rubble chimneys.     Bill heads in the Museum show the shop in 1861 and 1906.  In 1861, the roof is shown hipped.
Building joined with no. 2 Cross Street since 1920
Recent history
From 23 February 2018  : Grape Tree Health Foods.  A Company which opened its 100th store in October 2017, owned by Nick Shutts, based in Kingswinford in the West Midlands
6 January 2018 : Tiger closed after less than 2 years.  "Lack of footfall" quoted as reason
From April 2016 : Tiger is a Danish company, formed in Copenhagen in 1995 and now has branches world-wide; selling cheap small toys, household products and various similar
Clothing shop trading as Country Fashions, open from some time in 2015 and closed beginning January 2016
From ?   to 2014 : British Red Cross Charity Shop
From 1980 until ??   occupied/owned by Bernard Thorpe & Co, Estate Agents, later changed to Haarts Estate Agency.   In 1980, the Welsh Development Agency had an office on the upper floors
Adverts in Abergavenny Chronicle : in 1942 Alfred Jackson & Son Ltd advertised a "soot destroyer".      In 1954, F H Burgess were Aga suppliers and over the years advertised agricultural machinery, having stands at the Abergavenny Show etc.  By 1970, they were selling china, glass, cutlery etc.
Bernard Thorpe & Partners, Estate Agents advertised their opening in March 1980. The Monmouthshire Building Society also had an agency here.  In 1991, the Estate Agents were now known as Connells, along with the Prudential Property Services.  Adverts in 1993 show shop now known as Montague Harris Estate Agents and on 4 February that year, was advertised as Cornerstone Estate Agents.    In 2006, the Estate Agency was known as Haarts
---
Previous occupiers
Ironmonger & Agricultural Merchants
Local History Survey 1980
Ironmonger & Agricultural Merchants
Local History Survey 1980
Ironmonger & Agricultural Merchants
Frederick Trevor    ?Jones
J Morgan "Bank House" (Elizabeth Morgan)
Draper (also in Flannel Street)
Monmouth & Glamorgan Banking Co (House & Bank)
New Bank, Messrs Jones & Davis
---
Other information
Source : Adverts Abergavenny Chronicle
1986 : ad for Bernard Thorpe & partners, Estate Agents
2005 : ad for Haart, Estate Agents
If you have any further information about this property please email alhs@live.co.uk