1 Nevill Street
Main details
Address:
Present Occupier:
Present Owner:
Ground Floor:
Other Floors:
Date when first used by present occupier:
1 Nevill Street
Shackleton's
Chemist & photography shop

changed to Shackleton's around 1981
Before and After Images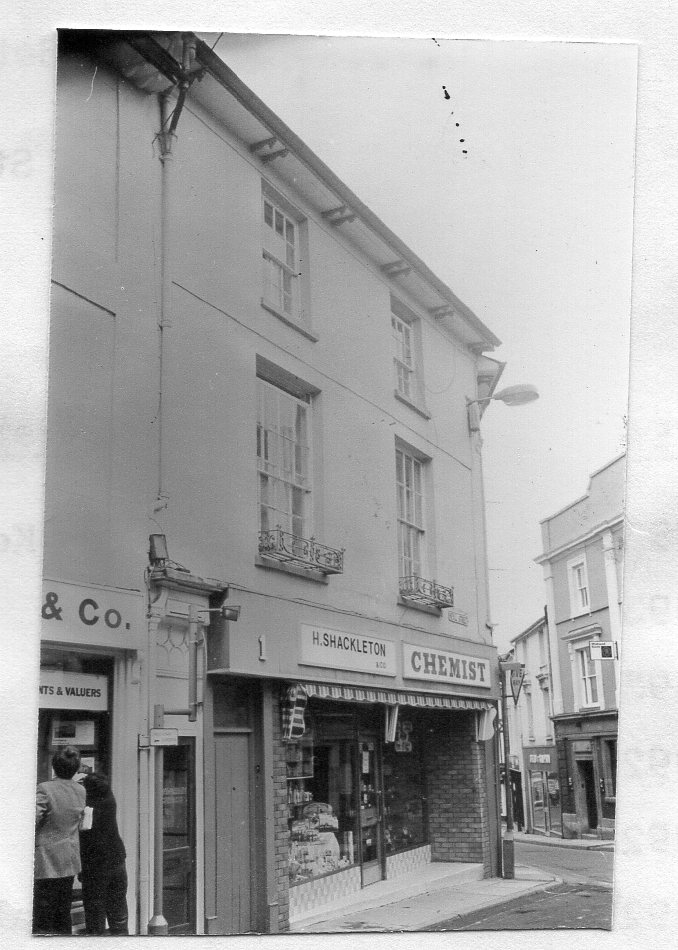 1979/80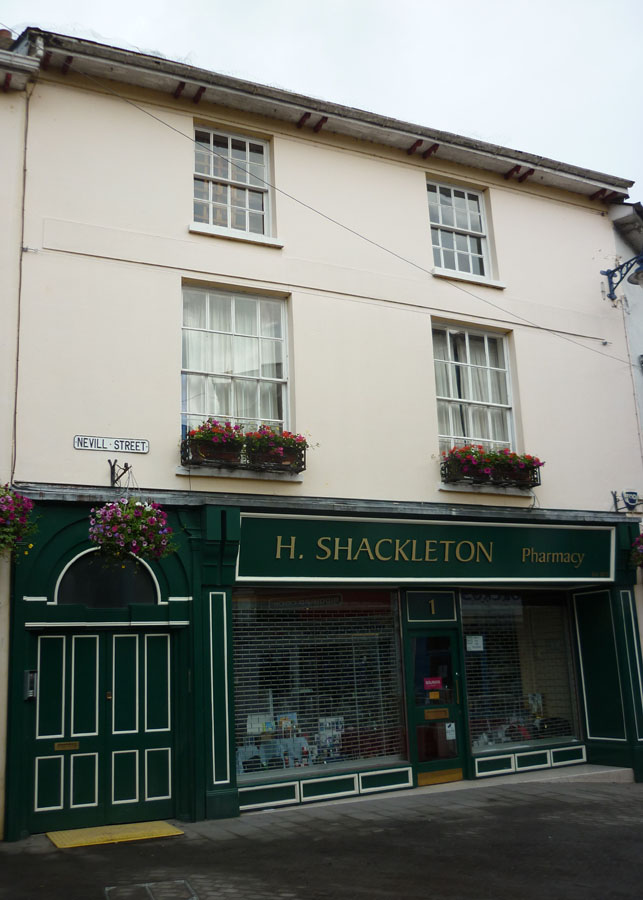 2016
---
About the building
Early 19th century front (Welsh Office)
The rear premises may date back to the 1600s. Georgian coins were in the floor at the back.
Iron grilles to the first floor windows.
The wide overhanging eaves and string course with the shallower Italianate roof pitch look as if the frontage was built around 1800. The fine ash bars in the windows are probably original, possibly machine made.
The rear of the building is considerably older than the front and was possibly a small cottage. Later the front was added and, together with the adjacent building in Nevill Street, formed the Raven Hotel.The deeds to no 5 refer to the Raven Hotel in 1810.
The two passages between 1 and 3 were the entrance to the courtyard and stables at the rear of the buildings. The cellars of the original buildings were still in use in 1980, those of no 1 having intact wine racks.
Recent history
1980: H Shackleton & Co, chemists/photography.
1974 -78 : S V Kent and son, photography and equipment.
1961 to 1973: S V Kent, photographic specialist.
1960: S V Kent, dispensing chemist, full page advertisement "local chemist introduces new ways to improve hearing".
1956 to 1959:S V Kent's cameras.
---
Previous occupiers
"         "/Henry Thompson publican
James Gosden
Henry Thompson
Henry Thompson
also William Thomas Hurst
Hat Maker
Chemist & druggist resident
James Gosden
Henry Thompson
Pharmacist
Hat Maker/Publican
Draper's shop
Druggist & China & Glass
William Griffiths
John Valentine
---
Other information
The Raven is not a common pub name and is thought to be a reference to loyalty to the Jacobite cause. Abergavenny lost its royal charter because the town bailiff would not swear allegiance to the protestant William & Mary who replaced the Stuart King James ll.  (Frank Olding)
There is an article in the Abergavenny Chronicle regarding the property on its centenary as a chemist in 1935.
If you have any further information about this property please email alhs@live.co.uk