11 Cross Street
Main Details
Address:
Present Occupier:
Present Owner:
Ground Floor:
Other Floors:
Date when first used by present occupier:
11 Cross Street
m2 Estate Agents
Alan Griffiths
Estate agent offices
Accommodation
2010 (name change exRoberts approx 2017)

Before and After Images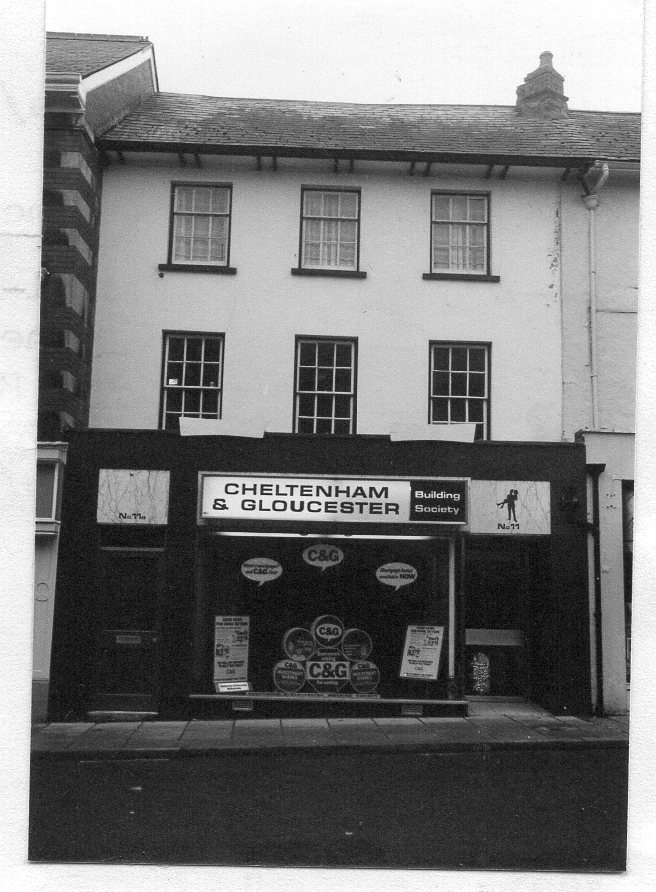 1979/80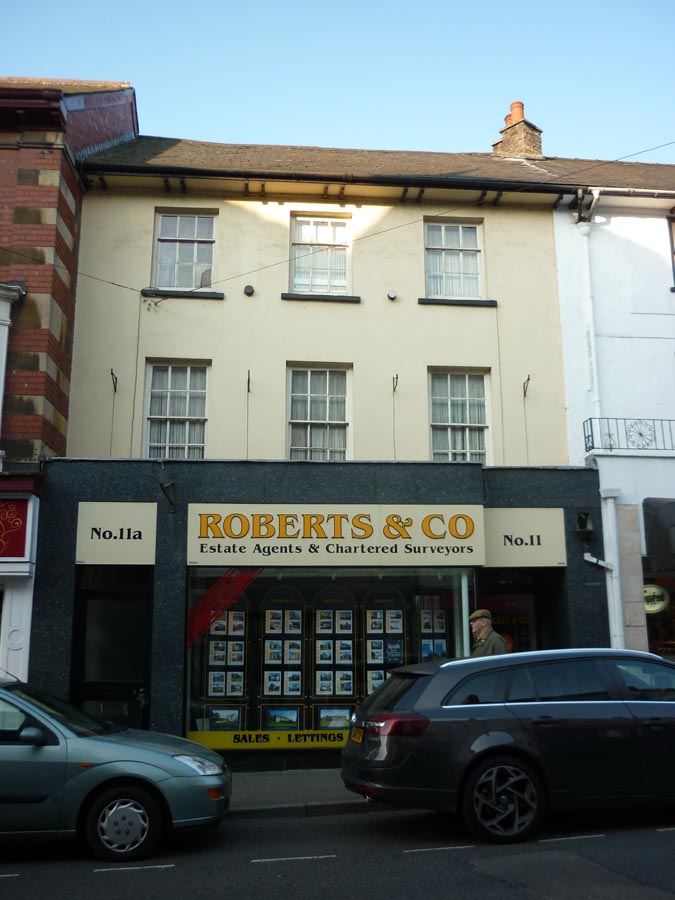 2015
---
About the building
Once Vicarage for St Mary's.
Modern black granite shop front.  Fine 17th century plaster ceiling in back ground floor room.  The beautiful oak staircase is now in the Museum.  (source C Price, Local History Society survey 1980)
Note the diamond-shaped Elizabethan chimney.   Like most other houses in the town, it was re-fronted in the early 19th century.  Unfortunately, the chimney was demolished in early 1985 (but was later replaced)
In early 20th century, the shop backed on to the graveyard of the United Reform Church in Castle Street.
To 1970 Williams, Fishmonger and greengrocer. Property went back to Castle Street.
From March 1973 Cheltenham & Gloucester Building Society
About the Occupiers
from Gabb MSS D.591.11.7 and D.591.5.6
1785 : leased to Charles Powell by Will of Walter Powell, Innholder of Abergavenny. Late in the tenure of Elizabeth Blashfield widow and William Powell, clerk and William Gimlett and James Gabriel (who married Elizabeth Gunter of no.10 Cross Street).  There are tombstones relating to Gabriel and Gunter, adjacent to each other, in St Mary's Church
(above quoted in Local History survey 1980)
Owner in 1906 – Albert Richard Williams : his father was secretary of Monmouthshire Rugby Union;  he "ruled with a rod of iron although he was a very quiet man"
1866 : William Saunders, nursery and florist.  Receipt in the museum (A/4642-0).   Also a photograph of Albert Williams in the 1902-3 guide
In 1920 : Was also "Hansard's Mineral Water Manufacturers as well as Capital and Counties Bank Ltd"
(see "Previous Occupiers")
Estate Agents from 2010;  Roberts then m2 Estate Agents
---
Previous Occupiers
1971-2 (opened March 1973)
Cheltenham & Gloucester Building Society
Lloyds Bank (from 1876- c.1906)
William Saunders & Lloyds Bank
Nurseryman & seedsman (employing 26 men)
Mary Jones & Margaret Jones
Catherine Papps, widow of Thomas Papps
---
Other Information
For more images and information on 11 Cross Street please click 
* here *
.
Abstract of Indenture of Reconveyance 1859 : 11 Cross Street

Indenture 1847 : between Mary Powell, Elizabeth Lewis and Thomas Philpott, late of Abergavenny (Miller) then deceased.  Messuages, malthouses and hereditants.  (Elizabeth Phillpott and Edward Blashfield, executors of Thomas Phillpott)
Indenture 1859 : between Elizabeth Phillpott of Abregavenny and Edward Blashfield, late of Abergavenny but then of Gloucester and Elizabeth Lewis (widow)
Lease 1897 : to A R Williams, Fishmonger & Fruiterer "all that messuage (formerly shop and dwelling house).  Lately used as a Bank".   Shop used by Samuel Osborn Pegler, Grocer and now or lately, Llloyds Bank
Agreement 1897 : between Lloyds Bank Ltd and A R Williams, letting no. 11 Cross Street. Expired 1899.  Rent £60
Conveyance 1902 : Mrs Lilian K Lewis, widow of S W Lewis of Great Yarmouth (jeweller).  Owner but never occupier.   To Mr Albert R Williams, fishmonger and fruiterer.   Leased property from 1897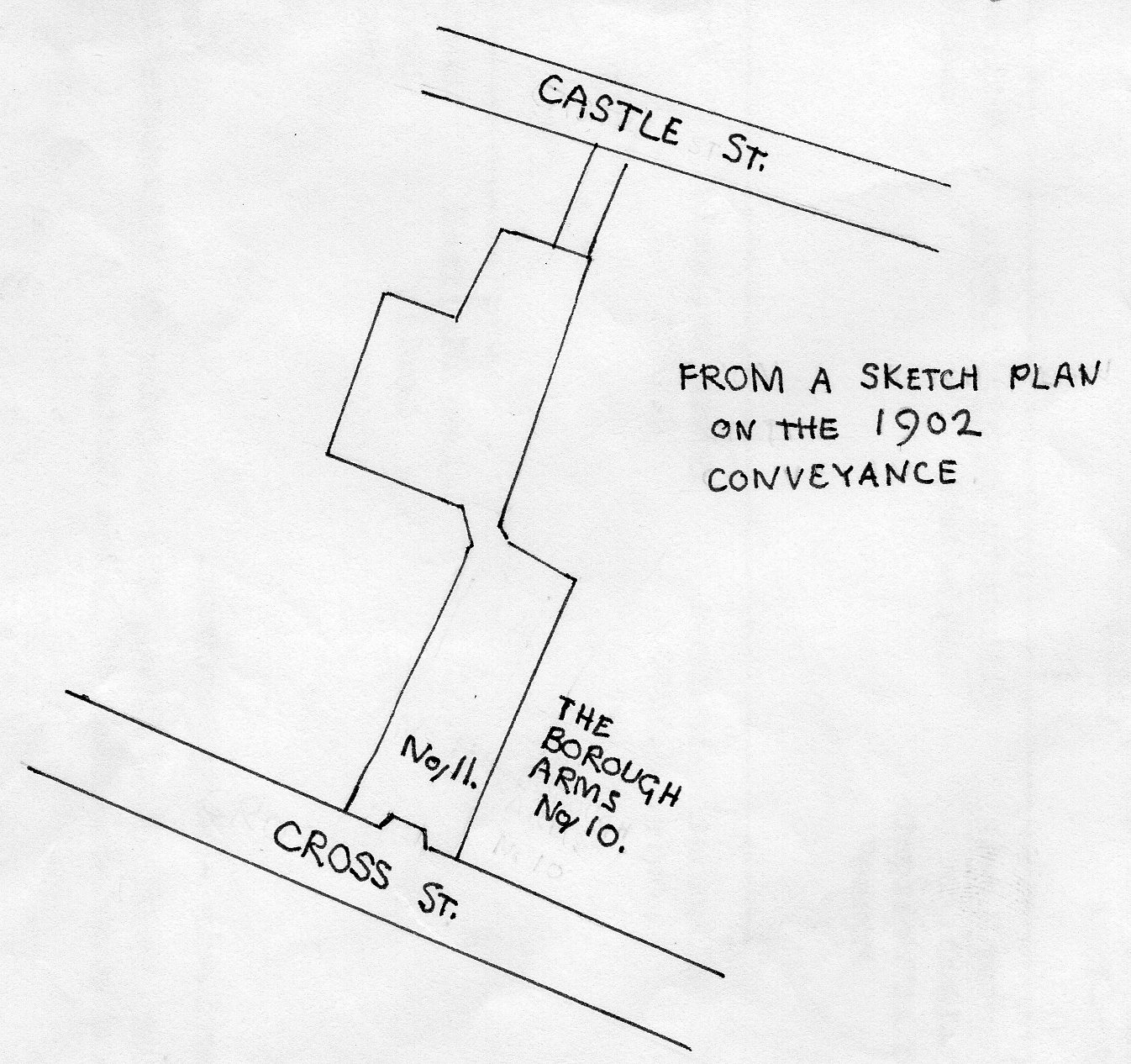 1936 : A R Williams died.  Left property and business to R N T Williams and Ernest Newton Daniel Williams.  Ernest dies 1952 leaving life interest to his wife, Elvira
1964 : Mrs E Prosser, formerly Elvira Williams, widow of E N D Williams (remarried).   Sells life interest in property to R N T Williams for £700
Conveyance 1971 : Mrs Vera Williams (widow of R N T Williams) and G C Clarke Esq (new trustee) to Cheltenham and Gloucester Building Society
(Also included with original Local History Survey of 1980 is a "Family Tree concerning ownership of nos 10/11 Cross Street)
In 1942 : ad in Abergavenny Chronicle : "Messrs A R Williams, Fish & fruit merchants – wanted a "strong lad".  Adverts found in paper up to 1968.   Ad for Cheltenham & Gloucester Building Society first appear in 1973.  Advert for a "typist/cashier" in 1980.
In 1984, "A E Thomas Esq, Local Treasurer for Cancer Research Campaign" (assume Manager of C&G Building Soc)
Source : Abergavenny Chronicle adverts:
1986 : ad for Cheltenham & Gloucester Building Society
If you have any further information about this property please email alhs@live.co.uk