13 Nevill Street
Main details
Address:
Present Occupier:
Present Owner:
Ground Floor:
Other Floors:
Date when first used by present occupier:
13 Nevill Street, Tindall House
(previously Nidra House)
Abergavenny Chronicle newspaper offices
all floors
Before and After Images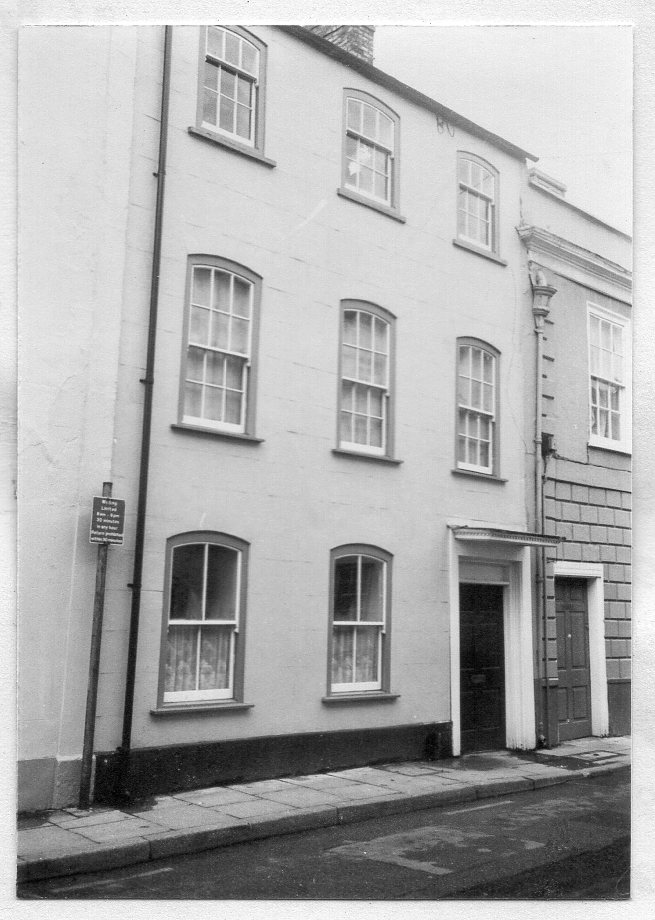 1979/80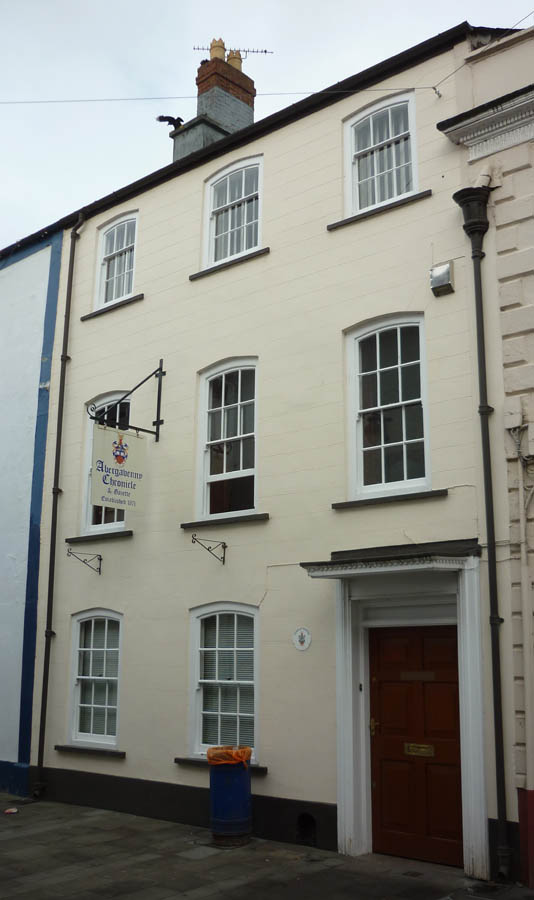 2016
---
About the building
Built around 1730-1750. Double hung sash windows with segmented heads. Glazing bars intact on first & second floor windows only. The mouldings around the windows have been removed. Slate roof.
The imitation joints in the stucco are original and correct. There may have been a projecting string course between the first and second floor windows. The front door is good, originally having moulded architraves which have been replaced. A long extension goes down the garden, the windows overlooking the garden of no 15. This was used as a boys' school around 1877-1901. (source L Hurley)
Recent history
2000 Abergavenny Chronicle Newspapers (previously in Frogmore Street)
1982 Mrs M Berry, ground floor used as a nursery school, other floors as flats until 1982.
Between 1947 & 1982 used as Private house, British Legion Art Classes & a luncheon club, Mr Wagstaffe Rigby of Gardner, Heywood & Gardner & R Townsend, Solicitors.
---
Previous occupiers
Dr William Thomas Emlyn Blackmore
Hon Medical Officer to Victoria Cottage Hospital & dispensary & public Vaccinator to Llanarth District
Madame Ardin (not as previously recorded a refugee from WW1 as she was present in the census of 1901. Natalie Courvoiser, her maid, kept shop in 52 Frogmore Street
Thomas Tomkins (moved from no 7)
Rate collector & schoolmaster
Currier, leather merchant & Maltster
Brewer & Maltster employing 8 men
---
Other information
If you have any further information about this property please email
alhs@live.co.uk