16, 17 and 18 High Street
Main details
Address:
Present Occupier:
Present Owner:
Ground Floor:
Other Floors:
Date when first used by present occupier:
16 17 and 18 High Street
Mountain Warehouse

Outdoor clothing & accessories
ditto
Aug 2019
Before and After Images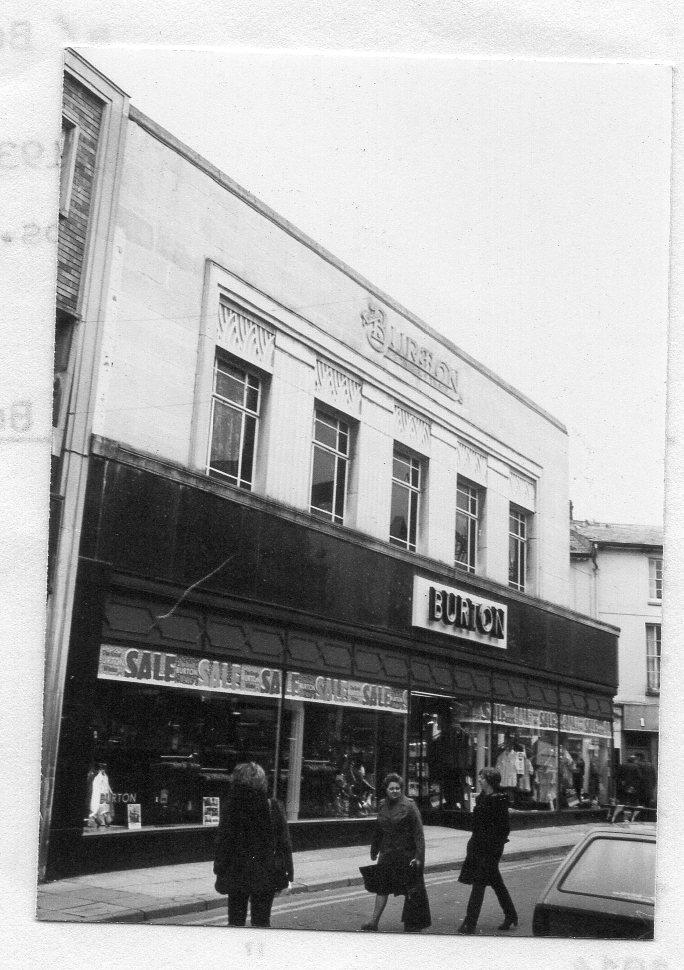 1979/80
High Street 2016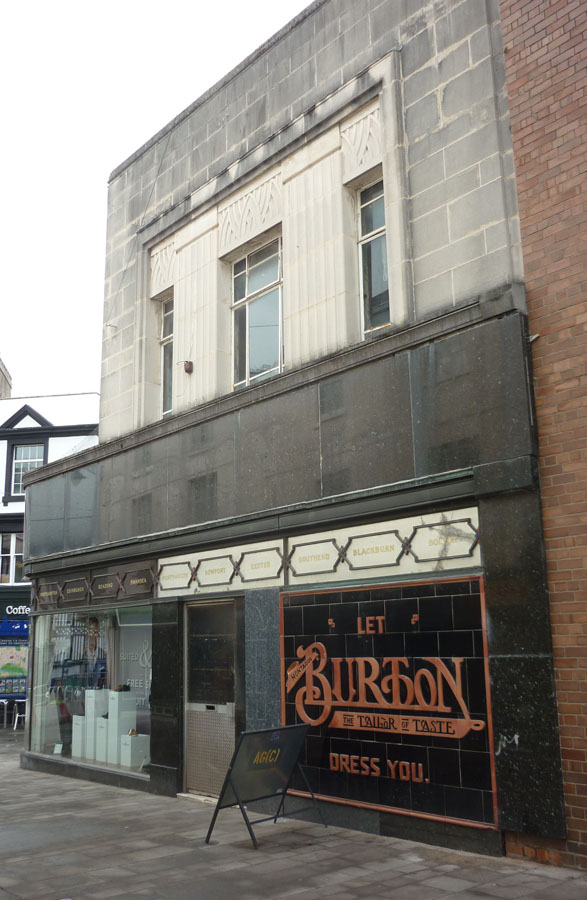 Nevill Street 2016
---
About the building
Source : Abergavenny Local History Society Survey 1980:

date of building : 1936.
Nos 16, 17 and 18 were empty for about 7 years before the buildings were demolished and Burtons was built on this site.
Recent history
Aug 2019 : after extensive refit (and retention of listed art deco frontage) Mountain Warehouse moved into this shop (from no. …..
2017 : To rent; emanuel-jones.co.uk agents  £85k rent whole building or £65K for ground floor and basement;  £87.5K business rates.   2400 sq ft ground floor; 2300 sq ft 1st floor;  300 sq ft basement.   Website in May 2018 states "under offer"  (?who)
7 October 2017 : After 80 years, Burtons is closing on this site (?Art Deco frontage listed)
Chevron Night Club on first floor of building from 1975  (?don't think it is still there).  It certainly had a chequered past in the 1970s/1980s!
1938 – The building was occupied by Burtons the tailors.
---
Previous occupiers
H M Westwood (no.18)
E Price (no.16)
E Price (no.16)
Westwood (no.17/18)
E Price (no.16)
Pipers (no.17)
Thomas Allen (no.18)
Draper
Penny Bazaar
Boot Maker
E Price (no.16)
Pipers (no.17)
Thomas Allen (no.18)
Draper
Penny Bazaar
Boot Maker
E Price (no.16)
Thomas Allen (no.18)
Draper
Boot Maker (also in Nevill Street)
E Price (no.16)
Thomas Allen (no.18)
E Price (no.16)
Thomas Allen (no.18)
Draper
Boot Maker & leather merchant
E Price (no.16)
Thomas Allen (no.18)
E Price (nos.16/17)
Thomas Allen (no.18)
Draper
Currier & leather merchant
E Price  (nos.16/17)
Thomas Allen (no.18)
Linen Drapers
Currier & shoe maker
E Price (nos.16/17)
Thomas Allen (no.18)
Linen Drapers
Currier & Shoe maker
E Price (nos.16/17)
Thomas Allen (no.18)
Linen Drapers
Currier & shoe maker
E Price (nos.16/17)
Thomas Allen (no.18)
Linen Drapers
Currier & shoe maker
E Price (nos.16/17)
Thomas Allen (no.18)
Linen Drapers
Currier & shoe maker
E Price (nos 16/17)
Mrs Bruton (no.18)
Linen Drapers & carpet warehouse
Millinery & dress rooms
Linen Drapers & carpet warehouse
Grocer, tea dealer & chandler
Pearce & Price (no.16)
Price (no.17)
Woollen drapers
Linen drapers
---
Other information
Burtons was started by Montague Burton in 1903 in Chesterfield, when he was aged 18.  When he died in 1952, the company was the largest multiple tailor in the world.  Since 2002 it has been part of Arcadia Group  (source : burton.co.uk)
First floor : "Lucania" Billiard Rooms from 1936 to 1975 when it was converted to Chevron Nigh Club, owned by Carpanini who also owned the Beaumont Cafe at 70 Frogmore Street (as a side issue, there is now Carpaninis in Frogmore Street selling food/wine/gifts  –  assume same family)
If you have any further information about this property please email alhs@live.co.uk