17 (with18) Frogmore Street
Main details
Address:
Present Occupier:
Present Owner:
Ground Floor:
Other Floors:
Date when first used by present occupier:
17 Frogmore Street
Coffee Lab   
James Shapland (owner of business)
cafe
9 October 2021
Before and After Images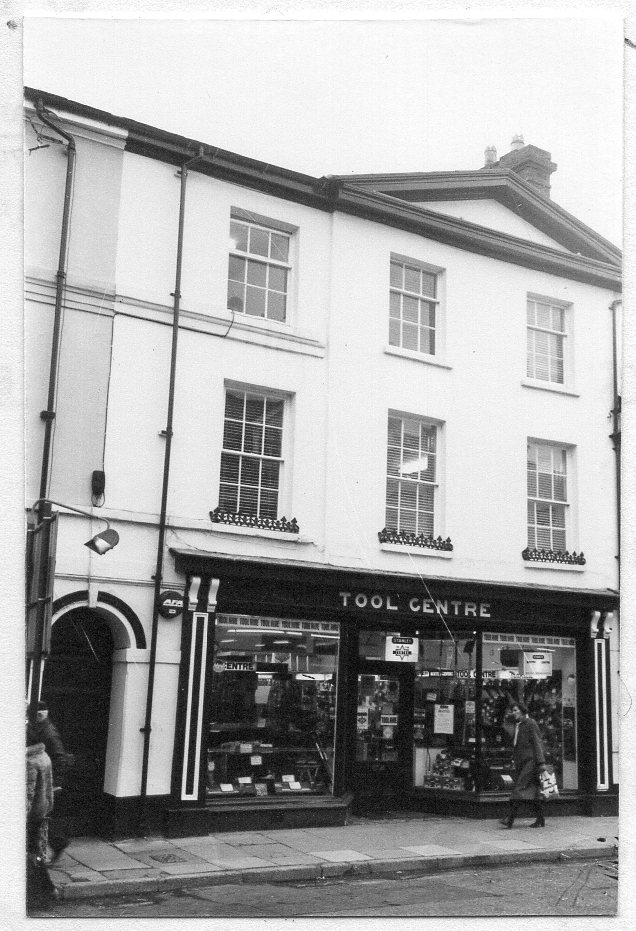 1979/80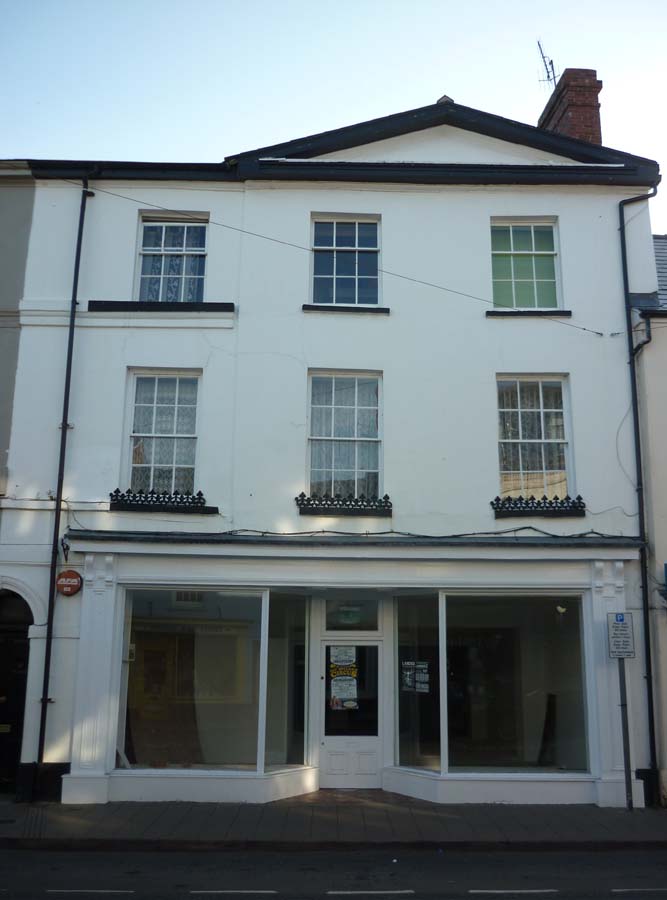 2016
---
About the building
(With no 18) Slight projections of 2 bays on each side topped by plain pediments. The pavilion ends over the two windows are technically incorrect as it leads to an unresolved duality. Sash windows with glazing bars intact. Interesting plaster design ceiling in former Board Room on first floor. Photographs on loan to Abergavenny Museum. Described as new build in 1857, this and no 18 as a semi-detached property.  (l Hurley)
Behind the shop, small factory & stores were built to manufacture home made boiled sweets. On new Year's Day sweets were given to the the children of Abergavenny.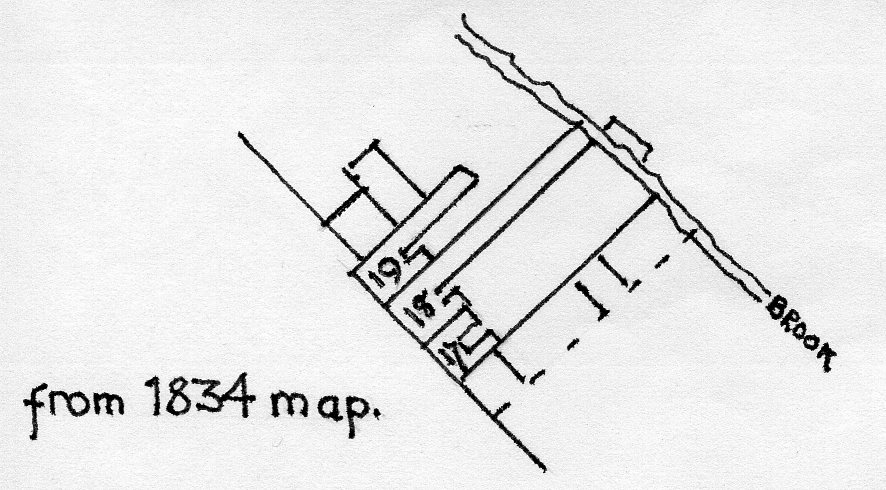 Recent history
October 2021 : Coffi Lab – a local independent, partnered with Guide Dogs UK. founded by James Shapland. Also in Monmouth and Marlborough
June 2016 – November 2019  : Boots Opticians  (closed Nov 19, shop now empty)
vacated in April 2016 by Winter Sport, sports wear shop.
2006: Smartypants, baby/children's clothes, maternity wear open 1.4.06
1989: JFA Office Requirements, office services.
1988: Tool Centre, Power tools & machinery hire
1984: Tool Centre, Mr P B Nuttall
1982: Tool Centre
1981: Tool Centre, Builders Supplies
1980: Tool Centre, advert. states Hire Dept at no 36 – but this seems to have been a charity shop?
1979: F J Nuttall, Tool shop with offices above.
1970, 1971: David Scott, cigarettes & confectionery (and advertising liqueurs)
1970-1979: F W C, T M & D M Scott, confectioner
1959: shop window smashed during a fight, owner Clifford Scott, report 30.10.59
---
Previous occupiers
" & mineral water manufacturer
Confectioner & lemonade factory
Rev Bury, vicar of Abergavenny
documents in separate file
Simon Andrus & Thomas Andrews
---
Other information
Before the semi-detached houses were built in 1857, this must have been a short row or court of cottages. In 1851, these were occupied by: William Burris, nailer; William Duffield, nailer;  William Evans, tailor;  Henry Morgan, carpenter; Walter morgan, mason & grocer;  one uninhabited; James Hanratty, hawker;  Richard Kyrwood, butcher;  Thomas Hesketh, master ropemaker, employing 2 boys;  Elizabeth Harris, milliner.
For more information about Scott's tobacconist click * here *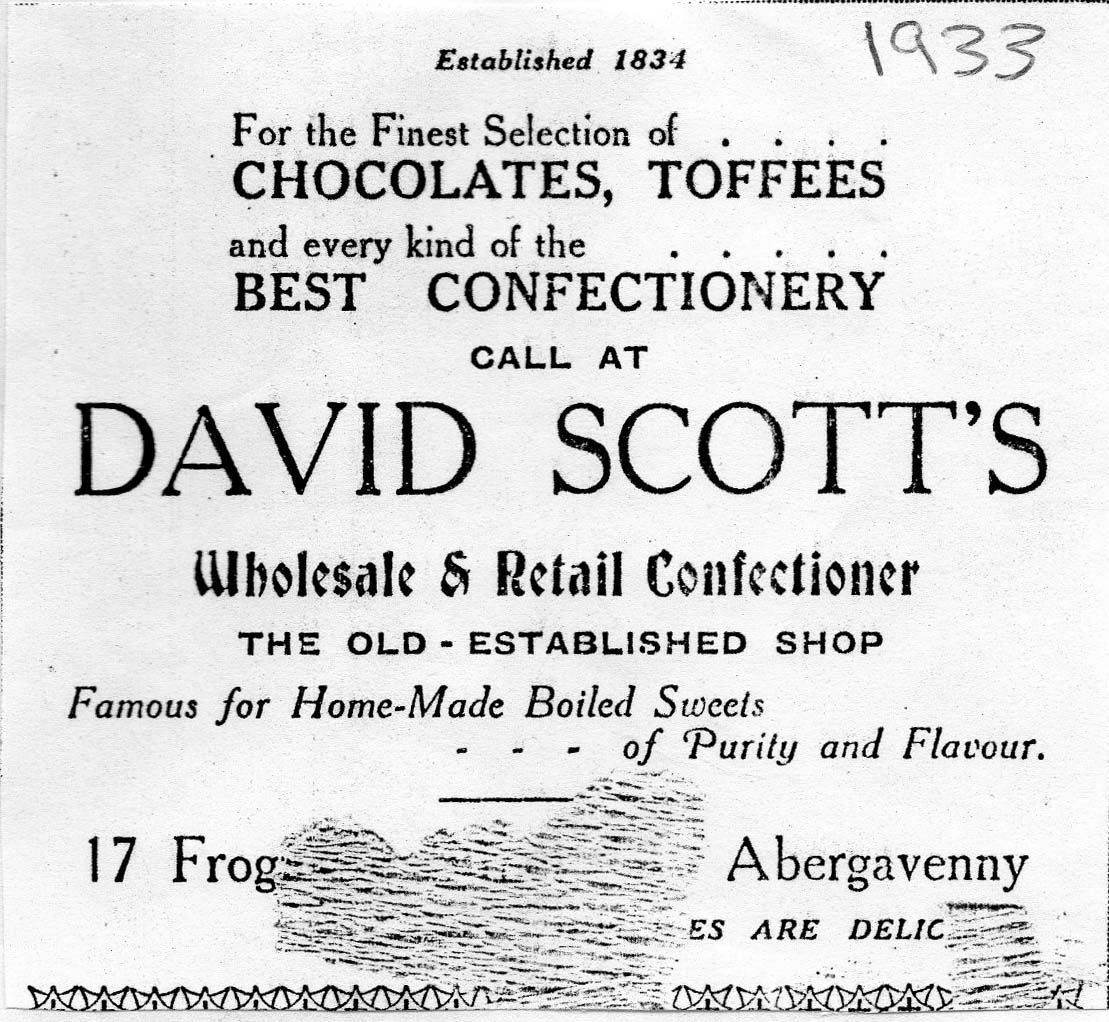 If you have any further information about this property please email alhs@live.co.uk