18 Cross Street
Main details
Address:
Present Occupier:
Present Owner:
Ground Floor:
Other Floors:
Date when first used by present occupier:
18 Cross Street
Baroque Boutique & Beauty
     (Closed Sept. 23)


2013
Before and After Images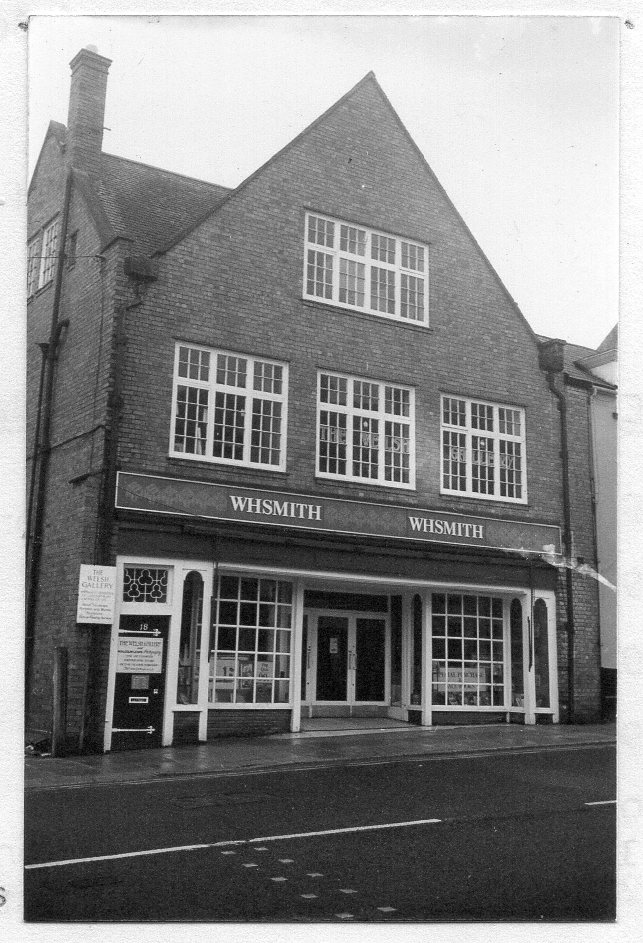 1979/80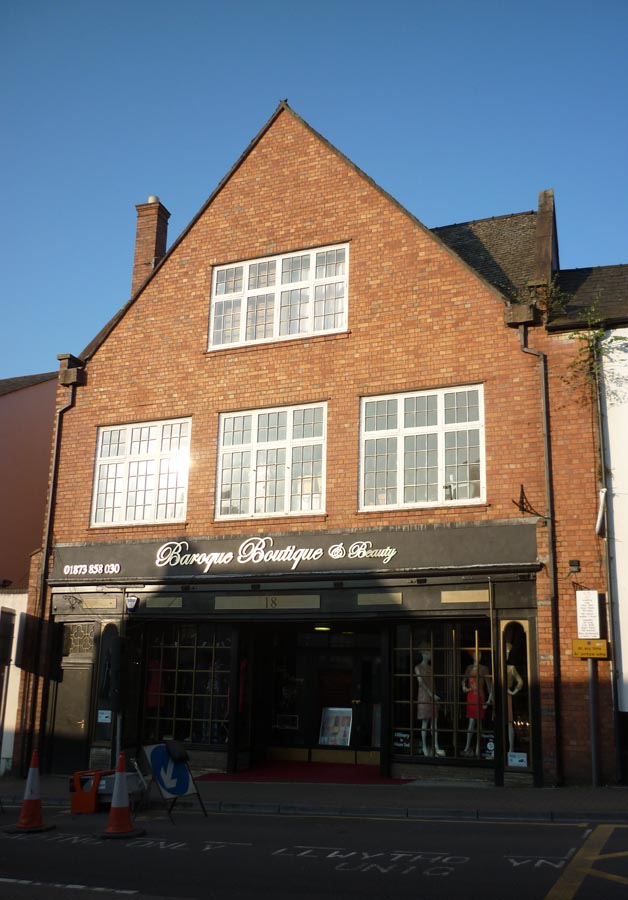 2015
---
About the building
From Abergavenny Local History Survey 1980
Built by W H Smith in 1926 (source : W H Smith's Estate Department). Shop interior refitted after 1966.
Recent history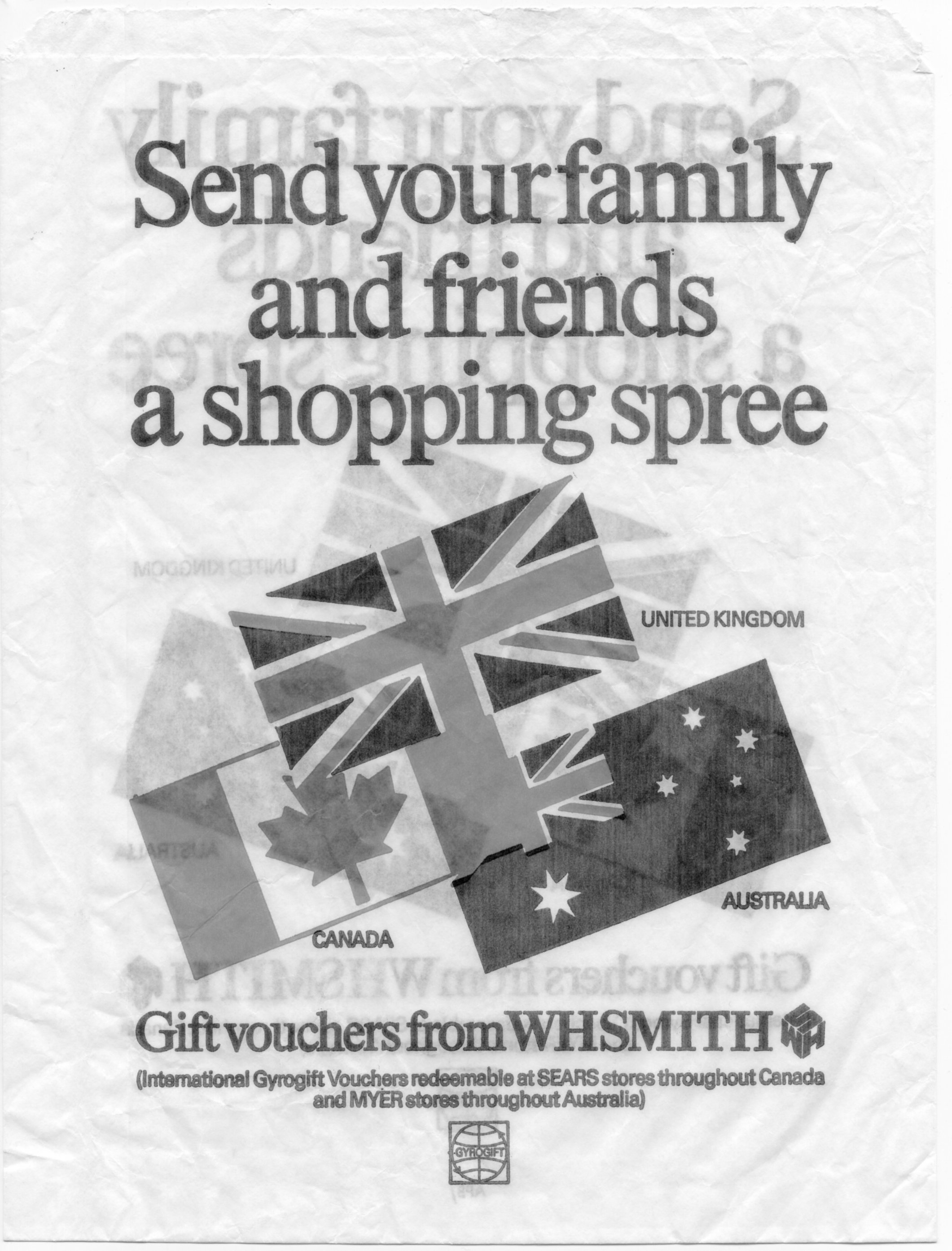 At time of original Abergavenny Local History Survey (1980), the ground floor was occupied by  W H Smith (as it had been since 1926)
At that time, on the first floor was Malcolm Lewis "The Welsh Gallery" (wedding photographer  (he also did photos for Abergavenny Chronicle;  and art gallery);   on second floor – Raymond Cox had a 3 year lease (assume this was accommodation)
By 1991* there is an advert in the Abergavenny Chronicle in this year for Family Value Discount Store selling "bargain home goods, toys, etc (an early "pound shop").  They are still advertising in 1993 and in 2000 are advertising for an assistant manager and cashier.    (*W H Smith's moved to current Frogmore Street premises in ???)
From : ?? to September 2023 : Baroque Boutique : Occasion wear for weddings/events/mother of brides etc.  also included hairdressing salon for some of the time.   Present on this site for more than 10 years
---
Previous occupiers
Capital & Counties Branch
Capital &  Counties Branch
Capital & Counties Branch
Bristish Empire & Mutual Life Insurance
National Provincial Bank of England
National Provincial Bank of England
Richard Price,Managers of above
---
Other information
For more images from 18 Cross street click 
* here *
.
From Abergavenny Local History  Survey 1980
In 1920 : Manager of Lloyd's Bank –  Stanley Rawlins, Treasurer to Rural District Council & Highway Purposes
In 1906 : Manager of Capital & Counties Bank – Edgar Huber Bretherton (Treasurer for Highway Purposes)
In 1891 : Manager of Capital & Counties Bank – Edward James Baker
In 1879 : Manager of Gloucestershire Bank – Mr E S Baker
In 1871 : James H Farquhar, Solicitor at British Empire & Mutual Life Insurance
In 1865 and 1858 : Manager of National Provincial Bank of England – Edward Price
W H Smith's was formerly at 13 Cross Street where they had taken over from C J Fricker, Bookseller & Stationer (source: Advert 1906).  Prior to that, they had been at the L & NWR Station (Abergavenny Directory and Year Book and photos)
There is a photograph of the Capital & Counties Bank (reference A/157=1979. Official Handbook to Abergavenny c.1902/3)
On p.116 quote "was established in 1834 and now has a large business in London and the provinces with a paid up capital of £1,300,000 and resreve fund of £850,000.  The Abergavenny Branch was opened in 1872"
Source : Adverts in Abergavenny Chronicle
1986 : ad for Malcolm Lewis, Photographer (1st floor)
If you have any further information about this property please email alhs@live.co.uk