19 Nevill Street
Main details
Address:
Present Occupier:
Present Owner:
Ground Floor:
Other Floors:
Date when first used by present occupier:
19 Nevill Street
Get Connected (?? Nov 18 Get Connected is at 14 Frogmore St having moved from 19 Frogmore St)

Accomodation
Before and After Images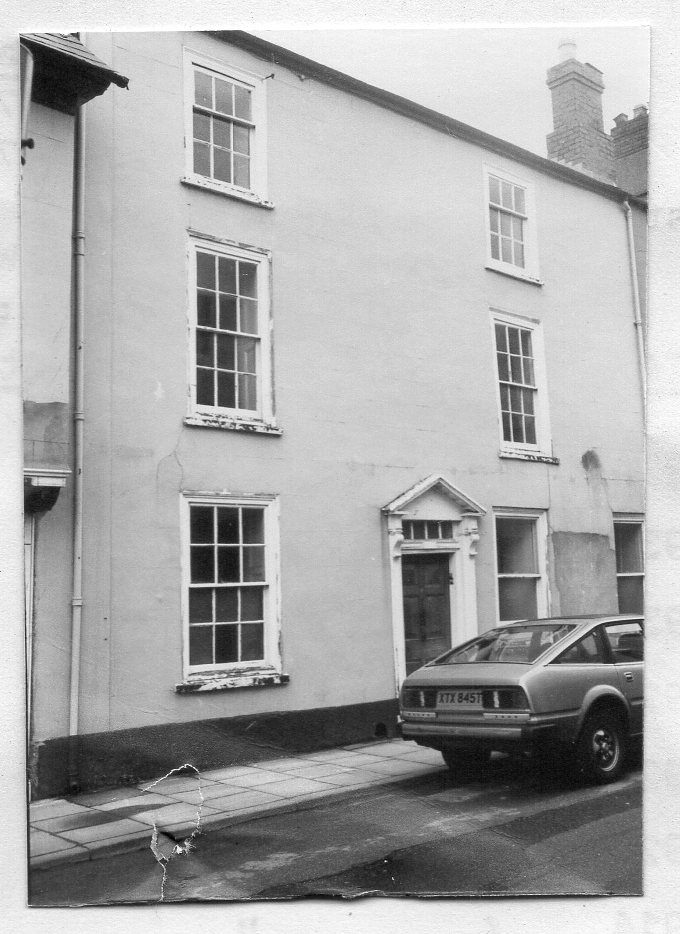 1979/80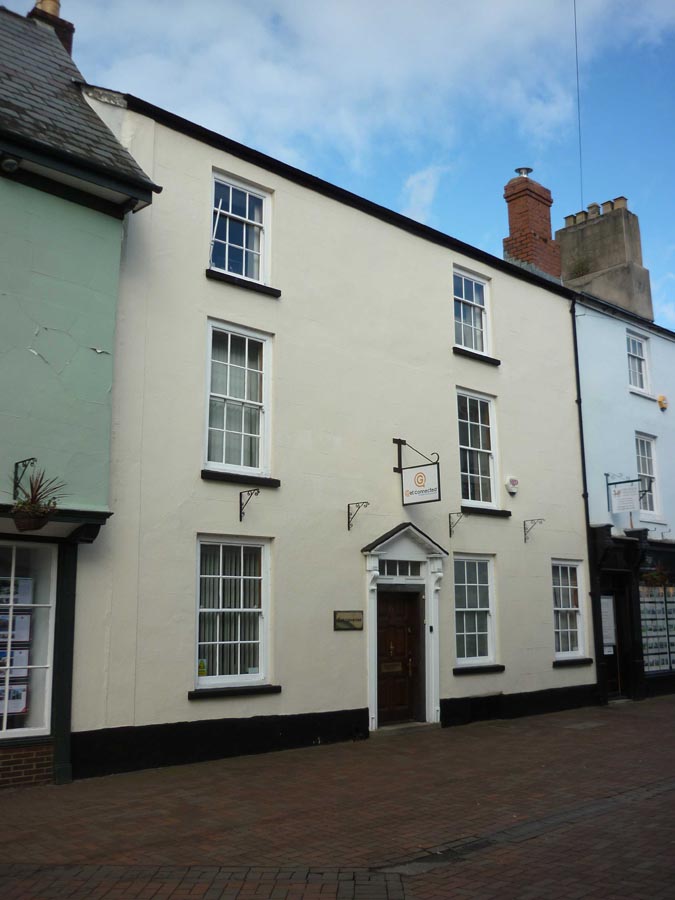 2016
---
About the building
Late 18th century frontage with earlier behind. The house is deep;  as observed by C Price in 1979, the structure was:
Street – shop- composition room – living room – kitchen -scullery – back
During renovations in 1984-1985 when the building was gutted, the timber framing with wooden pins could be clearly seen on the north and south walls, with some wattle and daub in-filling still in place on the north wall. There was also an oak door frame blocked up with lath and plaster, with a simple wooden Tudor arch. It could be seen that the original steep pitch of the roof had been retained at the back of the house, while at the front the timbers had been raised to allow for a full height third storey in the 18th century. Part of the printing press remained in the basement supporting the ground floor.
Recent history
2000, 2006: Gwerin Housing Association offices
1991: Alun Griffiths, contractors, civil engineers.
1988: Sun Alliance Pensions, investment services.
1973-1978: Charles Price & Son Ltd. Flats & offices (source: C Price & deeds)
1978: Alun Griffiths, offices
1967: Yeomans Miller, travel agents.
---
Previous occupiers
Mrs Irene Rees (sister-in-law of Owens)
Flats & offices
(Mr Williams, celebrated diviner, lived here for a year or two)
E V Owen died and the joint tenancy was severed that year
Owen John & E V Owen
Printers & Registrar of marriages
John Owen was registrar of marriages, E V Owen deputy registrar
"        "
1906-1914 owner: R Townsend, said to have joined the foreign legion
"        "
1871 – 1905 owner:E F Gardner
William Wozencraft Morgan
husband of Mary Needle M 1854
In Occupation:Charles Daniel, Draper
employing 21 men & 3 assistants
Mary Jones, daughter or wife of H Jones
---
Other information
In 1741, Mrs Elizabeth James, a widow (36) resident in this house, married George Whitfield, the Gloucester Methodist preacher and friend of Charles Wesley. (The Whitfield Presbyterian Church is in Pen-y-pound.) She lived here spasmodically during the rest of her life, when her husband was on tour (see article from Abergavenny Chronicle 1982 John Williams)
The house passed from Mr Matthew David Maxwell (owner before 1822) to Hugh Jones, then Mary Jones of Abergavenny who, in 1843, left it to Mary Needle of Colwyn Bay. In 1854, Mary Needle married William Wozencroft Morgan. In an Affadavit in 1871 she states that the garden wall (on the site of the old town wall) had sheds with roofs resting on the wall. There was formerly a summerhouse there. Mr Delafield, who owned the pub garden on the other side of the wall, was said to have repaired it without permission. There was litigation (Deeds)
In 1871, Thomas Lloyd Morgan mortgaged the property for £375, to Eliza Isabella Gardiner and Edgar Frederick Gardiner and in 1897, they bought it and in 1902, mortgaged it to Iltyd Lloyd Gardiner for £200.
In 1899, It was leased to the Owen bothers who came from North Wales and started printing with Sargeants (Queen Street). Owen John Owen, the eldest was mad on cars and drove a Morgan 3 wheeler with great zest. He died in 1960. His brother Edwin Vaughan, "did all the work". After their deaths, their widowed sister-in-law, converted it into flats. (C Price)
John Owen Y Fenni 1867 -1960. Born Dolgellau, son of Dafydd Owen, compositor and reader in the office of Y Dysgedydd and Y Dydd. He served his apprenticeship there and moved to Abergavenny in 1887 to work as a Welsh compositor in Henry Sargeant's press. In 1897 he and his brother, Edwin Vaughan Owen, bought Minerva Press and their office in Nevill Street became a meeting place for the local Welsh-speaking community. Amongst other titles, they published Eluned Morgan's works: Dringo'r Andes (1904),Gwymon y mór (1909) and Ar dir a mór (1913).
On 9 October 1909, John Owen married Mabel Annie Dawson and was well known as a choir conductor, elocutionist and witty public speaker. Although he refused to compère at the National Eisteddfod in Abergavenny in 1913, he did so regularly at National Eisteddfodau from 1920 to 1937 and was made a member of the Gorsedd of Bards. He was a member of the Independent Church in Castle Street and gave over 50 years service as a lay preacher. His interests included astronomy, climbing mountains, painting, local history, cycling, motoring, and playing the harp. He received the freedom of the town of Abergavenny in 1949 and an OBE the following year. At his death in 1960, a tribute was paid to him as the "Patron saint of Gwent". (from Dr Sian Rhiannon Williams' biography)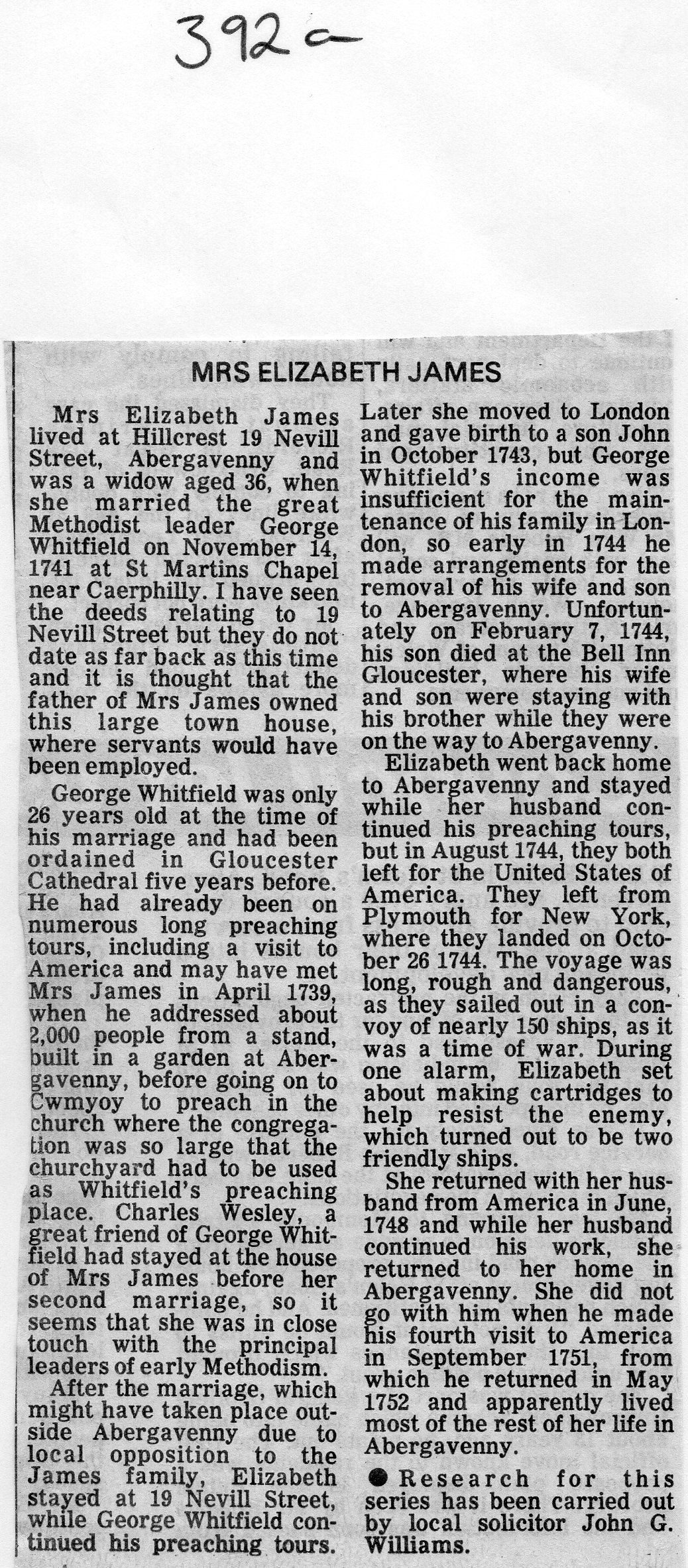 If you have any further information about this property please email alhs@live.co.uk