19/19A High Street
Main details
Address:
Present Occupier:
Present Owner:
Ground Floor:
Other Floors:
Date when first used by present occupier:
19/19A High Street
Neon Sheep (owned by Mountain Warehouse)

gifts, accessories, stationery, homeware

Aug 2019

Before and After Images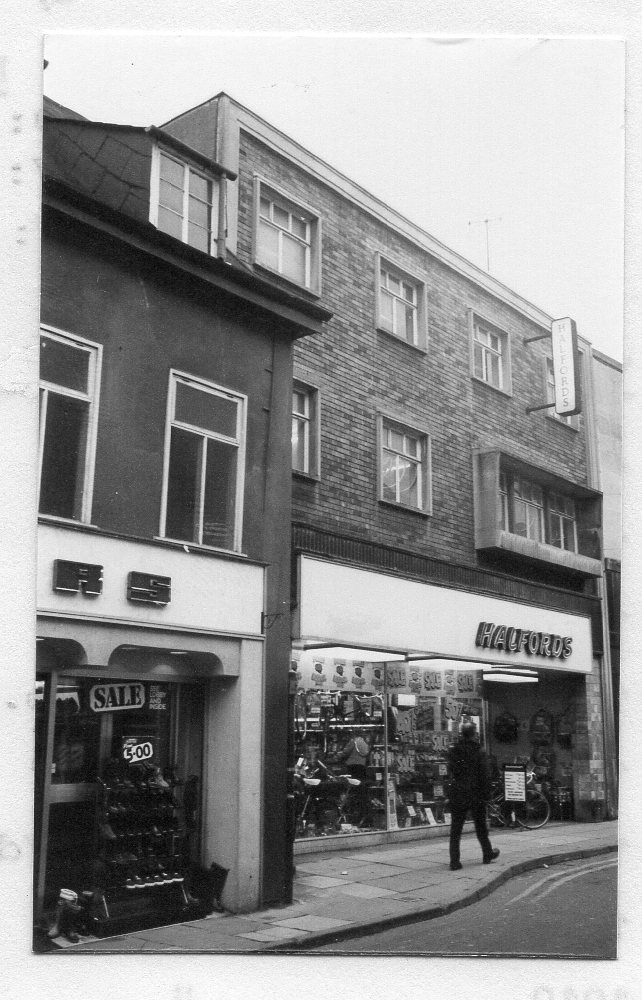 1979/80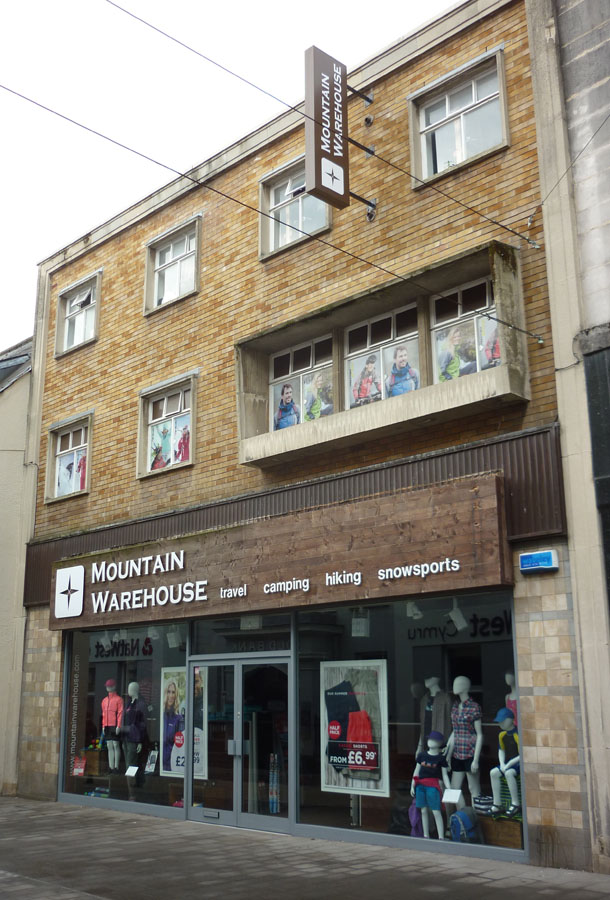 2016
---
About the building
Source : Abergavenny Local History Society Survey 1980:

(19 and 19A treated as one property and was known as Sydenham House)
Modern shop front (1958).  Late 18th or early 19th century shop premises. Rear section could well be medieval.   Tudor archway on right side.  Slate roof.   (Welsh Office)
Recent history
Feb 2022 : post pandemic the company was closing several of its Neon Sheep shops, including Abergavenny
From Aug 2019 : "Neon Sheep" : Founder of Mountain Warehouse, Mark Neale, launched this company in 2017
From ? to Aug 2019:      Mountain Warehouse (19 and 19a)  :  hiking/camping/cycling clothes and equipment
From 1959 to ??  Halfords (19 and 19a) : Cycle & Motor Accessories
From 1947 to 1959 : Wymans (19 and 19a)  Stationers
To 1947 : Webb & Co (no.19) : Drapers. Advertisement in 1948, cabinet for sale.
---
Previous occupiers
Webb & Co (no.19)
J H Horton (no.19a)
Webb & Co (no.19)
J H Horton (no.19a)
Webb & Co (no.19)
J H Horton (no.19a)
G Watkin & Co (no.19)
J H Horton (no.19a)
G Watkin & Co (no.19)
J H Horton (no.19a)
Drapers
Stationer & carriers for LMS Railway
H V Saies (Sydenham House no.19)
J H Horton  (no.19a)
Drapers
Stationer & agent for L&NW Carriers
H V Saies (Sydenham House no.19)
J H Horton (no.19a)
H V Saies (Sydenham House no.19)
William Howells (no.19a)
H V Saies (Sydenham House no.19)
William Howells (no.19a)
H V Saies (Sydenham House no.19)
William Howells (no.19a)
H V Saies (Sydenham House no.19)
William Howells (no.19a)
H V Saies (Sydenham House (no.19)
William Howells (no.19a)
W Howells (& Cadogan H J Draper (no.19) (1913 Shop Act)
Miss O Bray (no.19a)
Stationer & bookseller
Stationer (Shop Act 1913)
Grocer & Italian Warehouseman
Christiana Daniel (no.19)
---
Other information
Mountain Warehouse is a British retailer selling hiking, camping, skiing and cycling equipment.  It was founded in 1997 by Mark Neale, who then led a management buyout in 2013 to wrest the company back from a private equity group (source : mountainwarehouse.com)
Source : Abergavenny Local History Society Survey 1980:
no. 19A : Before 1900, the Call Office for the National Telephone Company was here.  In 1900, it moved to 23A Monk Street.  The Abergavenny Chronicle commented : "This is a step in the right direction;  a conveniently situated and large telephone call office is sadly needed"
Adverts in Abergavenny Chronicle :
1948 : (no.19) ad for ?private residence – "Webb – cabinet for sale"
1956 : (no.19) ad for Webb & Co, Drapers – fittings sold in February due to expiry of lease
1957 :  Wymans & Sons Ltd : newsagent, books & stationery – new branch open 2 October 1957
1959/1960 : further ads for Wymans & Sons Ltd for sales assistants
15/6/1962 :Wymans :  "Young man required to train as shop manager"
1967 :  ad for  Halfords : car accessories etc.  Further ads 1968/1969/1974/1975/1980 (ad for cleaner)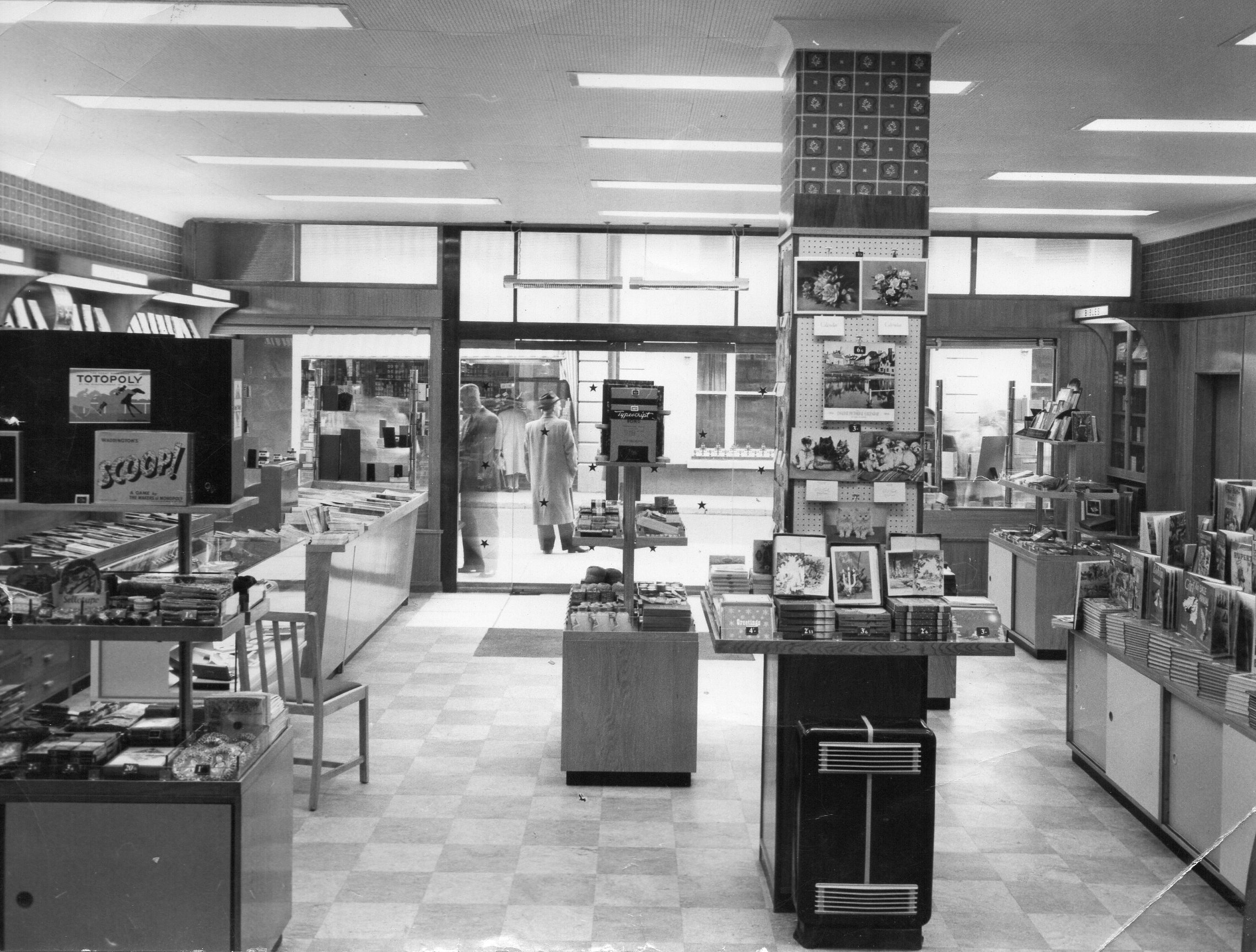 The new Wyman's shop was opened by Col Harry Llewellyn in 1958/9
If you have any further information about this property please email alhs@live.co.uk