20 Monk Street
Main details
Address:
Present Occupier:
Present Owner:
Ground Floor:
Other Floors:
Date when first used by present occupier:
20 Monk Street
Louise Collis Studio & Gallery (left side)
Art Gallery
Accommodation
2018
Before and After Images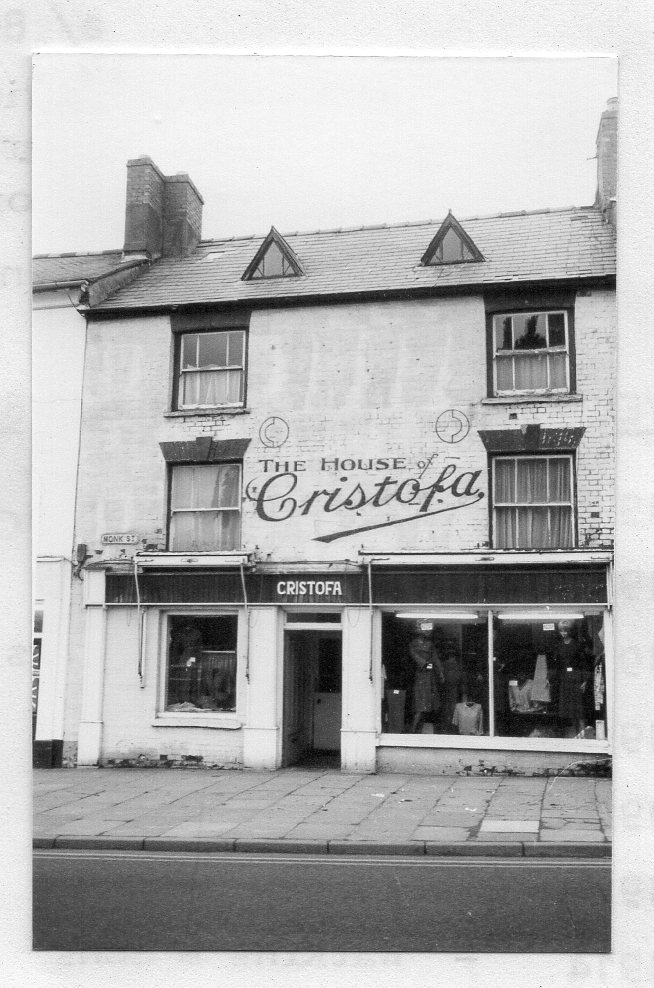 1979/80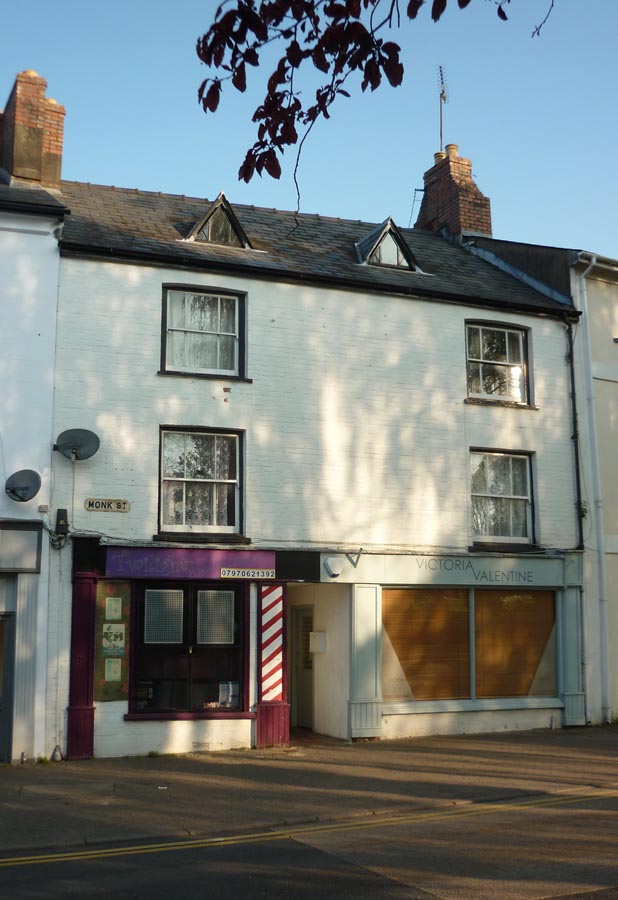 2015
---
About the building
The building appears on the 1800 map.
In 1980, it was recorded: The wooden panelling in the shop came from an unknown local mansion. The words, "Chocolate & Sweets" can be seen on the window in certain lights.
A single storey workroom at the back was where the gowns were made originally, but was later connected to the main part of the house through what was a fireplace. Source: Mrs Slater
Recent history
1942: Miss Bun making covers & curtains, advertisement "woman to assist with making covers & curtains"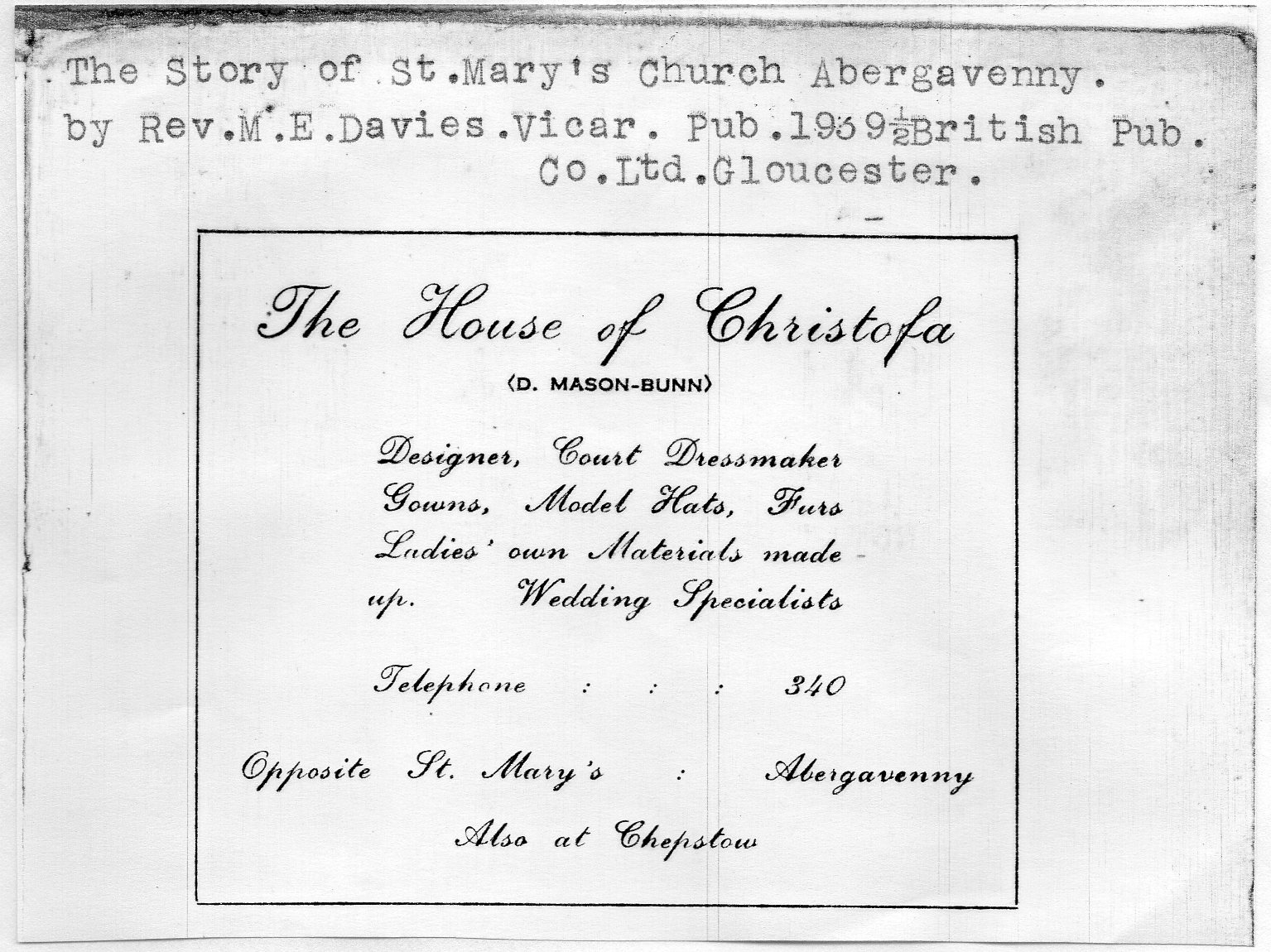 1956: Madam Christopher, wedding clothes
1957: Cristopha House, ladies fashions
1960: Cristopha's ladies fashions "Manageress required" (May), "End of season sale", (Aug)
1961: Cristopha clothing 1962: Cristopha ladies fashions "end of season sale starts Jan 1"
1964 to 1980:both sides: "Cristopha" Ladies Fashions. The name came from a Dutch doll. Proprietor, Mrs Delsie Salter & Major Marks. 1st floor, Rayner Opticians until 1975.  1971: F M Morgan, Welsh Crafts.
1988, 1989: The Baby Box, retail baby clothes
1991: Folly's Dress Agency (at 20a)
1993: The Tack Room, saddlery and riding wear (at 20a)
2000: Holley's "hats for all occasions" Feb 2000: advertisement for "Celtic Computer Systems" hardware, software, upgrades.
2006: Bliss Health & Beauty (no other information in advertisement) & Abergavenny Memorials (formerly J & M Memorials)
(right half is No. 20B) From ?Date : Twilight Unisex Hair & Beauty (left side)  Victoria Valentine Bridal
Later (from date not known) : Inspire Beauty Studio
2018 : (at 20A)  Louise Collis, artist; studio & gallery
---
Previous occupiers
Hat shop (hats made on the premises)
"             "
The Decker Bakery
---
Other information
John Henry Perks, Motor Garage & cycles (1930) was in 22 Cross Street in 1973.
Watkins & Son, Baker & confectioner (1891-1914) was also at 53 Frogmore Street.
Major Marks, partner of Delsie Salter, was the husband of Ellen Davies of 48 Cross Street.
John Michael, Maltster, (1850) had the Sun Inn Cross Street in 1835 (Pigot).
From Burrows Guide to Abergavenny 1903: full page advert. with photo by Eddie Madge.
Watkins & Son (Gold Medallists)          The Decker bakery opposite St Mary's Church
Public Caterers for Balls, Luncheons, Dinners, Teas & Suppers. Wholesale & Retail Cake Manufacturers, pastry Cakes & Confectioners. BRIDE & BIRTHDAY CAKES a speciality. Visitors are requested to give a trial to our celebrated Malt Brown and White Bread.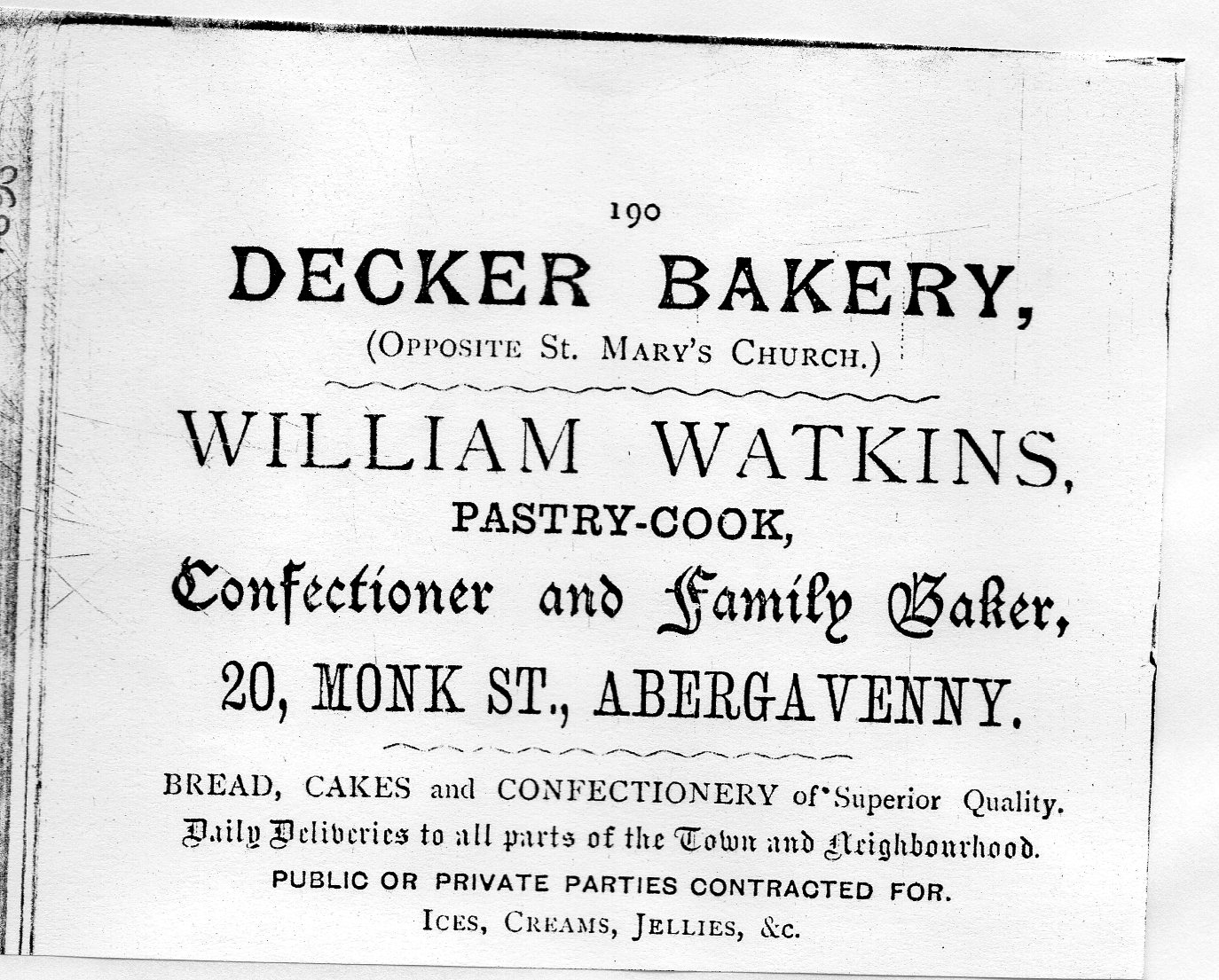 If you have any further information about this property please email alhs@live.co.uk