21 Nevill Street
Main details
Address:
Present Occupier:
Present Owner:
Ground Floor:
Other Floors:
Date when first used by present occupier:
21 Nevill Street
Parry's Estate Agents
At the rear through entrance at side:United Joinery and Griffiths Construction
Before and After Images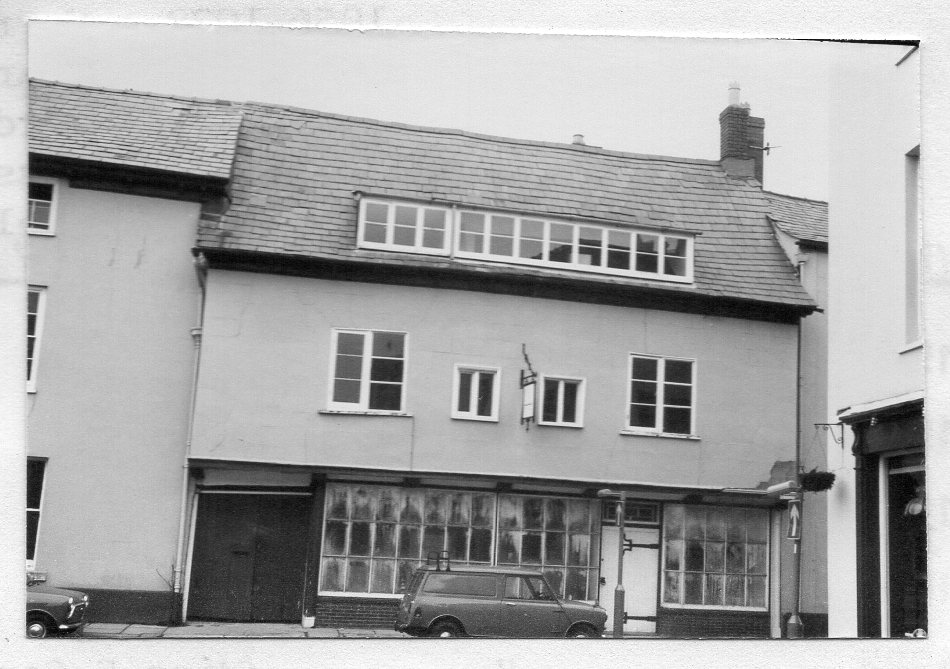 1979/80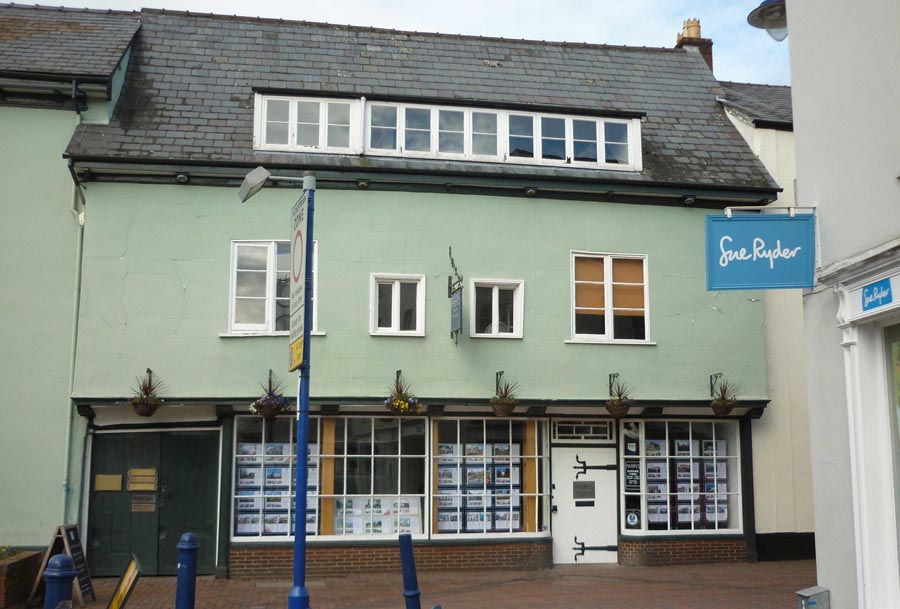 2016
---
About the building
Probably built around 1550. Seven posts at the front of the building now enclosed in plasterwork supported seven carved (champhered) oak beams which carry through to the rear of the building. These support beautifully champhered floor joints, supporting the first floor boards.Two oak fireplaces with Tudor arches; one plain one on the first floor, one on second floor with primitive Elizabethan-type leaf & scroll carving which has been repaired. The staircase is oak throughout. Some "finger moulded" plasterwork in the second back room.
Where the fourth back room is now, was a garden, the cast iron railings of which, slightly altered made the gates of "Linden Lea", 44 Avenue Road. The iron railings from the end of the main garden were (1980) at the end of Avebue Crescent.
Around 1956, the ground floor window was doubled in size and the long window in the back attic was made for a surveyor's workroom. A flat was made at the back of the top floor.
Between 1942-50, the land behind no 21,23,25,27 and the King's Arms was purchased from Jack Ewers for workshops.
The garden of no 21 belonged to the Brewery. There was a narrow passage to a door at the back of the King's Arms.
In 1980, the buildings at the back were: 
On the left hand side: a cellar for Delafield's Brewery, the ceiling raised about 18″ with a door at the end that led to the King's Arms garden. Above it was once a Dance Hall with a moulded plaster ceiling, burnt out in 1940 and now a builder's merchant's storage room. Also the Delafield stables.
On the right hand side: external steps to a 3-storey building, formerly owned by Daniels (heirs to David Gwynne) the "Top Tailors of Monmouthshire". They were formerly the workshops for the tailors and in 1980 were joinery and drawing offices.
The outbuildings at the back extend beyond the old town wall to a builder's yard in the land at the back of 21-29 Nevill Street bought between 1942-1950. There was a well outside the town wall by the carpenter's shop, used by the Brewery.
"Selroc" (Corless) Electrical used some of the workshops and the "Pig Club" was here during the 1939-1945 war.
(source: C Price and observation 1980)
Recent history
1929- 1932: Lord Raglan & others, Trustees for the Boy Scouts Association, used by the Boys Scouts, Maternity & Infant Welfare, Wadsworth Fairground. Flats upstairs.
1932 – 1956: Charles F R Price, workshops, builder's merchant.
1954: Abergavenny Concrete Enterprises
1956-1978: C Price & Son Ltd. Showrooms, offices, flats, builder's yard. 1960: advertisement, required bricklayers, carpenters and plumbing apprentice.1961: require plumber for new housing work. 1962: require bricklayers, carpenters and general labourer. 1967: also Selroc (Electrical) Ltd, electrical contractors. 1969: require experienced bonus surveyor & woodworking machinist. 1972: require bricklayers.
1973 – 1975: Price & Plater Ltd. plumbing & heating, building materials. Also Selroc (Electrical) Ltd.
1978: Alun Griffiths, offices being renovated.
1984: P G A Insurance offices2000: in 21A: in courtyard off the street, New Court Consulting Rooms, consultant surgeons/physicians private practice.
1988: Roger Peachey & partners, Chartered Accountants
1989: Roger Pultney & Partners, Chartered Accountants
---
Previous occupiers
Maternity & Infant Welfare, Boy Scouts, flats above
John Harrison Hall
Lindsey Carter
Butcher of 68 Frogmore Street
Aerated Water Manufacturers
  "         "/Miss E Carter
  "        "/Miss Emily Annie Mary Carter
Trustees of Thomas Delafield (Thomas Alfred Delafield & Sarah Butt, wife of W H Butt, 7 High Street, outfitters)
Occupier: Ernie Delafield
Fishing Tackle maker & Taxidermist
Thomas Delafield & Henry Taylor
  "              " (from no 11)
Stationer, bookseller & music seller
Occupier: Charles Boucher Howells
Charles Boucher Howellls (shop in Frogmore Street)
Grocer & beer retailer & maltster
---
Other information
From Deeds:
Before 1798
: occupied by Capel Hanbury Williams;
1798:
John Hanbury Williams mortgages it to John Harris.
1816 – 1830 and after, owned & occupied by Reverend Ebenezer Skeel and his wife Ann. He left it to Mary Rosser, the niece of his wife, her sisters Elizabeth Rosser and John Thomas, his kinsman, and Ann, his younger sister, wife of William Nicholas Morgan. In 1834, they sell to Thomas baker for £600 (with pew no 60 in St Mary's church).
1837 bought by Charles Boucher Howells, grocer in occupation for £675. 1843: He mortgages it to Solomon Chilton(dwelling house & outbuildings) for £500. The 1000 year lease hold begins and a Right of Way for themselves, servants or agents through the entrance and door of no 23 (in occupation of Thomas Jones) to and from the back of no 21 to the Street (Nevill or Rother) in the daytime only (still extant).
1844-1865: owner, Solomon Chilton
1865- 1882: David Gwyne, sold to David Gwynne, clothier of Abergavenny for £405 in 1867.
1822- 1919: owner, Thomas Delafield
If you have any further information about this property please email alhs@live.co.uk