22 Frogmore Street
Main details
Address:
Present Occupier:
Present Owner:
Ground Floor:
Other Floors:
Date when first used by present occupier:
22 Frogmore Street
Cats Protection Charity Shop
Before and After Images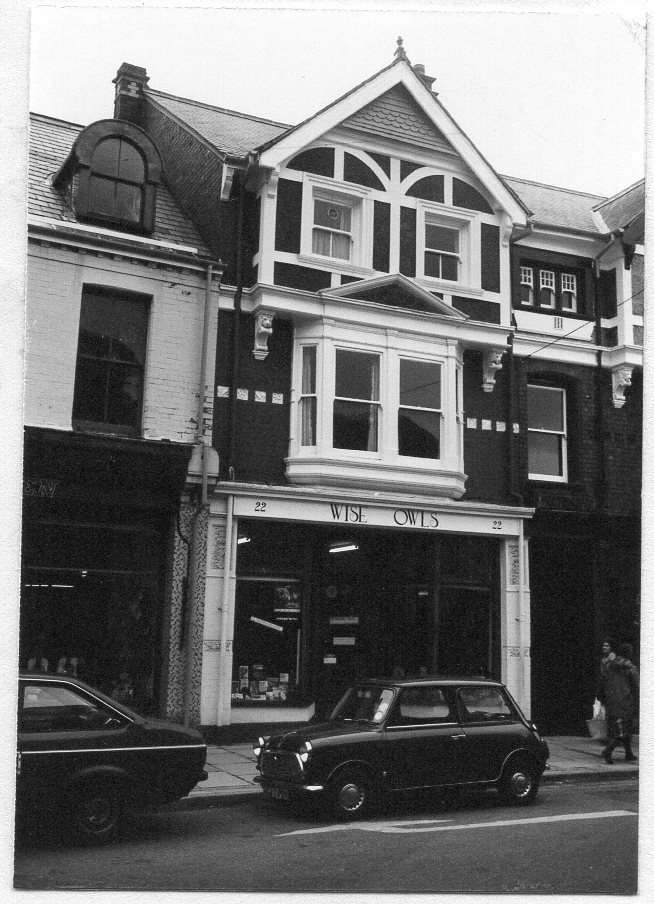 1979/80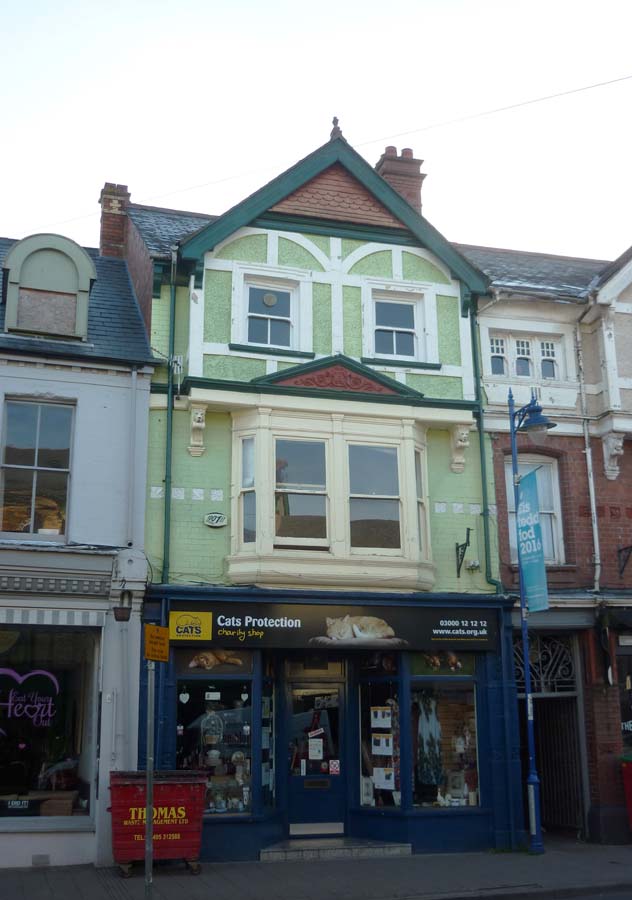 2016
---
About the building
Thought to have been built as a pair of shops with no 21, with house premises above.
With no 21: Edwardian frontage showing skilled craftsmanship but overloaded with detail but said to have been built in 1712. Note the use of terracotta and the large & small window glass panes as sheet glass was coming in. (L Hurley). A photograph which can be dated to before 1892 shows a flush two storey brick front with three windows and a central doorway.
Probably the roof was raised to give added height to the second storey rooms when the frontage was rebuilt, probably in 1905, and the oriels and finials and the shop fronts were made. The back of the house may be the original 18th century one, which has an outside staircase to the first floor rooms. The present staircase has been turned around but has elegant balusters, possibly 18th century.
The extension at the back was made by Bernard Thorpe in the early 1970s. The garden abuts the Cibi Brook with fishing rights! A lot of straw was found under the floorboards in the 1970s, probably from packing around lamp glasses from when it was an ironmongers.(Mr Craze)
In the 1950s, the original wooden water pipes were found probably laid in 1805 – see Minutes of the Improvement Commission.
Recent history
2006: The Wardrobe, ladies fashions
2005: The Wardrobe, ladies fashions, also in Ystrad Mynach & Treochy.
2000: Floral Occasions, florists (advert. Oct 2000: House of Cards, same address)
1993: Wise Owls book shop
1989: Wise Owls book shop
1988: Wise Owls second hand book shop
1982: Wise Owls bookshop
1981: Mr & Mrs Craze, 'Wise Owls'  bookshop
1975: Bernard Thorpe & Partners, Monmouthshire Building Society
1972, 1973: Bernard Thorpe & Partners, Land & estate agents, auctioneers, surveyors and valuers
1971 – 1981: Bernard Thorpe, Estate Agent
1961-1971: Roy Bowen, Tobacco & Sweets (Mrs Stephens)
1937- 1960: 'Tantivy', Confectioners, (Major Geoffrey Pike)
---
---
Other information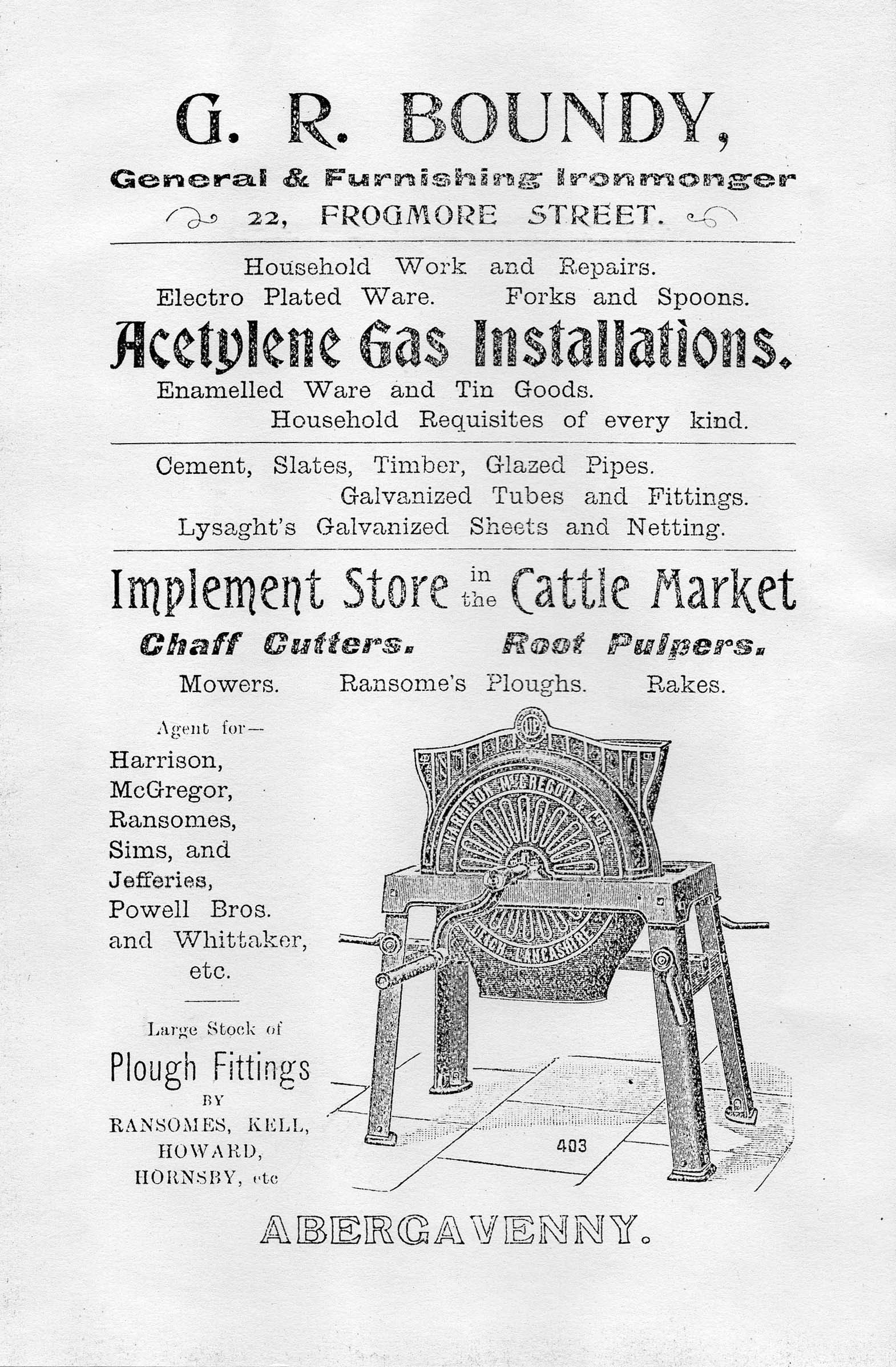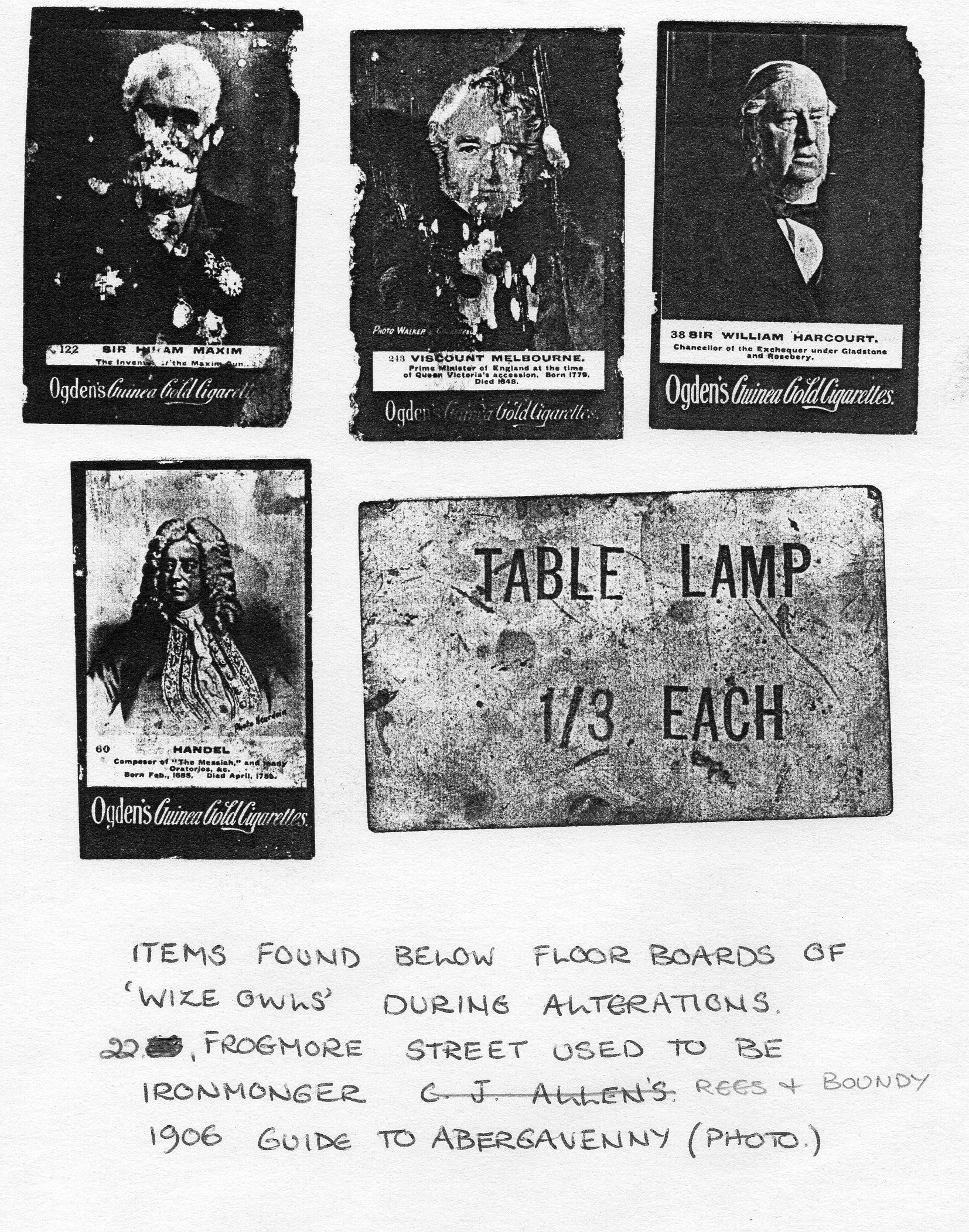 If you have any further information about this property please email alhs@live.co.uk