23A, 23 & 25 Monk Street
Main details
Address:
Present Occupier:
Present Owner:
Ground Floor:
Other Floors:
Date when first used by present occupier:
23A, 23 & 25 Monk Street
ground floor offices

apartments 
Before and After Images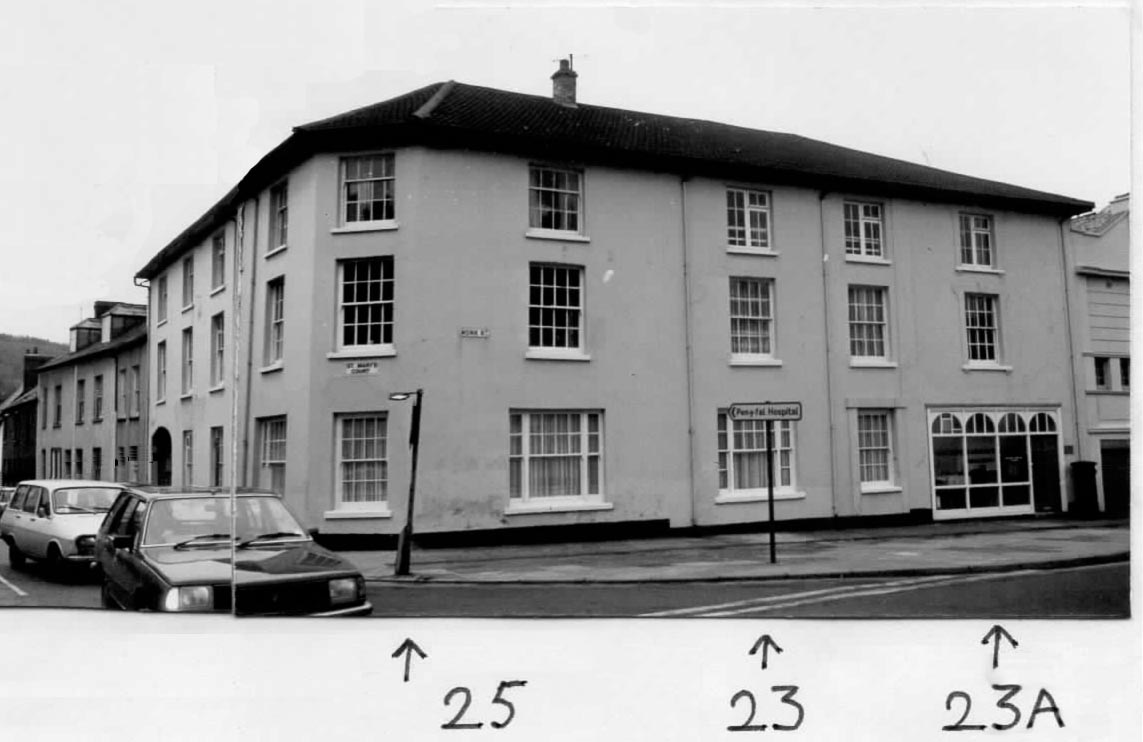 1979/80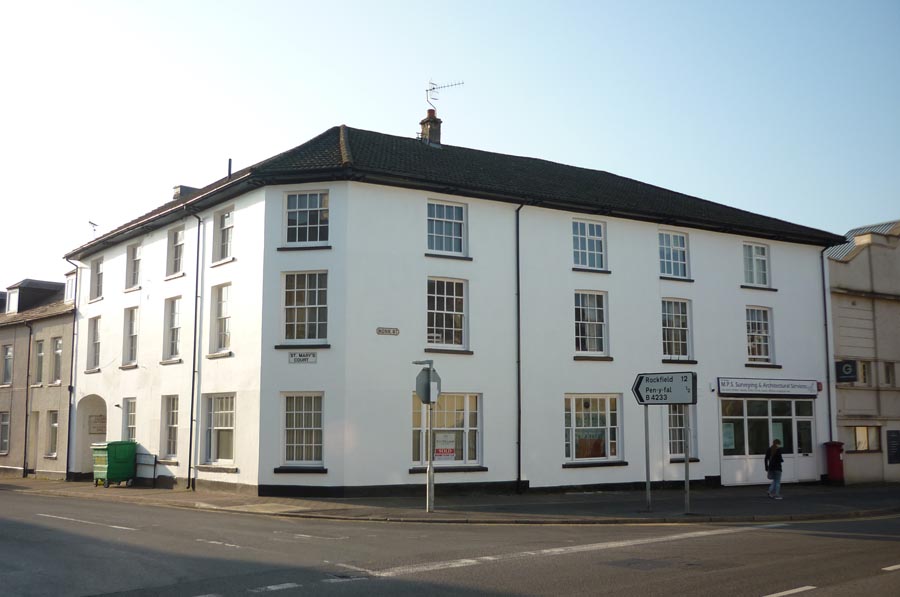 2015
---
About the building
No 23 & 25 converted into flats in 1978 by Bagland.
No 23 was the "London Apprentice" Public House.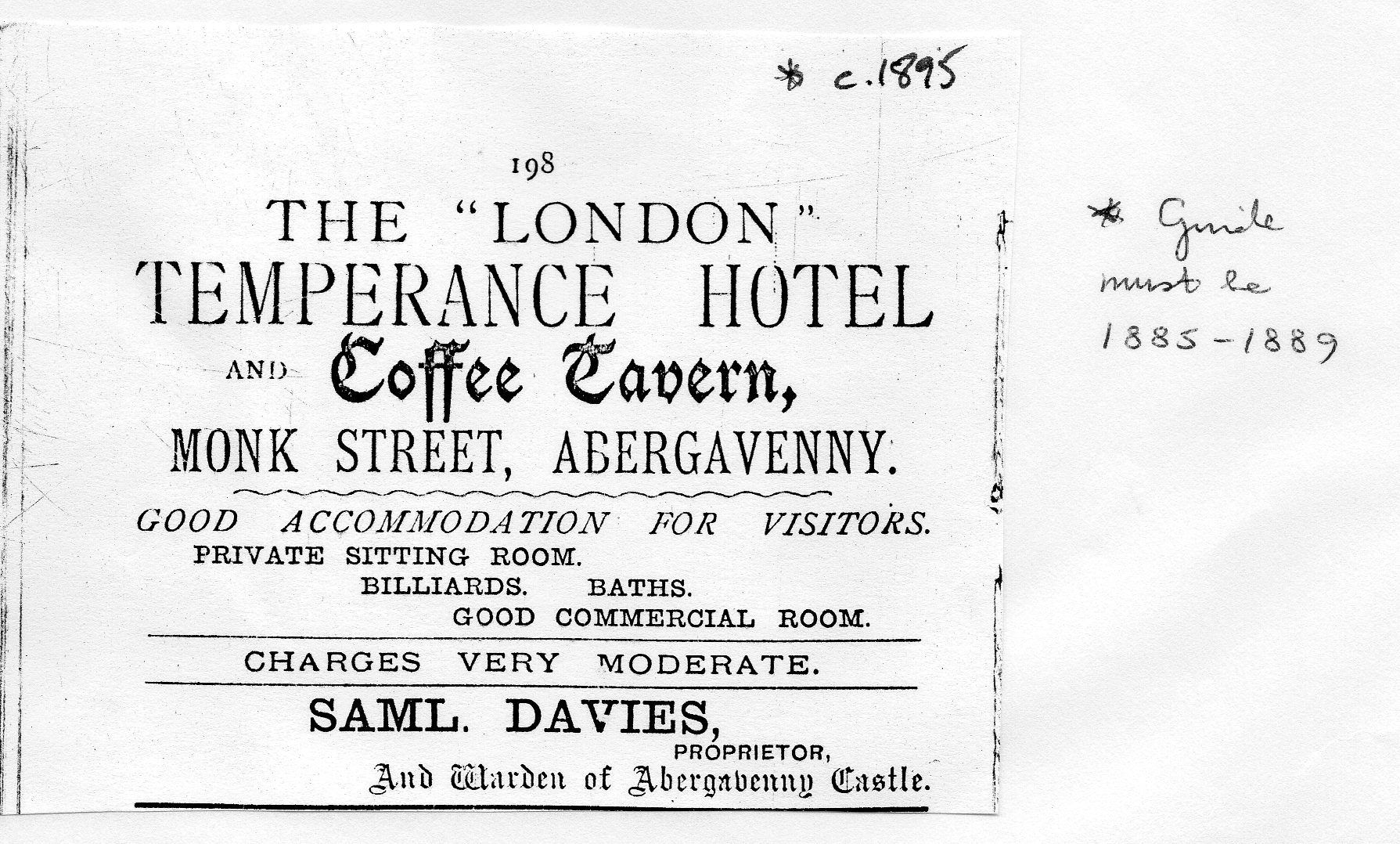 The first recorded publican was Mr Herbert in 1787, followed by Mary Herbert in 1791. In 1808, the Society of Tradesmen & Gentlemen Farmers met here.Bull-baiting took place on the crossroads outside the pub – but around 1817, the magistrates court was held in the pub.
Aldertons Bakery was accessed through the arch in Lower Monk Street.
Recent history
1962, 1964, 1968, 1971, 1973: Russell, Baldwin & bright Estate Agents
1975: John Banks & Co, Solicitors
to 1983: Gartside, Harding & Davies, Solicitors
from 1983: Fonseca, Herbert & Co, Solicitors.
1988, 1989: 23A: Golden Valley Finance and Insurance, Advice on Insurance and finance.
1991: 23A: Abergavenny Cycle Centre, bicycle retailer
1993: 23A: Dean's TV Services, TV Hi-Fi, Satellite, etc
---
Previous occupiers
Walter Alderton
H M Taylor
Baker & residence
House & shop
Walter Alderton
The London Hotel
Baker & residence
Public House
Mrs Sarah Jones
The London Hotel
Charles Rymer Jones
The London Hotel
Baker & Sweets
Public House
William Morgan
The London Temperance Hotel
Charles Massingale
The London Hotel
First known as The London hotel
London Women's Friendly Society
"             "
"             "
(publican Thomas Herbert)
---
Other information
From Mr Ernest Jackson: In October 1900, the National Telephone Company in Abergavenny secured the shop and premises in Monk street previously occupied by Watkins & Co, painters, as a public telephone call office. Subsequently an Exchange was opened here. In September 1900, the Telephone Company were putting up poles in Pen-y-Pound and Father Wray objected very strongly. Both the Post Office and the National Telephone company were erecting poles in Hereford Road in 1903.
In March 1901, the National Telephone Company had undertaken to place telephones free of charge at the two cab ranks, but this did not happen, or was unsatisfactory, as in May 1903, the Abergavenny Chamber of Trade asked the Post Office to connect the cab stands and asked the traders to use the Post Office system.
In July 1901, the Fire Brigade were summoned by the primitive method of sending a police constable to the home of each member of the Brigade.The Chronicle commented that "Telephonic communication would not cost a great deal".In April 1902, the Post Office authorities undertook to provide and maintain a fire alarm system connecting the Police Station and the Captain of the Fire Brigade and firemen.
The advertisements in the Abergavenny Chronicle show that Messrs Morgan & Evans were the first to realise the value of inserting their phone number in their advertisements. Their number, Abergavenny 27, appeared for the first time in the issue dated August 1902.
In 1911, the National Telephone Company was taken over by the Post Office.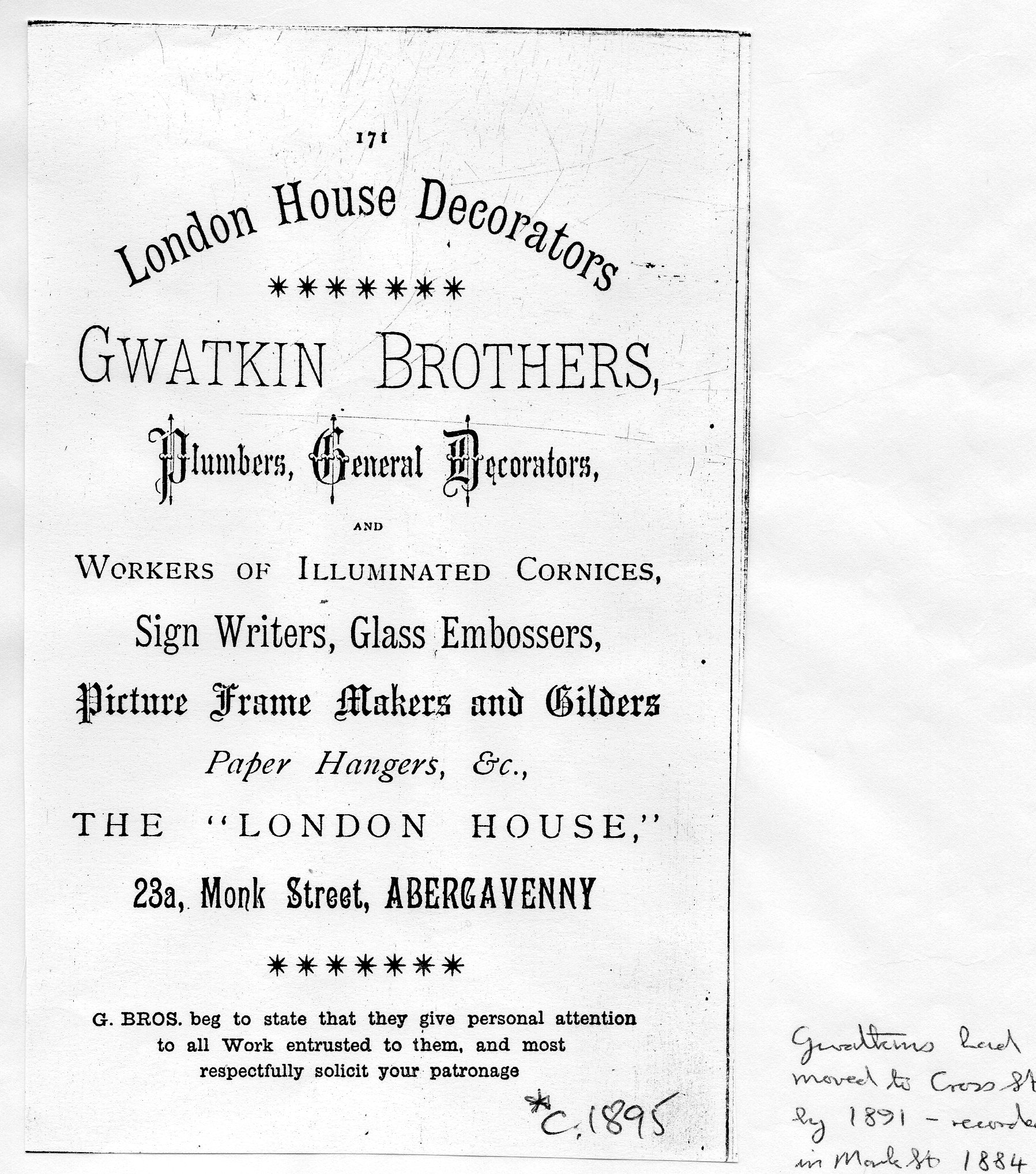 If you have any further information about this property please email alhs@live.co.uk