25 Frogmore Street
Main details
Address:
Present Occupier:
Present Owner:
Ground Floor:
Other Floors:
Date when first used by present occupier:
25 Frogmore Street
Auberge Wine Bar 
Before and After Images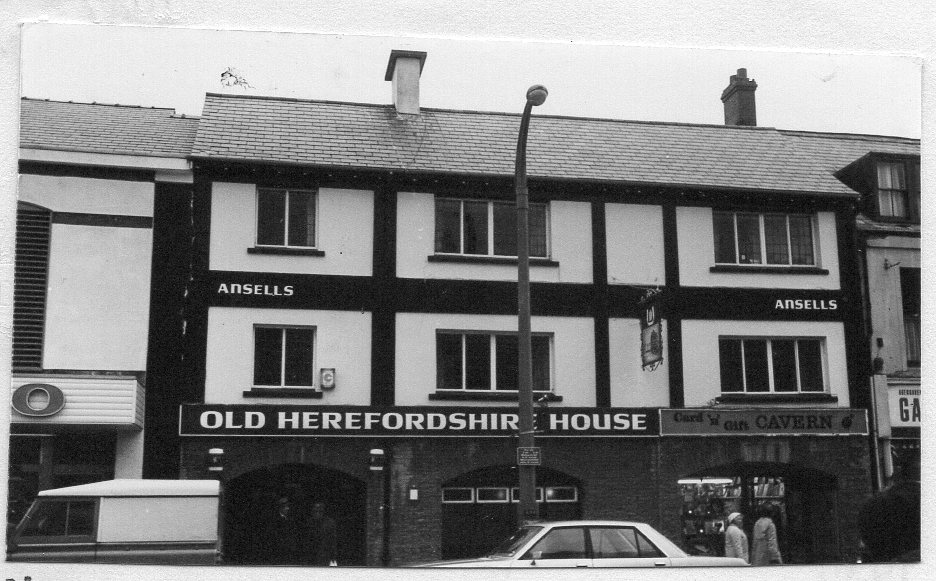 1979/80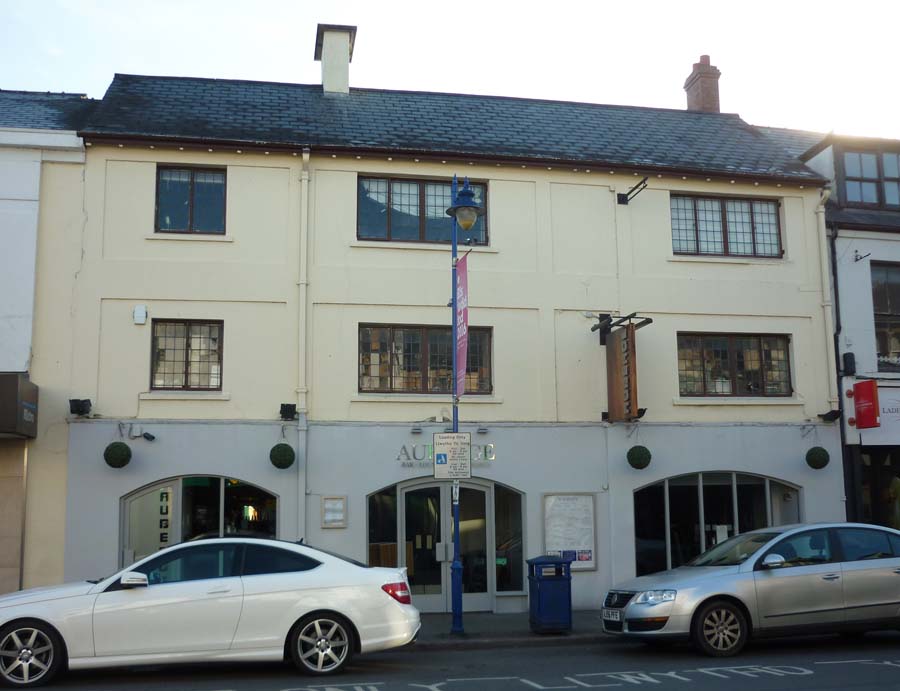 2016
---
About the building
The original building had a thatched roof but was rebuilt in the 1960s.
You could walk down the lane under the arch to the right. This was also the entrance to the stables, to the Cibi Brook, and along the brook to the back of the White Horse. There was a court to the rear containing cottages which have all been demolished.
In 1976, there was a shop under the arch (the Card & Gift Cavern, previously a cut-price shop).
A/144 1985 Abergavenny Chronicle Oct 7th 1949. This shows a drawing of Frogmore Street with a small house, prior to the building of the archway on the left of the present building.
Recent history
alongside Auberge (which is no.25) is a very small property, with various uses over many years, latterly a ladies clothes shop
In October 2021, it opened as V24 cocktail bar.   Apparently owned by "Casa Bianca" Italian Restaurant (no 51Frogmore Street).   V24 property is not really no. 24 (which is currently "ZaZa Barber");  could be called "24A";  has never had a separate entry on the street survey
2006: Auberge bar
1989: 25A The card & Gift Cavern
was the 'Old Herefordshire House'
---
Previous occupiers
from 1973: Prop Mr & Mrs Harding
The Old Herefordshire House
Prop: Bernard Hall & Llew Ashcroft
John Jenkins (Victualler)
The Old Herefordshire House
David Harris
Prop: David Roger Jones
Crown & Sceptre
Rose & Crown
---
Other information
1741 is the earliest mention of the Rose & Crown Prop: Peter Powell. He is described as the 'late Peter Powell' in a mortgage dated 23 May 1769. The pub was then known as the Crown & Sceptre. It is first referred to as Herefordshire House in 1822, although it reverted back to the crown & Sceptre between 1834 & 1839. It is first called the Old Herefordshire House in 1842, but as the Crown & Sceptre in 1850. It became the Colonial Inn in 1997, and is currently known as the Auberge.
If you have any further information about this property please email alhs@live.co.uk