29 Cross Street
Main details
Address:
Present Occupier:
Present Owner:
Ground Floor:
Other Floors:
Date when first used by present occupier:
29  Cross Street
Black Mountain Fabric
??
Sewing fabric and crafts
accommodation
2015
Before and After Images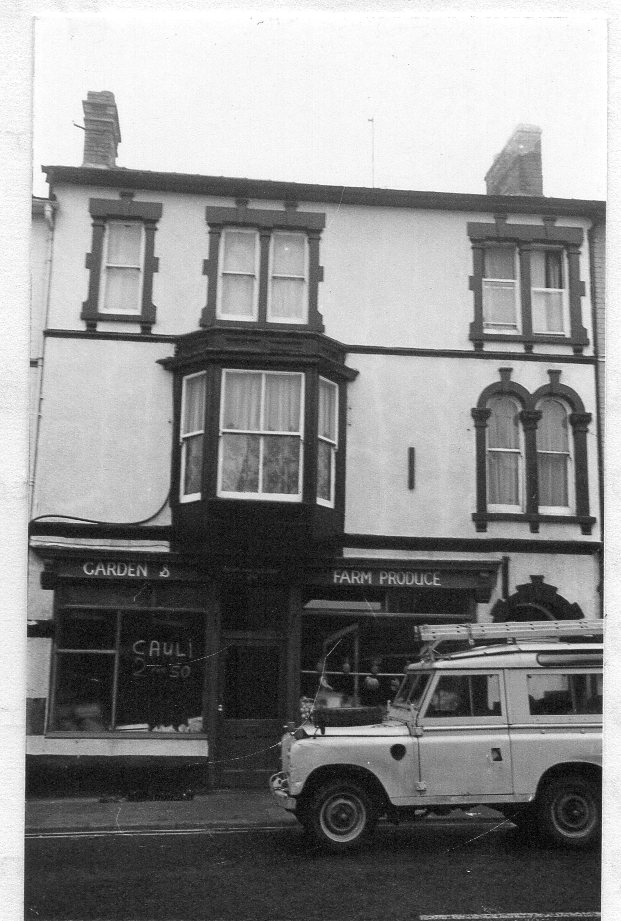 1979/80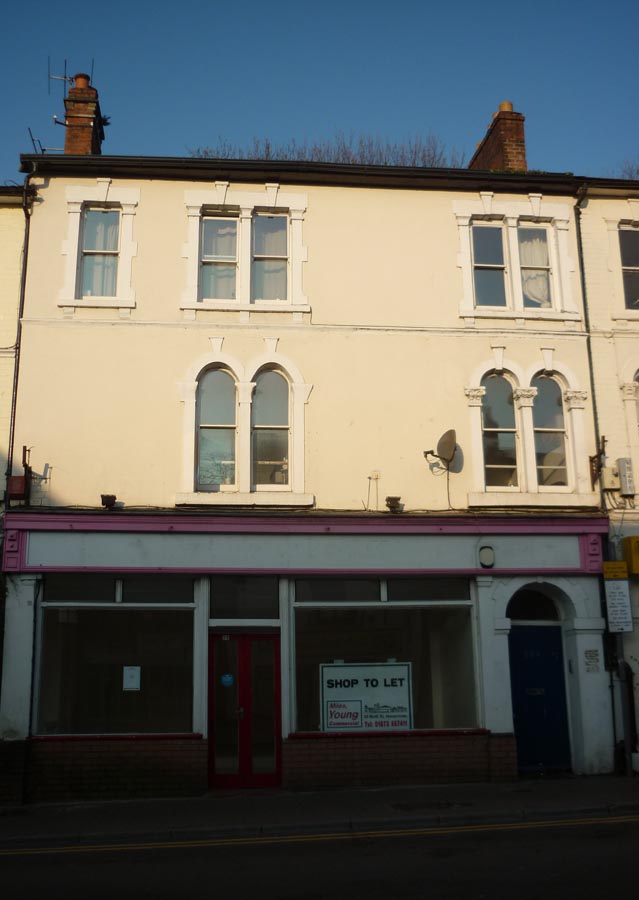 2015
---
About the building
source : Abergavenny Local History Survey 1980:
Built 1875-77.   There is a cellar under the shop. The quarry tile floor appears to be hollow.   Blue and white tiles (now covered by wallpaper) in the shop.  These were made in Hereford c.1878 at a cost of one penny each
No. 29 Cross Street was part of a row of cottages standing at right-angles to Cross Street in the Boar's Head Yard.   All except one of these are now demolished.  The remaining one (1980) is rented to Mr Norris who has lived there for 30 years.
In 1923, the shop was let to Alfred Round, Baker.  The Bakehouse was beyond the cottages, reached by an alleyway next door to no. 29.
Recent history
This property was briefly "Vegetopia", a vegetarian cafe and takeaway, in approximately 2014/15
Source : Abergavenny Local History Survey 1980:   From April 1979 : occupied by Martin Holder, greengrocers.  Owned by Mrs Denner (living in accommodation over shop).  In 1985, Mr Holder moved to 31 Cross Street.   He also had a stall in the produce market.
From November 1978 – April 1979 : David Morgan and David William Morgan – known as "Castle Cafe"
1976-1978 : Leased to Robin Todd
1967 : Premier Clothing & Supply Co. (Abergavenny Chronicle)
1948 – 1976 : Mrs Denner – known as "Castle Cafe"
---
Previous occupiers
Alfred Round to at least 1947
---
Other information
Source : Abergavenny Local History Survey 1980:
c.1878 Joseph Denner bought the premises for his young bride, Sarah.  She chose the blue and white tiles as described in the section "About the Building".   In 1894, Joseph was found drowned in the Usk, leaving three young sons – Abraham, Thomas Henry and William.  Sarah and her sons ran the shop until 1927.   Sarah died in 1950 at the age of 98.   There was a restaurant upstairs and a tearoom at the back of the shop
(This information was given by Mrs F M Denner, wife of Peter Denner.   Mr Denner is the son of Thomas Henry Denner and grandson of Joseph and Sarah)
Adverts in Abergavenny Chronicle
In 1942 : an advert for "A. Round – selling "waterproof sheeting"
23/11/1962 : in the "situations vacant" : "The Premier Clothing &  Supply Co Ltd" (?clothing agency) looking for agents "Regular Income Assured".   In 1964,advert for this same operator were looking for a "canvasser/collector"  (?insurance)
If you have any further information about this property please email alhs@live.co.uk