33 Cross Street – Swan Hotel
Main details
Address:
Present Occupier:
Present Owner:
Ground Floor:
Other Floors:
Date when first used by present occupier:
33 Cross Street


Lucy Hockey, Ladies' hairdresser
?solicitors
hairdresser, approx Jan 2021

Before and After Images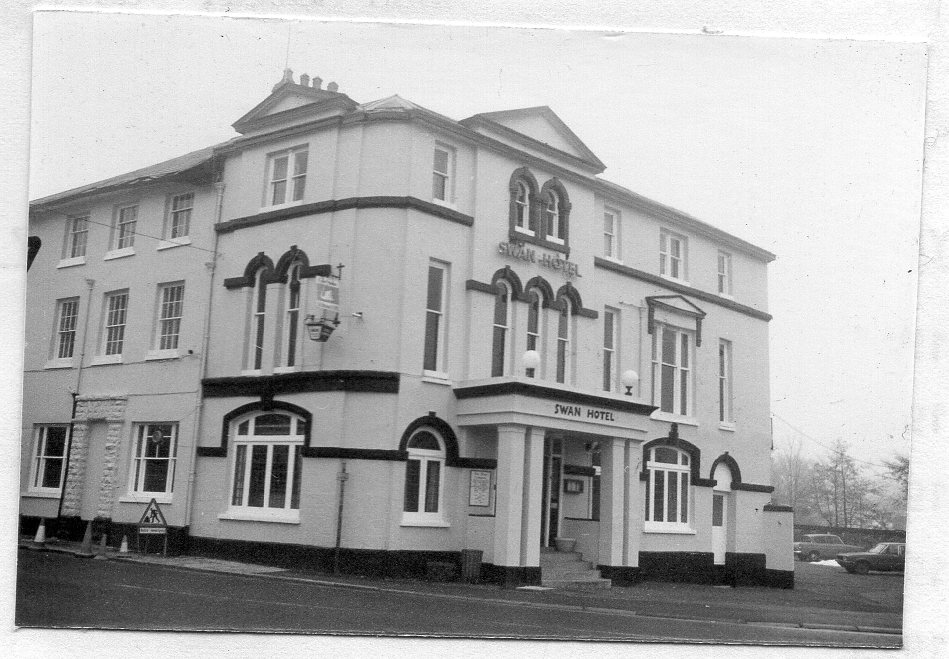 1979/80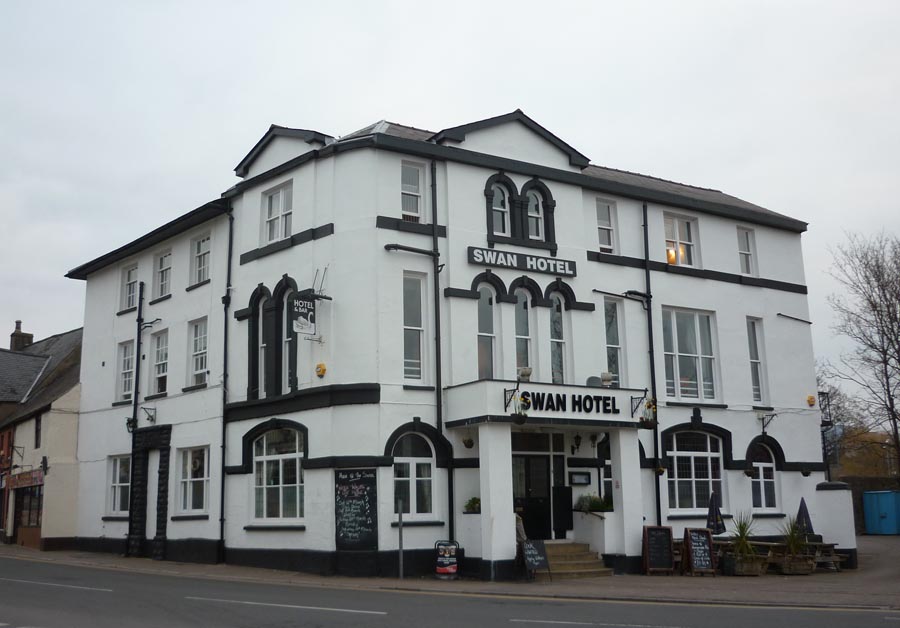 2016
---
About the building
Source : Abergavenny Local History Survey 1980
There is a picture of this Hotel on an advertisement with the Museum copy c.1886, which shows the large, now demolished ballroom on the left.  The whole of the ground floor in the pedimented portion (minus the porch) seems to be an open arcade, with a little balcony along the first floor windows.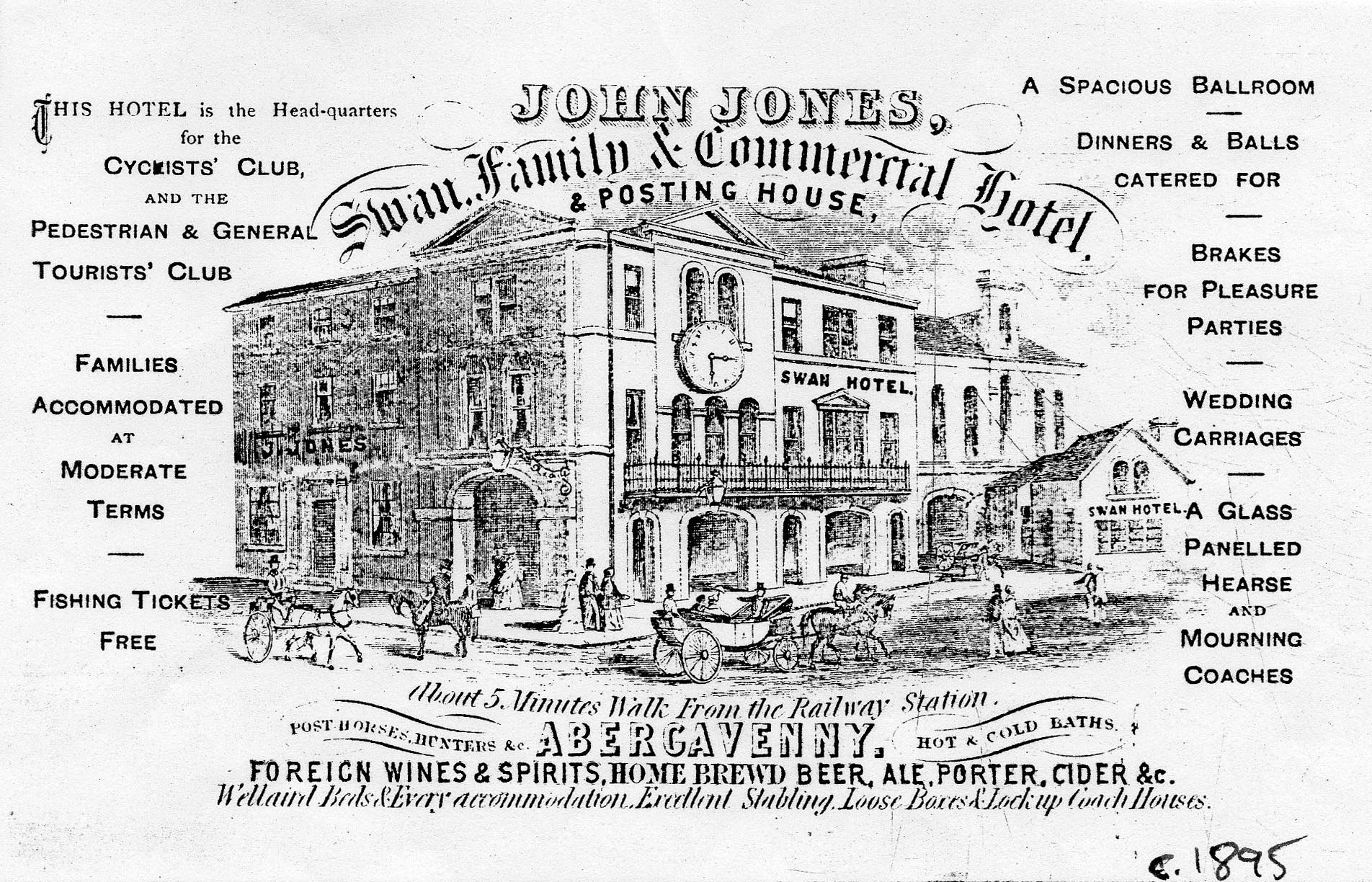 Recent history
approx Jan 2021 : ground floor : Lucy Hockey, ladies hairdressers
2018 : on market for rental with Savills.com – Ground Floor retail/restaurant 2,650 sq.ft;  £2,500pcm
2018 : building work been in progress for couple of years but not finished or open
Closed by August 2016 : it is understood that the building has  been sold and will be re-opening as a bar with solicitors' offices on other floors. There will be no hotel accommodation
From 1974 to ?    :   Occupied by Mr I S Little
Changed ownership in ?date   : Mark Heffernan
---
Previous occupiers
Headquarters of the cyclists touring club
A posting house, supplying posting horses and hunters
---
Other information
For additional images of the Swan Hotel click 
* here *
.
Source : Abergavenny Local History Survey 1980
In 1870s Hotel supplied post horses and hunters
1834 : shown as New Swan  on the Abergavenny plan in the museum.  Sales particulars in Lion Street collection
1680 : reference in Bradney to Henry Baker, the owner
Note : There was a "Black Swan" in Frogmore Street which was ordered to be taken down in 1795, as it projected.  It was apparently still there in 1818.  (source : Minutes of Improvement Commissioners)
Note: There was a White Swan at 4 Cross Street until 1972
Source : adverts Abergavenny Chronicle
In 1960 : a report that "chef stole knives" and was fined £3 plus costs
In the 1960s, adverts for various staff members, eg waitresses.  In 1969 advertising wedding receptions
Source britishlistedbuildings.co.uk  : Listed Building in 1985:
"A large mid-Victorian classical building facing south with an early C19 domestic building attached to side elevation in Cross Street.  The earlier part appears to date from c1830=40 while the Victorian extension is probably 1865-70;  the inn is shown first on the 1834 map.  Its late C19 appearance was more elaborate than today with an open loggia on the ground floor, a full width iron balcony and a large ballroom to the right.  The ballroom was destroyed by fire in the C20 and its remains demolished.  The rest of the building may then have been remodelled, with the loggia filled in, the porch added, the balcony removed and the roofline simplified with the pediments rebuilt and all the chimneys taken down.
Exteriior wholly rendered and painted with natural slate roofs.  In two sections with a single depth main entrance range and a double depth rear range at right angles which pre-dates it.   Main three storey five bay front with rounded corner flanked by pedimented frontispieces to each direction on the left.  The two pedimented sections are set slightly forward to the main facade and have round arched windows and architraves and keyblocks grouped in twos and threes to advanced bays.  The ground floor has a continuous band with arches over the windows.  This was the open loggia and the windows are mid C20 infill, also the very basic porch on bay2 .  The first floor has single slight windows in bays 1,3 and 5, three light in bay 2 and a tripartite sash in bay 4.  All these are 1 over 1 pane sashes.  The second floor has a cillband and single windows except for a paired one in bays 2 and 4.   Deep eaves with altered pediments, hipped roofs and no chimneys.  The left return is one bay with paired windows on the upper floors.  Three central entrance elevation to attached building on Cross Street.  Rusticated doorway, now blocked flanked by 3-light plate glass sashes (also a C20 alteration).  The first floor has 8 over 8 pane sashes with narrow glazing bars, 3 oer 6 pane to the upper floor.   Deep eaves, hipped roof, no stacks.   Tall narrow stair window on north elevation.  Rear elvations are both plain and altered.
Included for its special interest as an early/mid C19 hotel which, despite alteration, retains good character and has a very prominent position at the entry to the town centre."
References: Louis Bannon, Remember Abergavenny, Vol 1, Old Bakehouse Publications, 1995, pps 75,81
Chris Barber, Abergavenny in Old Postcards, European Library, 1995, pl.25
Abergavenny Local History Society, Abergavenny Street Survey 1979-84 (alphabetical)
If you have any further information about this property please email alhs@live.co.uk