37 Cross Street
Main details
Address:
Present Occupier:
Present Owner: Plas Gunter Mansion Trust
Ground Floor:
Other Floors:
Date when first used by present occupier:
37 Cross Street (part of Plas Gunter Mansion)
Paul & Cheryl Bretherton : Dynamite Branding (print/embroider/
promotional products
December 2017 (source ad Aber Chronicle)
Before and After Images
1979/80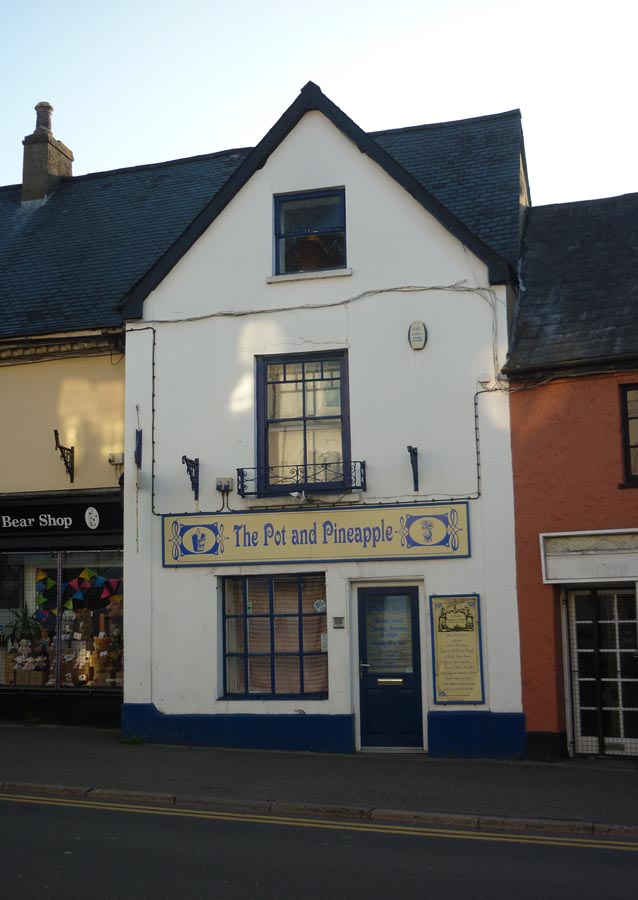 2015
---
About the building
16th century.  Part of Gunter House
Following from original  Abergavenny Local History Society Survey 1980:
"In 1907, when the builder John Smith Foster bought the whole property, he made a staircase up to the previously-inaccessible attic behind the small window in the gable on the photograph.  On the sloping east wall of this room was painted, in oil on the plaster, a mural of the Virgin and Child with three Magi.    This was photographed and then removed and mounted in an oak frame, being slightly cut down in size, leaving only one magus.   After this, it "disappeared" for about another 50 years and was then found behind a dresser in this same house.   It is now in the museum.
When the outer plaster was removed from a partition, on the smooth inner face graffiti, with the initials "T.G." were found;  these were covered with glass and remain in situ.  On the wall above the window overlooking the street was the Jesuit mark of "I.H.S." and a heart in red on a green oval, surrounded with golden rays and surmounted by a cross.   Also in this room were found various fragments of documents relating to Thomas Gunter, recusant.   A crucifix was found buried in the garden.   (For detals about the discovery, see "Out & About in Monmouthshire" Fred J Hando, 1964).
Thomas Gunter is known to have kept a catholic priest here, Captain Philip Evans "even in Oliver's time of severity" and the Jesuit, David Lewis, son of the headmaster of the Abergavenny Grammar School, preached here.   Both were martyred after the Titus Oats plot in 1679.  The congregations in this chapel were said to have been larger than those of St Mary's.   The access to the chapel is thought to have been up an outside staircase, to a door under the south gable.
In 1687, Thomas and Catherine Gunter of Cross Street gave their house in Frogmore Street to be kept for mission purposes.   Later it was given to the Franciscans (see 63-64 Frogmore Street)    (Thacker's notes)"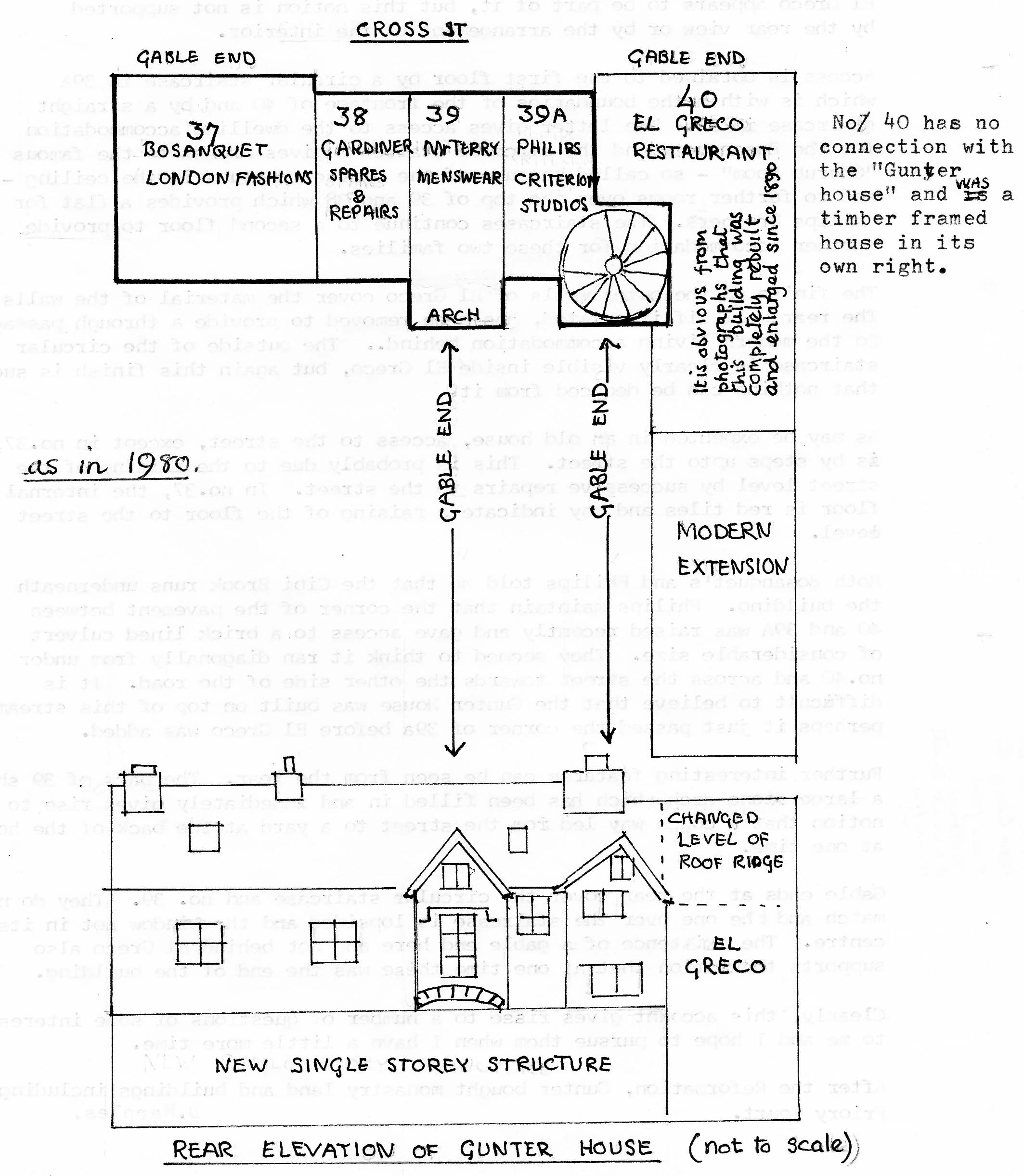 Recent history
The Pot & Pineapple (Old Fashioned Sweet Shop) was already closed by 2015.  It had not been there for much more than a year
Approx 1988 to ?sometime in 1990s : Trekkit, Sports wear and equipment (source : local ads)
1968-1980 : occupied by R Bosanquet, Ladies' fashion
In 1947 : Mrs Parry, resident.  Owned by the executors of G.S.Foster dec'd)
---
Previous occupiers
Mrs Jones (mother of Mrs Parry)
Servants' Registry Office
Robert Isaac & Thomas Price
William Price / Mary Watkins
---
Other information
Following source Abergavenny Local History Society Survey 1980:
Mrs Francis, wife of Edward Francis (occupier in 1906) was still living in the building in 1960 (she was then about 80).  She remembered the finding of the mural
In 1898, there were still cottages at the rear;  these were still present in 1948.   Source : Deeds
In 1867, there were also three tenements and two brewhouses at the rear of the whole property
See also no.38 Cross Street
Adverts in Abergavenny Chronicle
From 1969 to mid 1980s : ads for "Just Something" Boutique
1986 : ad for Trekkit sports wear and equipment : opened 15 February
1988-1991 : ads for Trekkit Sports wear and equipment
Source : coflein.gov.uk
re nos 37-40 Cross Street (Gunter House) : "One building 16th century rubble stone, stucco, 2 storey.  Rear mullion and transome windows. Formerly Parrot Inn.  Interior oak, circular stairs.  Medieval frescos and carving 16th/17th century plaster ceiling.  Wallpaintings;  Magi (in oils) on ceiling of private chapel: Graffiti and date 1640.  Above window to Cross Street "L.H.S" within rays;  cherubs.  East wall : date 1640 (Roman figures?).  Fragments of floral trellis design"
If you have any further information about this property please email alhs@live.co.uk