4 Cross Street
Main details
Address:
Present Occupier:
Present Owner:
Ground Floor:
Other Floors:
Date when first used by present occupier:
4 Cross Street
Halifax

Bank/Building Society

1984
Before and After Images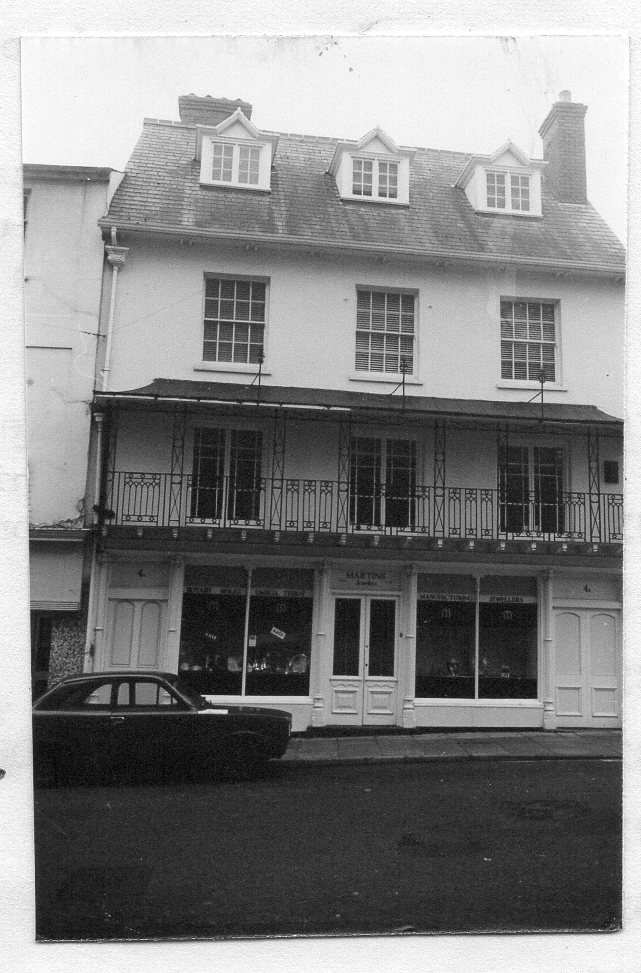 1979/80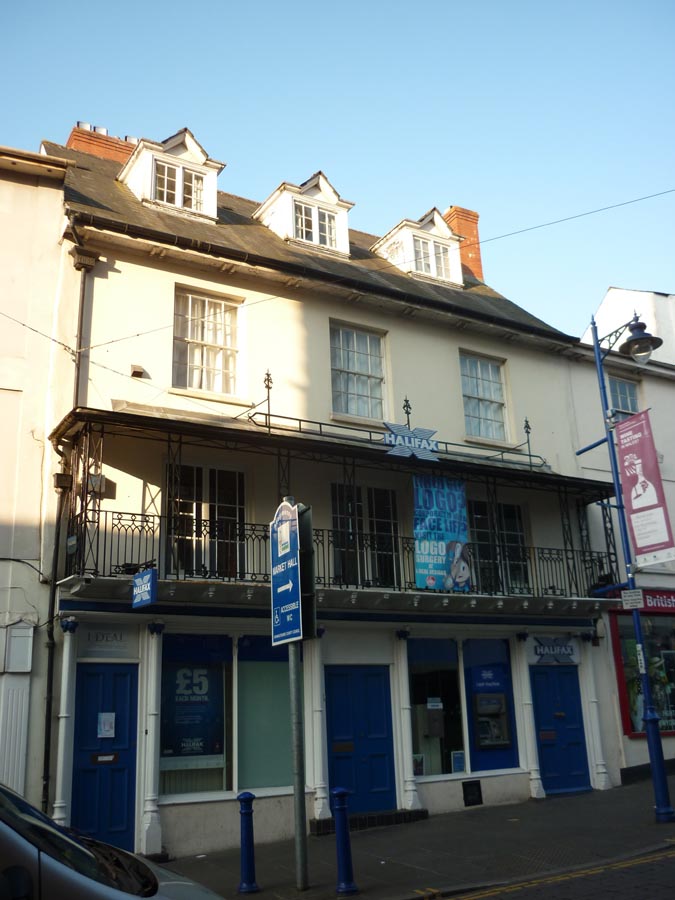 2015
---
About the building
Built in 1835.  The date is moulded in to the gutter heads.
Ground floor has original 19th century front with 3 doors, panelling and mouldings.   Regency-style verandah. Glazing bars intact on second floor sash windows.
There is a brick arched cellar with its ceiling at street level and on the left=hand side there is a wide, brick arch spanning the room (with extra central support) to carry the passageway above.
Recent history
"White Swan"
From 1984, Halifax Building Society, after much local opposition against change of use from a retail site, won permission from the Welsh Office
From 1980-1983 Martin's the Jewellers (company folded in 2015) used the shop in conjunction with their Frogmore Street premises.
1977-80 National Westminster Bank Ltd;  Bank on ground floor, offices over (source : Local History Survey 1984)
1972-77 Property empty until occupied by National Westminster Bank
1972 :  The White Swan (often referred to as The Dirty Duck: closed.   Cafe on right and upstairs. Cafe had juke box and pool table
1962 : advert in Abergavenny Chronicle for Continental Hotel, wedding receptions, seating for 100 in restaurant
---
Previous occupiers
White Swan Public House & Pietro Mazzocchi Confectioners
Proprietor Horace Jones to 1939 (owned by Facey & Son Ltd in 1938)
Proprietor L E Goatman from Nov 1934-Jan 1935)
White Swan Public House & Gatti's Dining Rooms
White Swan Public House & W Goatman Grocer
Proprietor Mrs Rosa Denner from Feb 1913-1934
Owned by Frank H Facey in 1914
Proprietor Eustace Baker from Feb 1912 – Jan 1913
Eureka Public House & Confectioner
Prop : Thomas George Alden
Proprietor William Denner
Swan Hotel & Posting House
Proprietor John Jones (owned by Samuel Henry Facey from 1864-1891)
Samuel Henry Facey & Rees Thomas
Samuel Henry Facey & Rees Thomas
Samuel Henry Facey & Rees Thomas
Samuel Henry Facey & Rees Thomas
Brewer, Wine Merchants (& importer of Dublin Stout
Samuel Henry Facey & Rees Thomas
Proprietor Ann Sybil Williams and Joseph Meredith
Wine & Spirit Merchant/Provision Dealer
Proprietor Ann Sybil Williams and Joseph Meredith
Wine & Spirit Merchant/Provision Dealer (owned by Edward Lewis from 1850-1860)
Wine & Spirit Merchant (employing 3 men)
Owned by John Goodwyn from 1839-1840)
County Record Office document
County Record Office Deed of Settlement
---
Other information
"The Swan" is mentioned on a 17th century probate document in the National Library, Aberystwyth.   It is not known if this relates to the same property as the "White Swan" at this address;  it could equally be one of following : The Swan at Monmouth Road end of town; or Black Swan in Frogmore Street (demolished c.1794)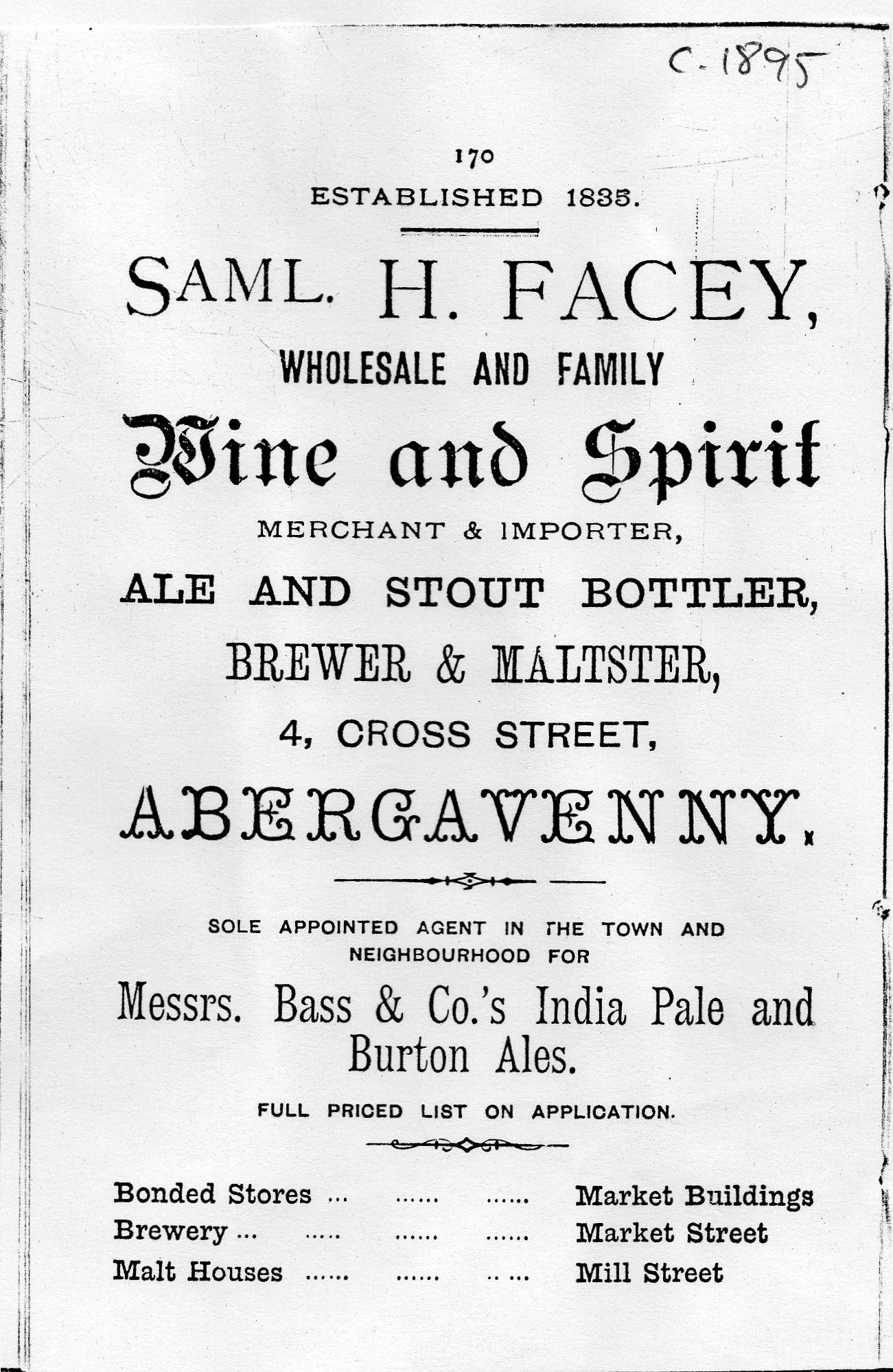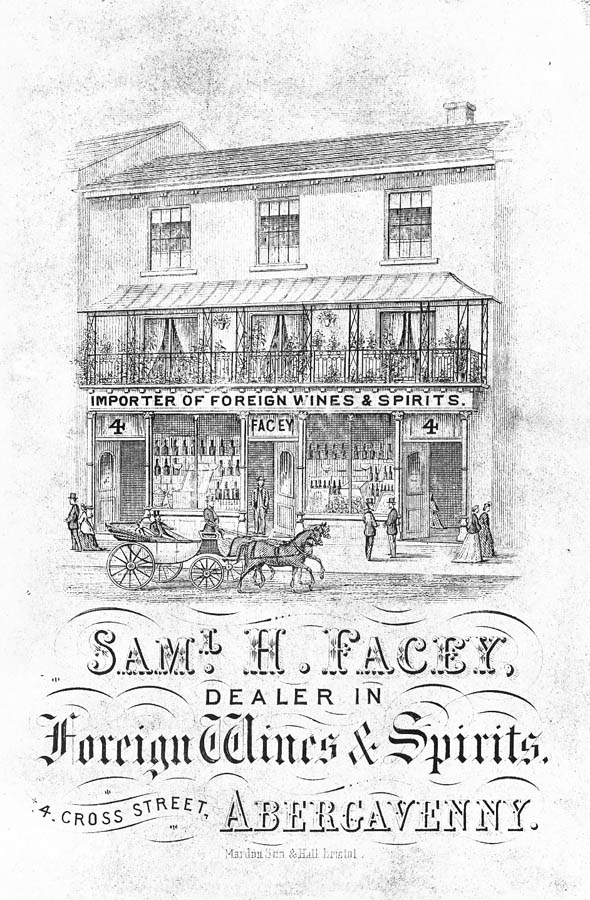 Source : coflein.gov.uk
"Late 18th century or early 19th century and later.   Three storey and attics. Projecting 1st floor balcony with Regency style verandah on iron columns"
If you have any further information about this property please email alhs@live.co.uk