43 & 43A Frogmore Street
Main details
Address:
Present Occupier:
Present Owner:
Ground Floor:
Other Floors:
Date when first used by present occupier:
43 & 43A Frogmore Street
Panevino Italian Restaurant

owners: Oakbridge Property Ltd
opening 7 June 2021
1st & 2nd floors: Gwagle moving here 2022 ?date ?feb/mar
Before and After Images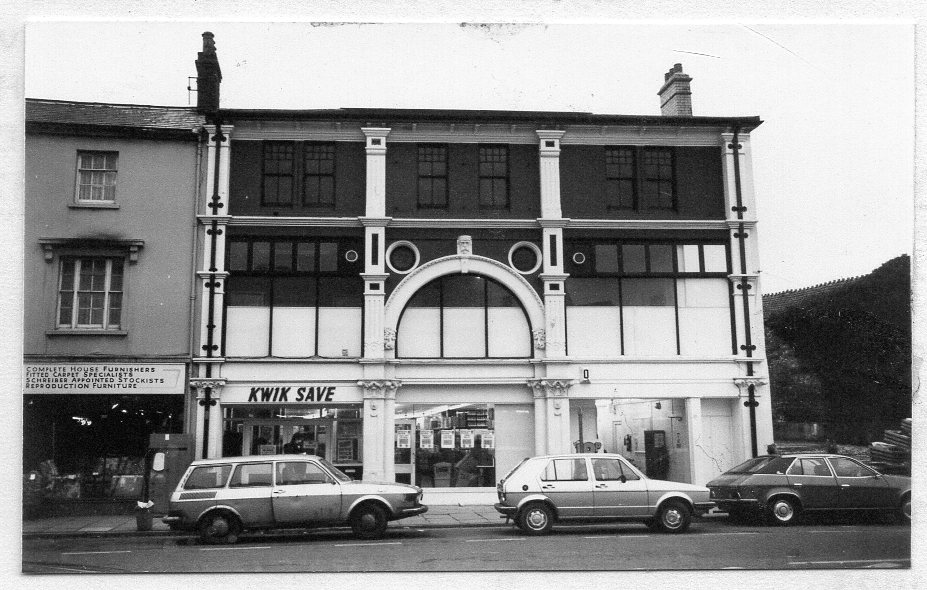 1979/80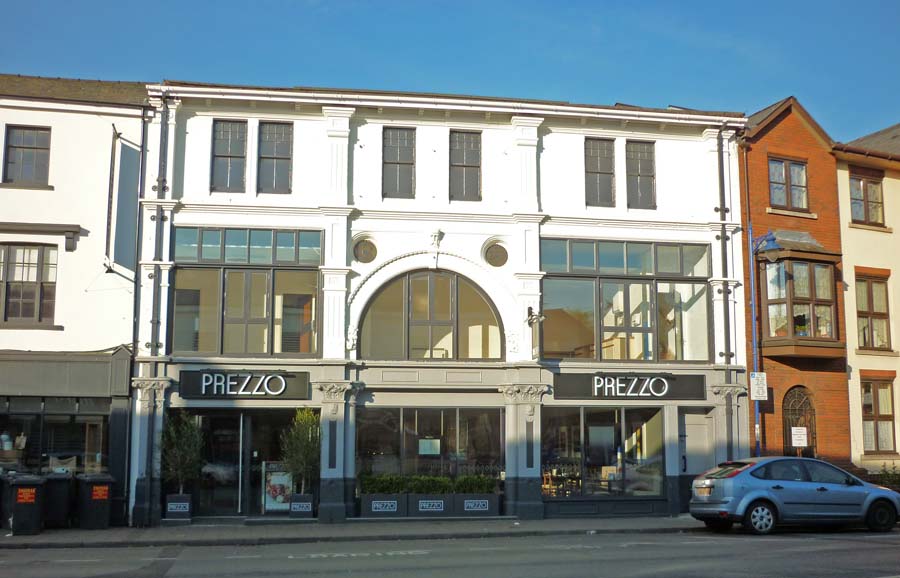 2016
---
About the building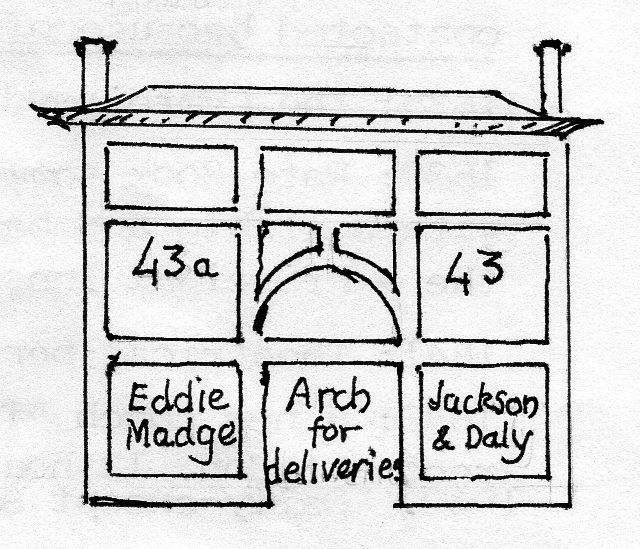 43A was on the left, 43 on the right separated by an arch which was filled in when occupied by the Co-operative stores in 1967.
In about 1984, the building here was demolished and the present one erected. The front still stands, but the rear was demolished & rebuilt in 1979.
A photograph of the 'George Hotel' is in the Abergavenny Museum, showing the proportions of the building have hardly altered. Victorian Neo-Venetian, cast iron framework allows a light & airy building reminiscent of the style of the Crystal Palace. The slender pillars are probably reinforced. (L Hurley)
Advertisement in 1825: To be let….All that Messuage, Tenement and Dwelling House, called the Little George Inn, with suitable offices, Cellars, and 3 excellent stables, eligibly situate on Frogmore Street.
Recent history
approx Feb/Mar 2022: 1st & 2nd floors: Gwagle "flexible shared workspace".  These floors "empty for decades"
June 2021: Panevino Italian Restaurant ;  already in Chepstow
Prezzo Italian restaurant chain: From ?2016 – Closed April 2018  : Company failing, closing many branches throughout UK including Abergavenny which appeared to be unsustainable.  ( 3 storey building, to rent £50K pa + £32K business rates; 4448 sq ft ground floor; 798 sq ft 1st fl;  812 sq ft 2nd fl  /  emanuel-jones.co.uk)
1979: Kwik-Save Supermarket on ground floor, other floors, offices and stores.
Aug 1972 – Jan 1978: Wasons Decorators Merchants
1970:  No 43A & filled in arch: Co-operative Retail Store store opened December 1970, Jackson & Daly closing down Feb 1970, curtain materials & furnishing frabric.
1968: Jackson & Daly, phone number 4, furniture
1962, 1964, 1967: Jackson & Daly, furniture
1961: Jackson & Daly, family furnishers, 3 Feb page 7 photo Abergavenny Chronicle 43A: The Abergavenny & District Co-operative Society Ltd, dry goods, official opening dry goods store, 28 October.
1952: Jackson & Daly, furnishings
1945- 1970: No 43: Jackson & Daly, Furniture Dealers
1912- 1967:  No 43A: Mr Edward Harrington,, Photographer
---
Previous occupiers
43: Charles Downes (tel no P/O 103)
43A Harrington, Photographer
Cabinet Maker, furnisher, upholsterer, window blind dealer
"        "
also at 43A: 1927 – 1928: A Lyons, Jeweller
43: Charles Downes
43A:1901-1912: Eddie Madge, Photographer
Cabinet Maker, furnisher, upholsterer, window blind dealer
Prop: William George Martin
Prop: Joseph James Stephens
George Commercial & Agricultural Hotel
---
Other information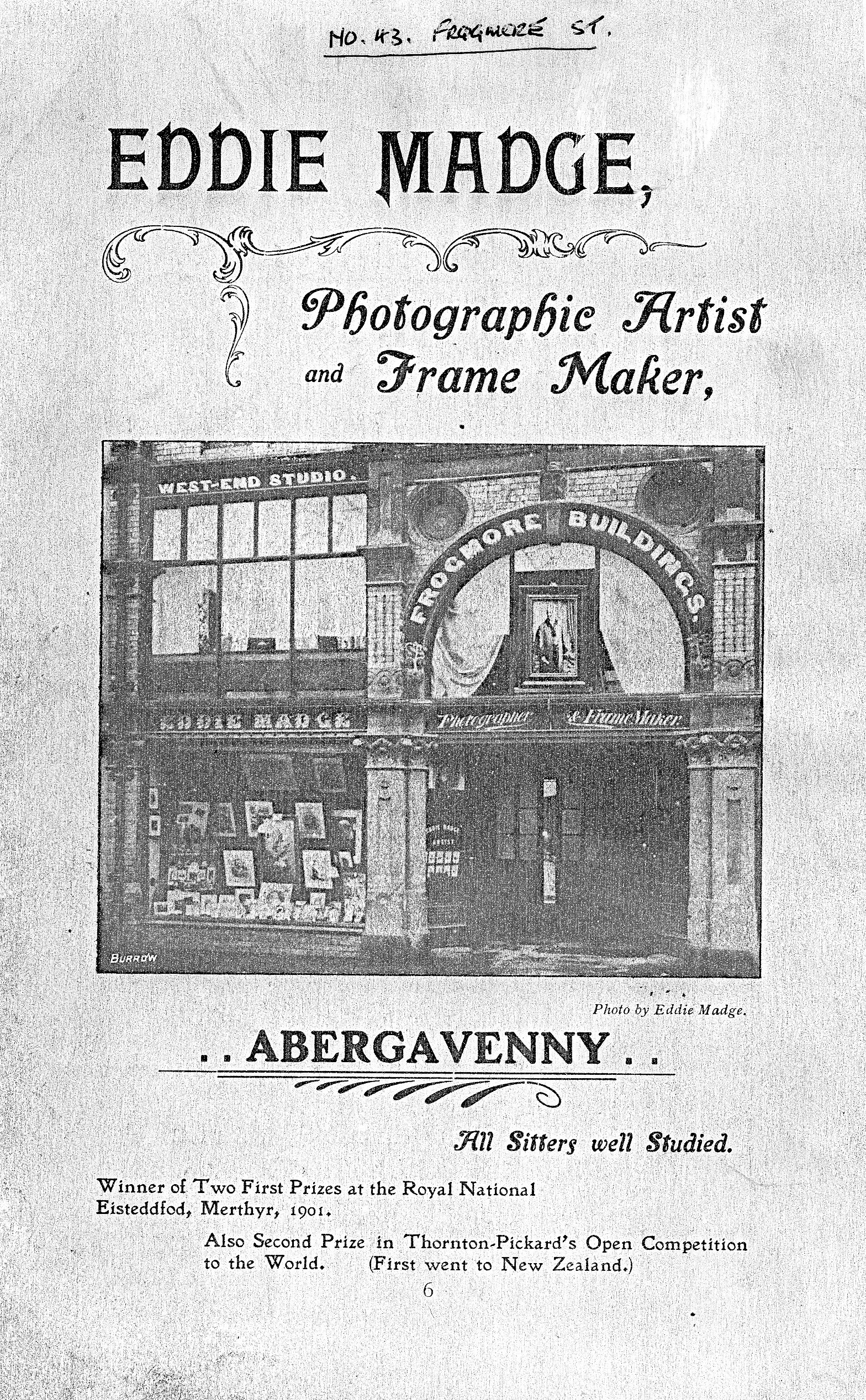 Mr Eddie Madge, Photographer, left a great number of photographs of Abergavenny at the turn of the last century. He was winner of two 1st prizes at the Royal National Eisteddfod, Merthyr, in 1901. Also 2nd prize in Thornton-Pickards open competition to the world (first went to New Zealand). He emigrated to USA and his descendants were contacted for the original Street Survey.
1838: The Cymreiggydion Society held dinners here
1839: Rate book shows the premises named the George Inn (owner: Mr John Hobhouse)with a stable and ball court. 1840: Recommended in Cambrian Travellers Guide as one of the principal Inns. 1841: Theatrical performance of 'The Lady of Lyons' in Harris' Ball Court. 1842: A new coach 'The Prince of Wales' connected at Bristol with the Londond/Brecon/London coach. 13 hours. daily except Sundays. (South Wales General Advertiser found in Crickhowell 1960)
The inn is not listed after 1895. A/22-71 (Abergavenny Museum) dated to 1875 or before, shows it empty & a poster on the door advertises "The Brooks", changed to 'Nevill Court' in 1875.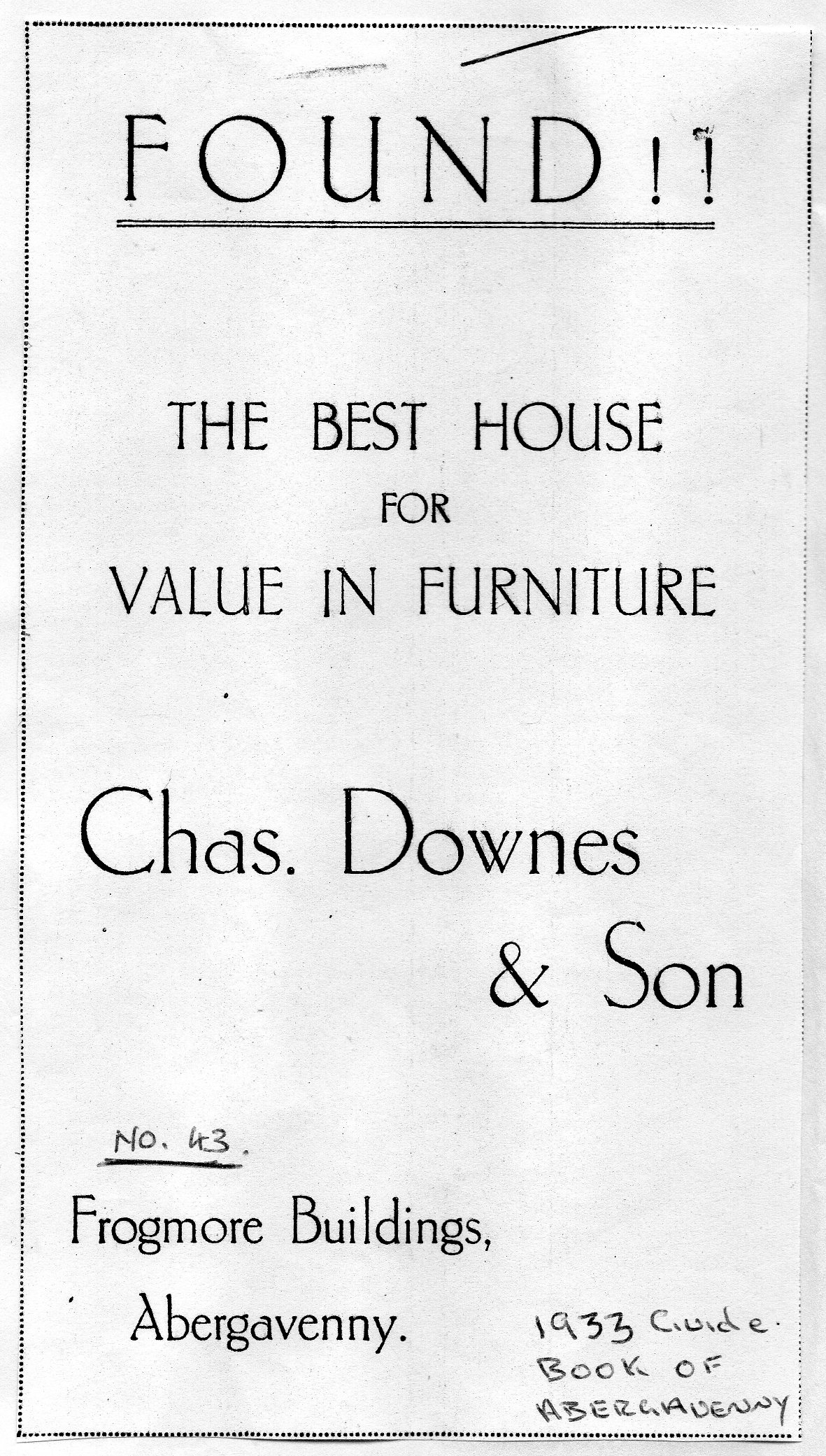 If you have any further information about this property please email alhs@live.co.uk