46 Cross Street
Main details
Address:
Present Occupier:
Present Owner:
Ground Floor:
Other Floors:
Date when first used by present occupier:
46 Cross Street
Chesters Wine Merchants
Alan Griffiths


Before and After Images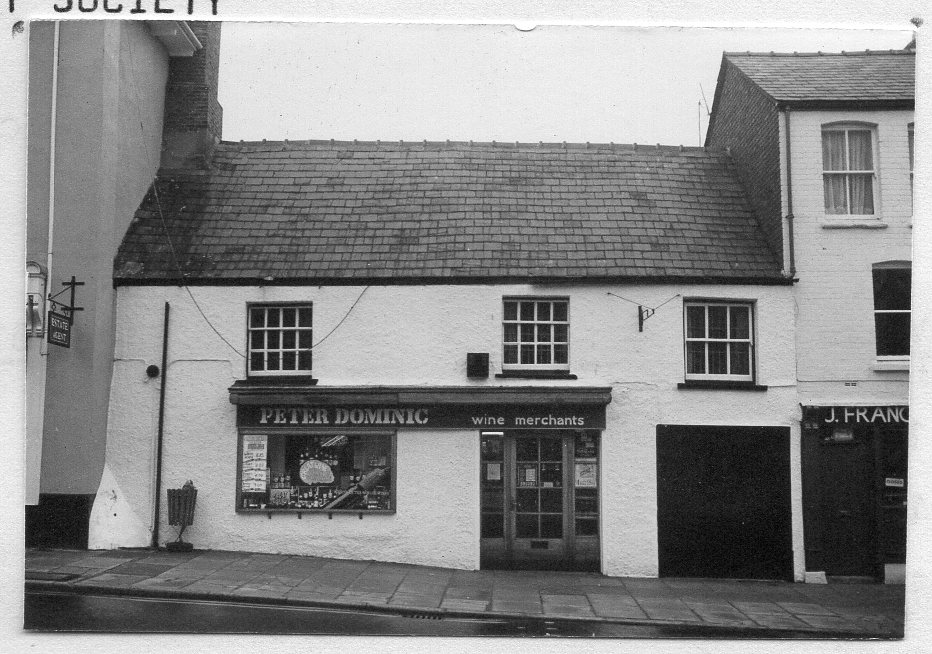 1979/80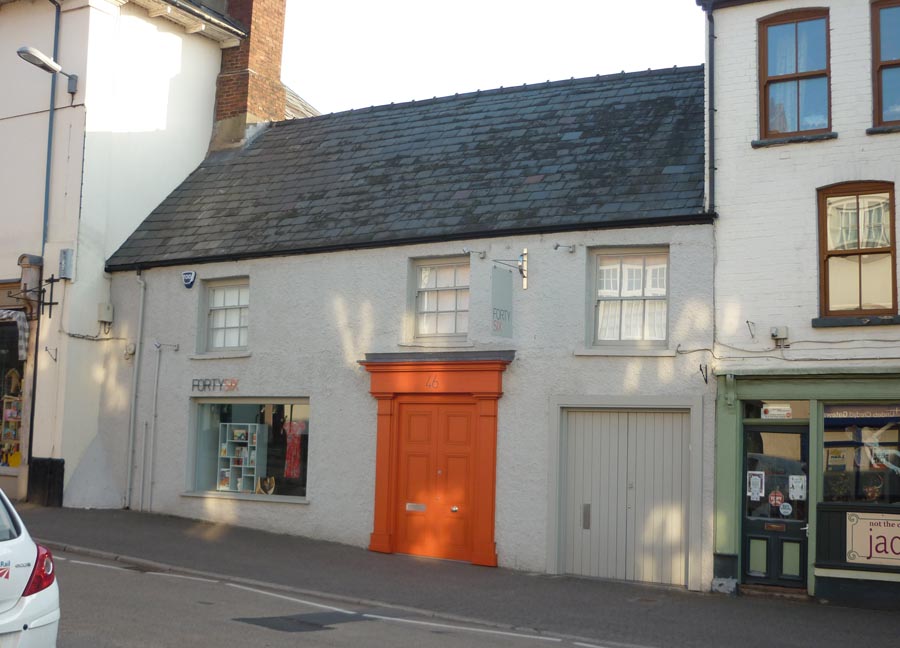 2015
---
About the building
source : Abergavenny Local History Society Survey 1980:
Probably mid 17th century
Cellars were filled in when it was an electrical shop (source Peter Dominic Ltd)
Grade II Listed Building
1891 : had stabling for 40 horses and ample accommodation for visitors (source : Kelly Directory)
Slate roof (Source : Welsh Office)
In the 1947 Rate Book, the tenements 1,2 and 3 Priory Walk are listed with this property
Recent history
August 2021 : Chesters Wine Merchants;  moved here from Lewis Lane
Oct 2017 : had been a shop selling "vaping" (e-cigarette) products, but now appears closed and empty (still empty and to let Aug 2018)
Approx Sept 2016, the window was being used as display for Five-ways.net ? art co-operative.
Work on ex Great George PH in 2015/16 led to closure of the co-owned properties at nos 46 and 47
From ?2012 – mid 2016 : (known as)  No. 46 – contemporary gifts, clothes. Closed, along with Fable next door when combined with scaffolding erected on the former Great George pub
1967: Fosters Wine Merchants (Abergavenny Chronicle)
From 1962 to ??  Peter Dominic Ltd, Wine Merchants.  (moved from no.7 Cross Street).   Other floors not used
From 1947-1962 Lewis  Electrical Co.
To 1947 : Wellington Inn (see "Previous Occupiers)
---
Previous occupiers
Proprietor : William Frederick Higman (to 1939)
Proprietor : Mrs Emmeline Miller
Prop : John Evans Davies (to 1931)
Abergavenny Pubs Frank Olding
Proprietor : John Evans Davies
Proprietor : George Maggs
Proprietor : Charles Pugh
Manager : Clement Morgan Barber
Owner : George Powell from 1914-1938
Kelly/Abergavenny Pubs
Frank Olding
Proprietor : Henry H Bates (to 1912)
Proprietor : Henry H Bates
Proprietor : John David Williams
Prop : John David Williams (1895-1901)
Kelly/ Abergavenny Pubs Frank Olding
Proprietor : Edward Pottingter & Joseph Denner, Butcher
(March 1888 : leased to Matthew Gooden to Oct 1890)
Kelly/ Abergavenny Pubs Frank Olding
Proprietor : W Warr
(Oct 1883-1888 : John Powell took 7 yr lease)
Thacker/ Abergavenny  Pubs Frank Olding
Proprietor : William Warr
Proprietor : William Warr
Proprietor/owner  : William Warr (1868-1884)
Proprietor : William Knight
Proprietor : William Knight (to 1864)
Slater/ Abergavenny  Pubs Frank Olding
Proprietor : Joseph Cole ("victualler, licensed to sell horses")
Pigot/Abergavenny  Pubs
Frank Olding
Proprietor : Joseph Cole (1842-1853)
Owner : F H Williams from 1839-1864
Slater/Abergavenny Pubs
Frank Olding
Proprietor : John  Horton to 1840
Pigot/Abergavenny Pubs
Frank Olding
Proprietor : Thomas Roberts
1830 : Prop: Daniel Jones
Landlord: John Burl Mallowney (died 1814)
1791 : Ann Malony Publican & Freeholder
Abergavenny Pubs Frank Olding
---
Other information
William Warr (proprietor of Wellington Inn  in 1870s was the same person who was in Tudor Street in 1862
John Powell, formerly of the Blorenge Inn on the Monmouth Road, took out a 7yr lease on the premises from the then owner & innkeeper, William Cupid Warr, for an annual rent of £35 'except the Butcher's Shop adjoining on the south side…. and the bedrooms over the same' By that time, it was known simply as the Wellington Inn (source : Abergavenny Pubs Frank Olding)
Abergavenny Chronicle dated 23 November 1889 showed this property was "let to John Powell, Late of Blorenge Inn"
Adverts in Abergavenny Chronicle :
ad in 1956 and 1961 for W A Lewis & Co, electricians
ads in 1962 and 1964 : Fosters, Wine Merchants – opening of new premises 1 August 1962
ad in 1980 : Peter Dominic, Wine Merchants – revamped store opening 10 July 1980
ads in 1981, 1988, 1989, 1991 : Peter Dominic
Source : coflein.gov.uk
"Probably C17 in origin, altered in the early C19 and with a late C19 and late C20 shopfront.  For a period, it was the Duke of Wellington Inn which closed in 1947 (or possibly 1923).  It is recorded as having stabling for 40 horses in 1891.  A photograph of 1934 shows the present deep fascia but the window and door shown below have been altered since."
"This building has a rendered and painted front with a natural slate roof and red brick stack.   Double depth range paralle with the street.  Two storey, three bays.  The ground floor has a modern plate glass window to the left and a glazed door with sidelights to the centre.  These replaced the previous public house front at some time between closure in 1947 and listing in 1974, but the fascia which covers both is part of the previous frontage.    Plank carriage door to right for access to the yard behind . The windows above are unevenly spaced, two 3 over 6 pane sashees plus one 3 over 3 pane to right.  Wrought iron projecting sign bracket (not shown in photograph).   Plain steeply pitched roof with tall brick stack to left gable.  This was heightened when the adjoining house was built.  Rear elevation has later additions".   (Source CADW listings database) S Garfi 25/10/06
If you have any further information about this property please email alhs@live.co.uk