47 Cross Street
Main details
Address:
Present Occupier:
Present Owner:
Ground Floor:
Other Floors:
Date when first used by present occupier:
47 Cross Street
Tommy Brooks
Alan Griffiths
Ladies' Hairdresser
flats, occupied by staff from Angel Hotel
2019

Before and After Images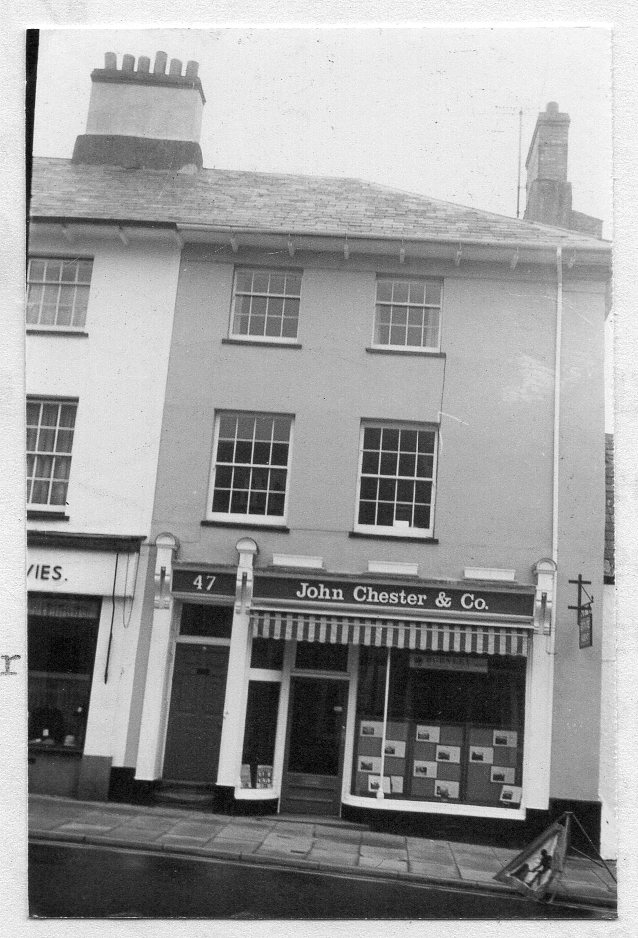 1979/80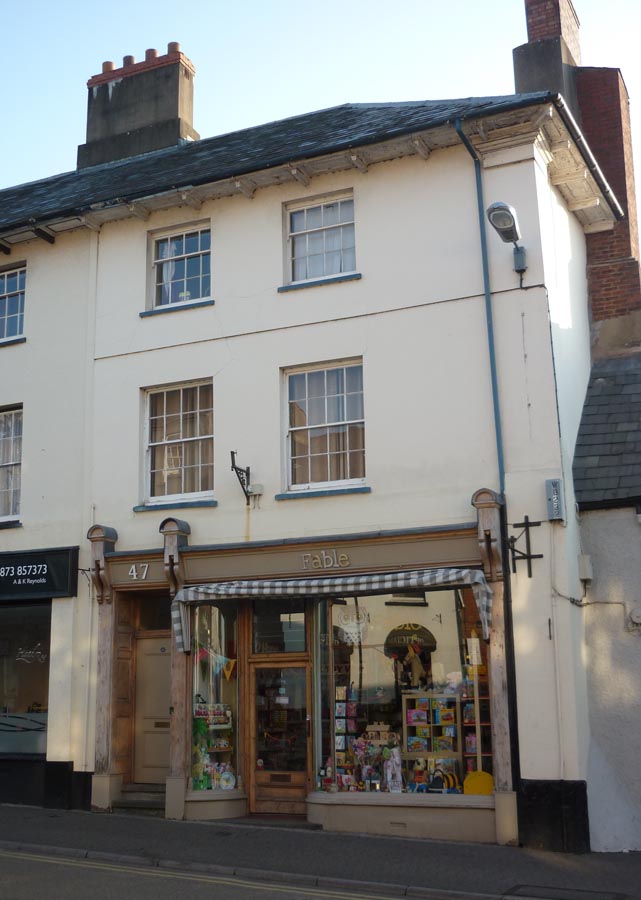 2015
---
About the building
Source Abergavenny Local History Society Survey 1980;
The old name plate of George Bull. tobacconist, remains under the new shop front
Grade 2 listed building, timber-framed structure, basically lath and plaster. The front elevation was extended at some period by about 6-8 feet. This is indicated by the shape of the rafters.  There is a small timber-framed cradle staircase adn it is believed that the building was connected to the dress shop next door at some time.
Two full height pilasters in stucco above the ground floor.  Projecting bracketed eaves cornice with obvlong panels between brackets.  Hipped slate roof and four brick stacks (source :  Welsh Office)
Recent history
2019 (approx April) Tommy Brooks, Ladies Hairdresser
Temporarily a "pop-up" space for Dormy Care(new care home built on "Persimmon" site in Llanfoist (along with Premier Inn etc
Reconstruction work on ex Great George PH led to closure of co-owned properties at no.46 and 47 in early 2016
Source : Abergavenny Local History Society  Survey 1980:
From 1981 to ?  : Bill Chester, Estate Agent/Owner  (at the time of the original survey, he had recently purchased the building from Russell, Baldwin & Bright, for whom he used to work.  He then carried on the business of estate agent.  The previous owner of the building was Mrs Donald (widow) who used to occupy the flat above.
From 1967 – 1981 : Russell Baldwin & Bright, Estate Agents
From 1947 : C W Bull Kelly, House and shop
---
Previous occupiers
See "Recent History" section
Hairdresser & Tobacconist
Hairdresser & Tobacconist
Hairdresser & Tobacconist
Hairdresser & Tobacconist
Hairdresser & Tobacconist
Hairdresser & Tobacconist
Hairdresser & Tobacconist
Hairdresser & Tobacconist
Painter, Plumber & Decorator
Painter, Plumber & Decorator
Painter, Plumber & Decorator
Painter, Plumber & Decorator
Plumber, Glazier, Decorator
Plumber,  Glazier, Decorator
Plumber, Glazier,  Decorator
---
Other information
Adverts in Abergavenny Chronicle :
1960 : ad for "Snack Bar"  (no name) – looking for "working manageress"
1973 : ad for G Bull & Sons  – tobacconist, fancy goods – closing down sale
1974, 1978, 1980 : ads for Russell Baldwin Bright, Estate Agents
1981, 1982, 1984 : ads for John Chester, Estate Agents
1989 : ad for R J Fowler Ltd, Estate Agents
1991 : ad for Tod Security Systems
If you have any further information about this property please email alhs@live.co.uk