5 Nevill Street
Main details
Address:
Present Occupier:
Present Owner:
Ground Floor:
Other Floors:
Date when first used by present occupier:
5 Nevill Street, St John's House
George Davis & Co
George Davis & Co
Solicitors Offices

1957
Before and After Images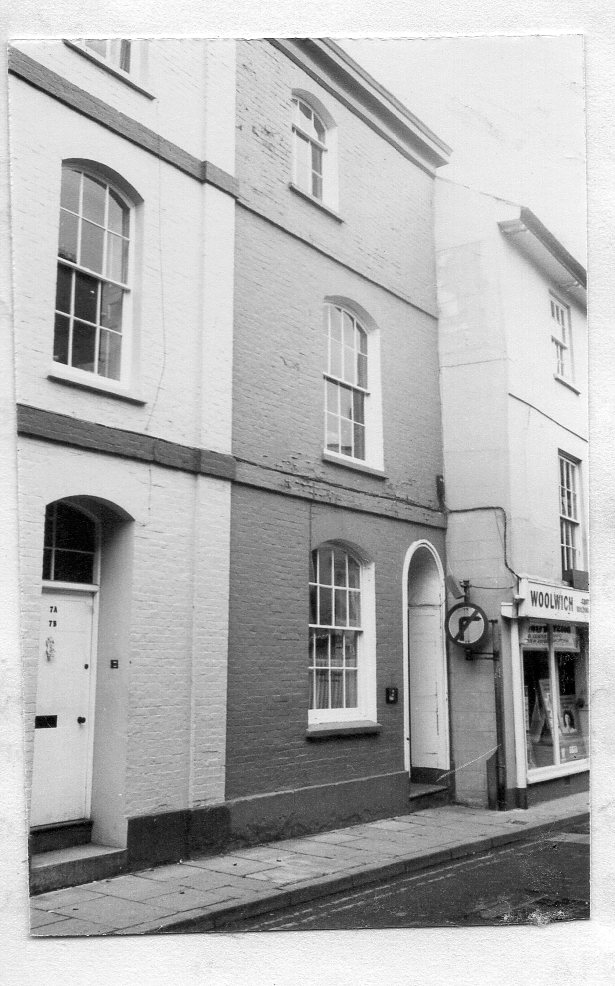 1979/80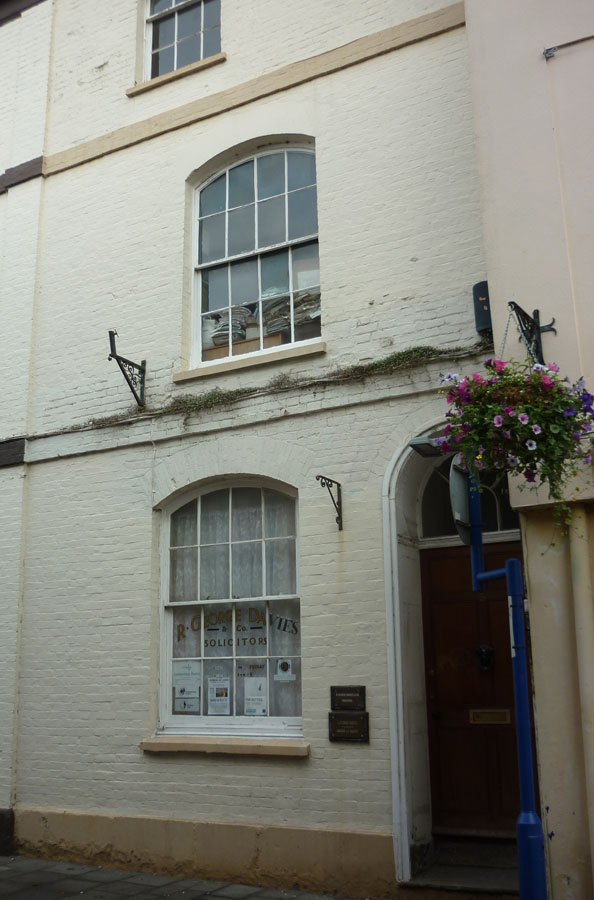 2016
---
About the building
This property was jointly owned and occupied with no 7 and partly no 9 until 1858
Description in 1810: [the previous part of the description applies to no 7] "And also the dwelling adjoining to the said dwelling with the yard and outbuildings thereto and which for many years previous to 1972 were in occupation by JOAN MORGAN widow and since which time the upper apartments thereof were occupied by Robert Morgan Kinsey till his death and since occupied by his widow and the lower apartments first occupied by Messrs.HILL, KINSEY & Company, Bankers and since and now by the said THOMAS HILL the elder  SAMUEL HOPKINS & LEWIS OSBORNE as co-partners in the ABERGAVENNY BANK. All which said messuages tenements and dwelling houses all situated in ROTHER STREET or NEVILL STREET in Abergavenny bounded on the South or South-West side by a dwelling house and garden late of Reverend JOHN WILLIAMS clerk deceased late in the occupation of Mr JOHN ALLPRESS and now of WILLIAM THOMAS DAVIES. On the North or North-West side by the dwelling house called "THE RAVEN" now or late in the respective occupation of WILLIAM GRIFFITHS tailor and HENRY AND JOHN VALENTINE, shoemakers and backwards by the garden formerly in the occupation of Mr JOHN ANDRUS maltster deceased, …………..GRAFTON, Catholic Priest and his undertenants. And fronting on the said Rother Street together with 2 pews or seats in St Mary's Church."
Built well before 1754 (Gabb manuscripts)
Advertised in 1901: To let no 5 Nevill Street. 2 sitting rooms, kitchen, scullery, larder, etc., on ground floor. Also 5 bedrooms, ballroom etc., above. Apply Dr William Steel, 7 Nevill Street.
Description in 1930: Messuage, dwelling house, outbuildings and yard.
Recent history
1962:  R G Davies, advertisement for shorthand typist.1930 – 1957: owned by A M Cunliffe, Solicitor, together with nos 7 & 9.
From 1957: Robert George Davies, Solicitor who moved from St John's House at no 26 Nevill Street.
1931: occupied by Messrs Parsons & Jolliffe 1947: E Boyt (occupier of house and shop)
see also information for nos 7 & 9.
---
Previous occupiers
Beverley Burton
"           "
Dentist & residence upstairs including upstairs of No 7
Dentist & commercial residence
High Bailiff of County Court
Residence (house, outbuildings & yard)
Surgeon (residence 57 Frogmore Street)
"         "         "
& Samule Hopkins Steel
"         "         "
(residence over 3 Nevill Street)
owned by William Dyne Steel
T Hill, S Hopkins & L Osborne
Hill, Kinsey & Co
---
Other information
For more details of the Deeds for 5, 7 and 9 Nevill Street click
* here *
In 1794 Hill, Kinsey & Co, Bankers, were the first Treasurers for the Improvement Commissioners (minutes of Improvement Commissioners).
Samuel Hopkins was the son of Thomas Hopkins who with Benjamin Pratt and Thomas Hill began the Blaenavon Ironworks in 1788/ They had long associations with the iron trade and founded the largest ironworks in South Wales based on Midlands investment. Hill was also a banker.  Thomas Hill the younger was responsible for the tramroad from Blaenavon to the Llanvihangel Railway in about 1818. Lewis Osborne was steward to the Earl of Abergavenny.
The Abergavenny Bank moved to no 10 High Street by 1822 as HILL,HILL & OSBORNE & Co. Bankers.
1931: George William Dover bought the garden, ground and premises known as the "Priest's Garden" with buildings and shed at the rear of St Michael's Hall, at the rear of no 7 and the right of way through the archway and along the lane or path from Frogmore Street to Baker Street (now 7 Corners Lane).
1957: Mr George Davies moved here from the original St John's House (no 26 Nevill Street) in Bull Square, now demolished.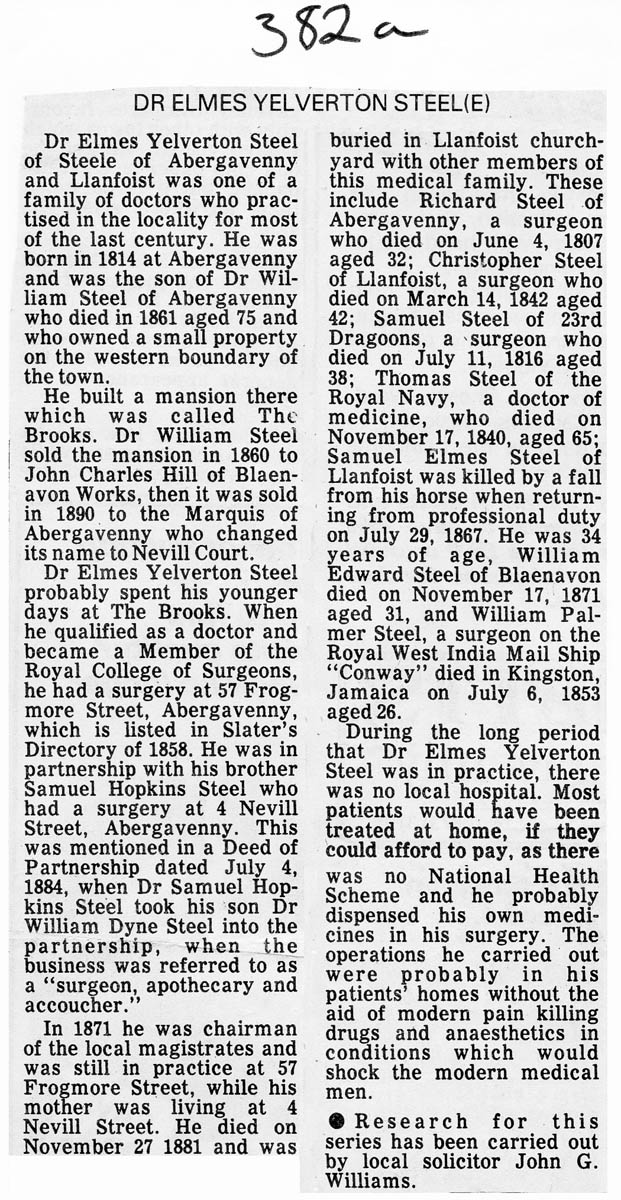 If you have any further information about this property please email alhs@live.co.uk