50 Cross Street
Main details
Address:
Present Occupier:
Present Owner:
Ground Floor:
Other Floors:
Date when first used by present occupier:
50 Cross Street
Angel Bakery

bread and other food retail
From 23 Nov 2020
1st floor : July 2017 : Beauty Central UK Ltd
Before and After Images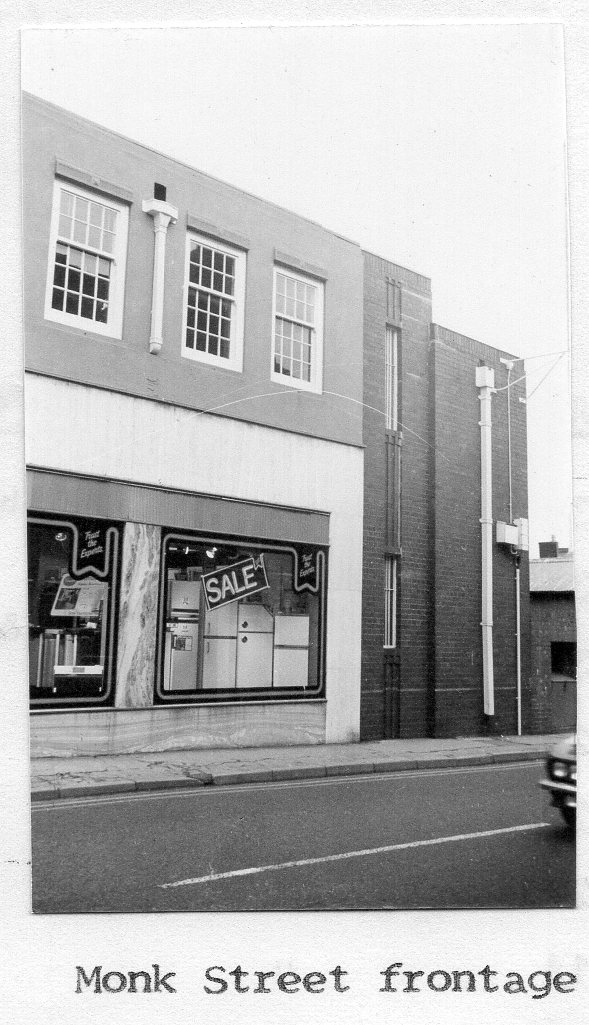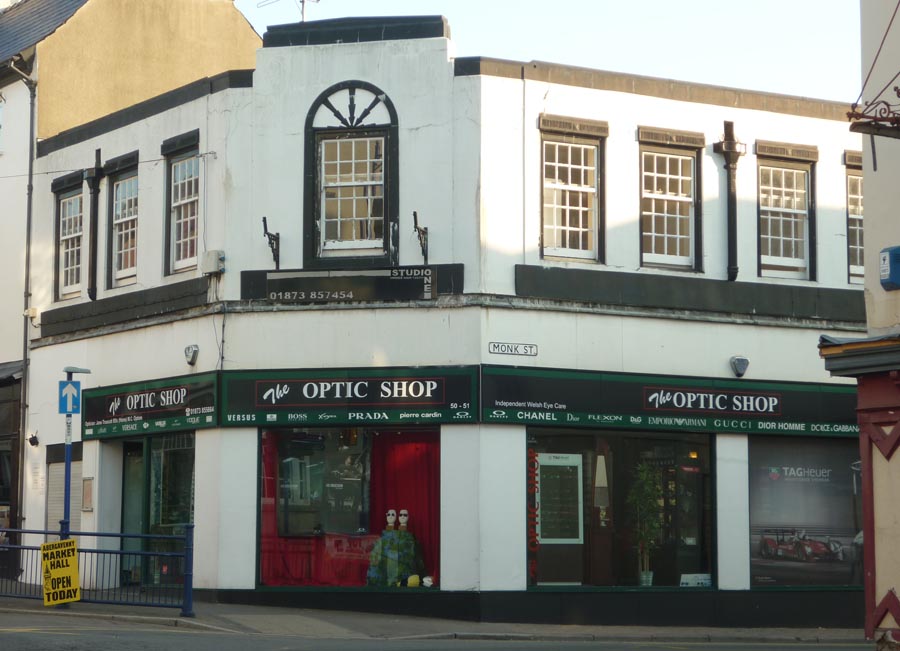 2015
---
About the building
Source : Abergavenny Pubs Frank Olding
: The Queen's Head (formerly the Old George Inn)
Source : Abergavenny Local History Society  Survey 1980:
The building was demolished in about 1932 for road widening, but the site was partly included in the new no.51.  The new building has Swedish green marble fascia panels.   (There is an additional semi-legible handwritten comment  "….. & ….. travertine maroc (…..) formed by volcanic hot springs.  J Perkins")
See also 51 Cross Street
Recent history
Closed until November 2020 when open as Angel Bakery (previously across the road in small premises in Lower Castle St)
Optic Shop from ?? to May 2019 when the site closed and Optic Shop moved to ground floor of ex Vine Tree/Grasshoppers in St John Square
With no. 51 Cross Street – shop/offices of South Wales Electricity Board from 1932 until ?1990s/early 2000s?
December 2016 : Part ground/1st floor advertised To Let by Astleys Chartered Surveyors (Swansea)  : "Flexible First Floor accommodation previously trading as a hair salon"  Entrance lobby on ground floor with the first floor given as net internal area of 1,014 sq.ft.  Rent offers in region of £8,500pa
July 2017 : 1st floor  Beauty Central UK Ltd – a plc registered at 50/51 Cross Street, incorporated April 2017,with one director – Sofia Afsar
---
Previous occupiers
Building demolished to widen Monk Street
Corn & Agricultural Produce
Joseph Harris
Charles & Sons (from 1875 – 1905)
Grocer
Clothier & Shoemaker
Joseph Harris
Charles & Sons
Grocer
Clothier & Shoemaker
Joseph Harris
Charles & Sons
Grocer
Clothier & Shoemaker
Clothier, outfitter & shoemaker
Clothier, outfitter & shoemaker
Clothier, outfitter & shoemaker
James Bros (William & Brecon) & The Misses Trotter
Samuel Trotter, Brewery from 1842 to 1862
Linen & Wool Drapers & silk mercer
Maltsters
Hatter & haberdasher, employing one woman
Chemist, druggist & china & glass
Owner John Jones; Publican Roger Yarnold
Abergavenny Pubs Frank Olding
Owner Robert Harries; Publican John Somersett
1732 : Owner John Jones "of Panty Goytre"
Abergavenny Pubs Frank Olding
---
Other information
Following from Abergavenny Local History Society Survey 1980:
From agreement in Gabb Collection D.591.7.165:  1733 : John Jones of Kevencoed (sic) Llanvetherine with Roger Yarnold, plumb and glazier of Abergavenny  "Messuage with stable, garden and backsides …. knows as "the Old George" situated in Old George Street, Abergavenny
D.591.17.63:     1815 : Mortgage : Morgan Walbeoff late of Llanarth, now of Llanfapley and William Hiley of Llanwenarth
……. called the Old George, afterwards the Queen's Head with malt house, stable and additional buildings built by Roger Yarnold as amply as John Rees occupied them as tenant to Joseph Harrison.   Also messuage adjacent (i.e. 51) in occupation of Thomas Powell as tenant, abutting Cross Street-Monk Street – The Town Wall – the messuage in occupation of Richard Williams now John Rees to one in occupation of Miss Lewis, Milliner, late of Thomas Richard, Timber merchant and lately conveyed by Isaac Wyke and Joseph Harrison to John Morgan of Abergavenny, Currier."
(these would be the houses behind no.52 see plan on that sheet)
1862 D.591.3.54:    John Theophilus Wilson of Ty Mawr, Llanvapley, Philip Walbeoffe, late of Ty Mawr, now of Abergavenny.    "Messuage called the Old George or Queen's Head, now in occupation of William Griffiths, draper and the Misses Trotter, malsters, as tenants thereof.
(see also no. 51 Cross Street)
adverts in Abergavenny Chronicle:
1942/1948/1952 : ad for Wibberley & Co Ltd, selling poultry, spice, corn dealers (also at Tithe Barn)
1954 : ad for nos 50/51 South Wales Electricity Board,  Electricity Showromms
1956 : ad for nos 50/51 : Electricity Showrooms
1962 : ad for South Wales Electricity Board Offices/Showrooms – Change of office accommodation, transferred from Brecon Road 6 July 1962
2000 : ad for nos 50/51 : Optic Shop Opticians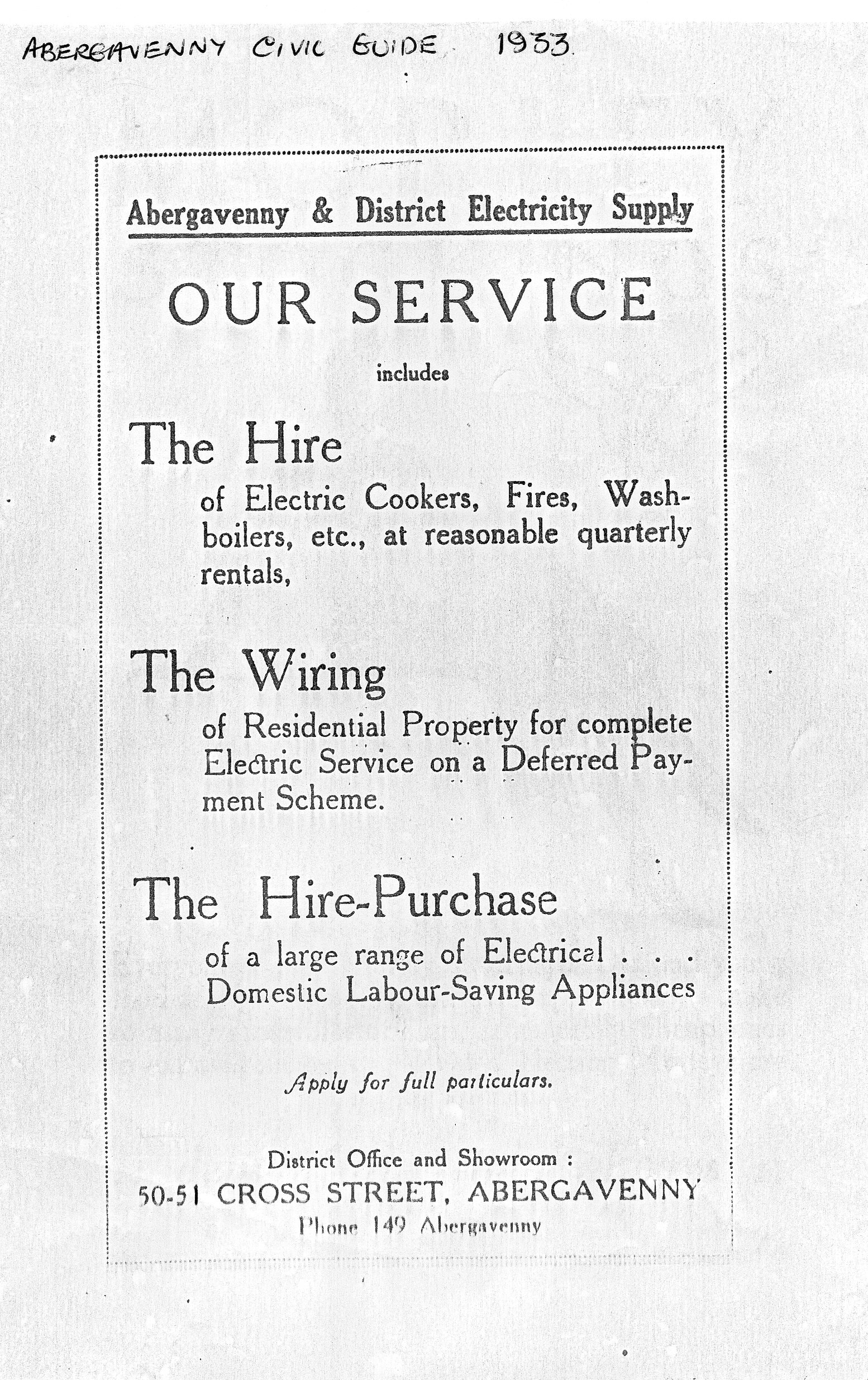 If you have any further information about this property please email alhs@live.co.uk