52 Cross Street
Main Details
Address:
Present Occupier:
Present Owner:
Ground Floor:
Other Floors:
Date when first used by present occupier:
52 Cross Street
Fiore CLOSING APRIL 2021
Alan Griffiths

"His & Hers" Hairdresser"
2007
Before and After Images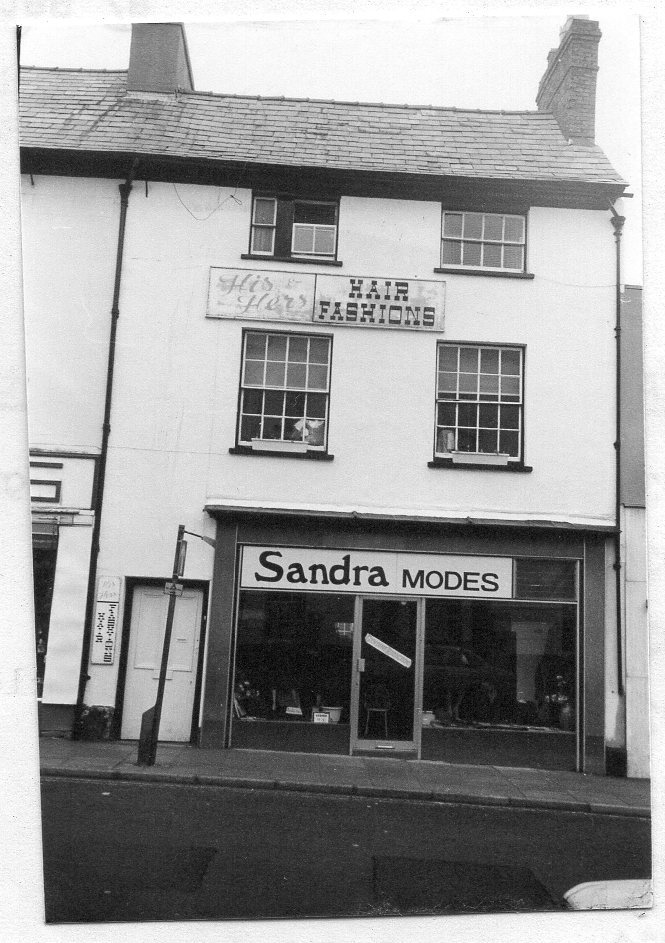 1979/80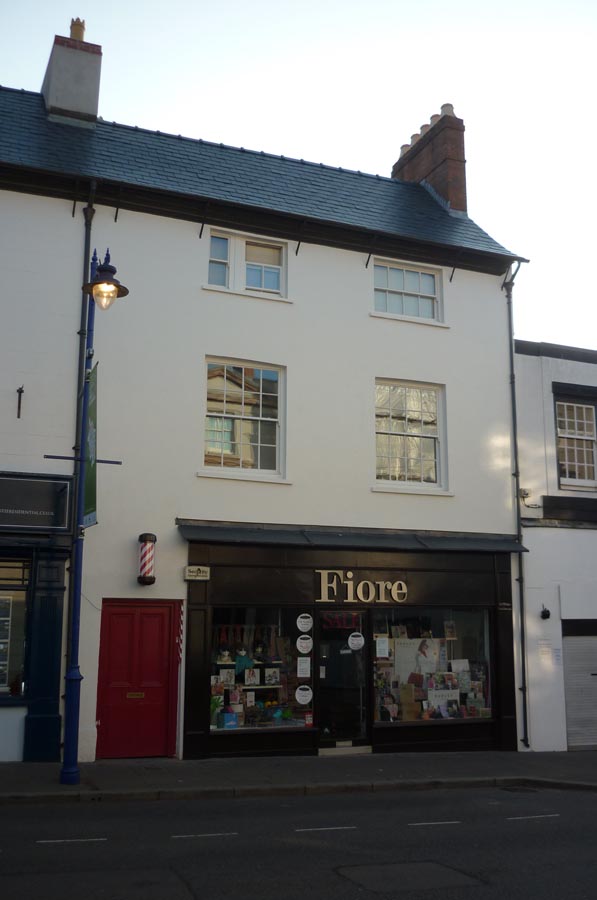 2015
---
About the building
On part of site of 'Old George Inn'. Building is circa 1800. Whole tree beams support 1st floor.
Chimneys are round and go straight up.   Whole tree beams support the first floor.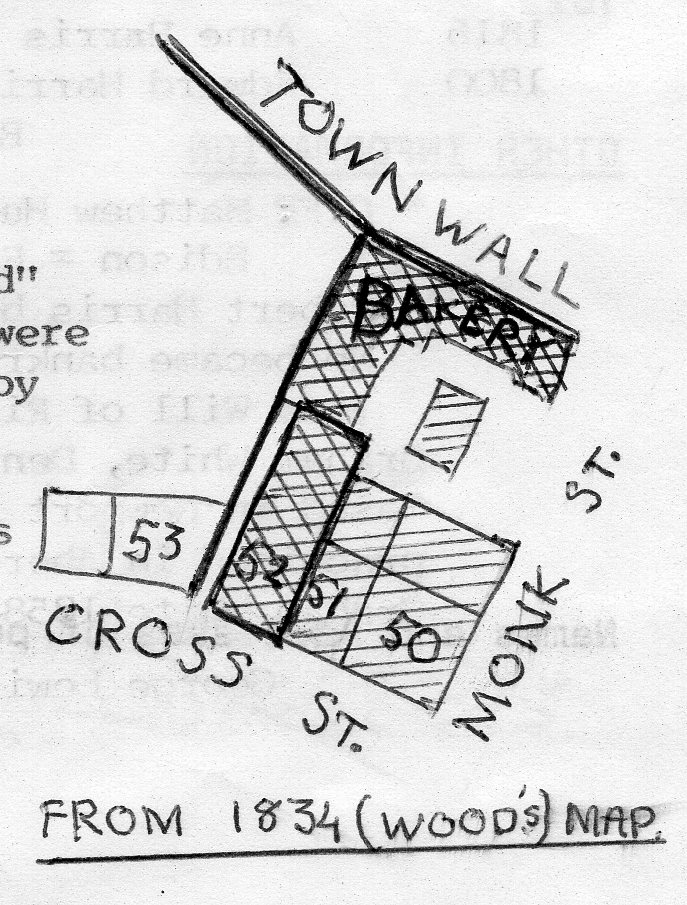 The house has cellars (source : Mr Parsons)
Dentil cornice, slate roof (source Welsh Office)
Recent history
July 2022 : Alison Tod – ? moving into here from across street (no. .  …  ) or closing that one and only having this new one?
2007 – 2021 Fiore   Handbags, purses, wallets  had closing down sale;  did not survive year of lockdowns, also sold Radley brand which had its own trading problems
1984 occupied by Sandra Modes Ladies Fashions with 'His & Hers' Hair Fashions over.
Until 1953 : Harris : Gents outfitter
From 1937 : Edison Baker, Gents outfitter (Manager : Mrs Matthew Hudson) (C.F. Matthew Hudson was a Tailor at 30 Cross Street from 1950-1955.  The name Edison is derived from "Eddie's son"
---
Previous occupiers
Edison Baker (Manager : Mrs Hudson)
Tailor (The Hudsons lived above the shop)
Toys, fancy goods and baby linen
George Michael for Robert Harris
Edward Harris/ John Jones (Shoemaker – moved to no.54 in 1811)
---
Other Information
Source : Abergavenny Local History Survey 1980:
All this area was the "Old George Inn", later the "Queens Head", built before 1733 by Roger Yarnold, Plumber.  By 1800, there were many different occupants of the buildings, the Queen's Head proprietor was Mrs Evans; the Malt House occupied by Evan Evans.
At same time, another house occupied by Miss Lewis, Milliner.   In other parts were Elizabeth Lewis, Messrs Armstrong, Valentine Trew and Charles Hanbury Saunders
Occupier in 1835 : Robert Harris – became a shopkeeper in Crickhowell (source : bill in museum).  He became bankrupt but the interest on this property paid his debts (source : Will of Richard Williams)
From 1858-1958 : dental practice. Three generations of Graham Whites practice in Abergavenny one or two days/week.  One was mayor of Newport.   From 1838-1891 : Graham White.   From 1891 – 1930 : Graham William White.  From 1923-1954 : Graham A O White
Also in this building in 1937 and 1934 : William Joseph Roche, Ophthalmic Surgeon and D H Sutton, Dental Surgeon.
Following included with original 1980 Survey : re Conveyances of 52 Cross Street :
1731 : Sold by Velfrey Cornewall & Charles & Mary Powell to John Hanbury of Pontypool
1732 : Charles, 3rd son of John Hanbury relinquished the name Hanbury and took that of Williams
1732 : Charles (now Williams), married Lady Frances Coningsby
1754 : Their daughter, Frances Hanbury Williams marries the Earl of Essex
1770 : On his marriage to Elizabeth Johnes of Abergavenny (daughter of Thomas Johnes), John Hanbury Williams (see family tree) decides to sell certain estates in Monmouthshire for the benefit of his younger brothers.   The trustees were Christopher Chambre, Thomas Johnes and Robert Morgan Kinsey.  Certain of these lands were first leased (1771 and 1778) to Richard Williams (skinner) of Abergavenny (with his brothers William Williams (sadler) and Philip Williams (farmer)
1801 : They were finally sold to Richard for £714
1810 : Richard Williams died, leaving the house in Cross Street in trust to let his tenant Edward Harris, his wife Ann and their infant son Robert, to live there until Robert is 21 and then to give him £200.  The property then to be split into three equal parts : 1) to his brother, William Williams;   2) to his sister, Lydia (now Jones, later Rowland);  3) to his sister, Rebecca (now Jones, whose husband was a farmer at Llangorse)
1816 : William Williams died leaving his third to John Trotter, his friend, who married his niece Ann;  to John Jones, his nephew and to Mary Jones, his niece and to John Wilson, cabinet maker of Abergavenny (1/10)  (see family tree) .  On her marriage, Mary sells her part to her brother and sister
1818 : John Trotter and others (the above) sell part to Mr Francis Thomas)
1842,1844,1858 : between these dates, Evan Bowen buys up the whole property in lots of 3/18ths etc
1935 : Mary and Anne Bowen, his descendants, let the ground floor to Edison Baker, Tailors, Ltd.
adverts in Abergavenny Chronicle:
1942 : property in private occupancy, ad by the resident requested wish to share a garden
1972/1981 : for 52A (upstairs)  ad for His & Hers Hairdressing Salon
1986/1988/1989 : ads for Anne Louise, Ladies Fashions
1993/1996/2000 : ads for Williams Bros, musical instruments, organs, pianos
2005 : ad for Fiore : handbags, accessories
If you have any further information about this property please email alhs@live.co.uk