54 Cross Street
Main details
Address:
Present Occupier:
Present Owner:
Ground Floor:
Other Floors:
Date when first used by present occupier:
54 Cross Street
Lloyds Bank

Bank

1901
Before and After Images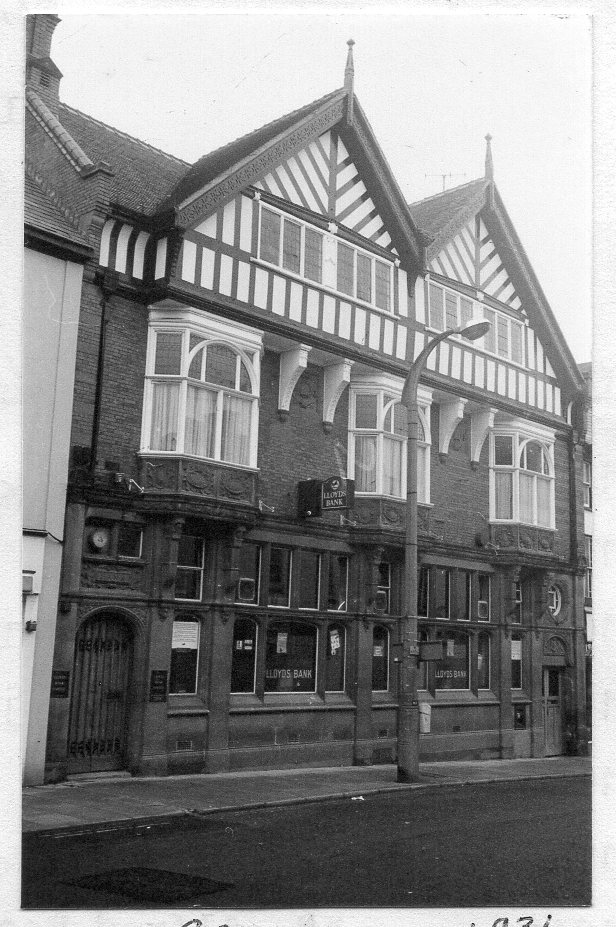 No 55                       No 54
1979/80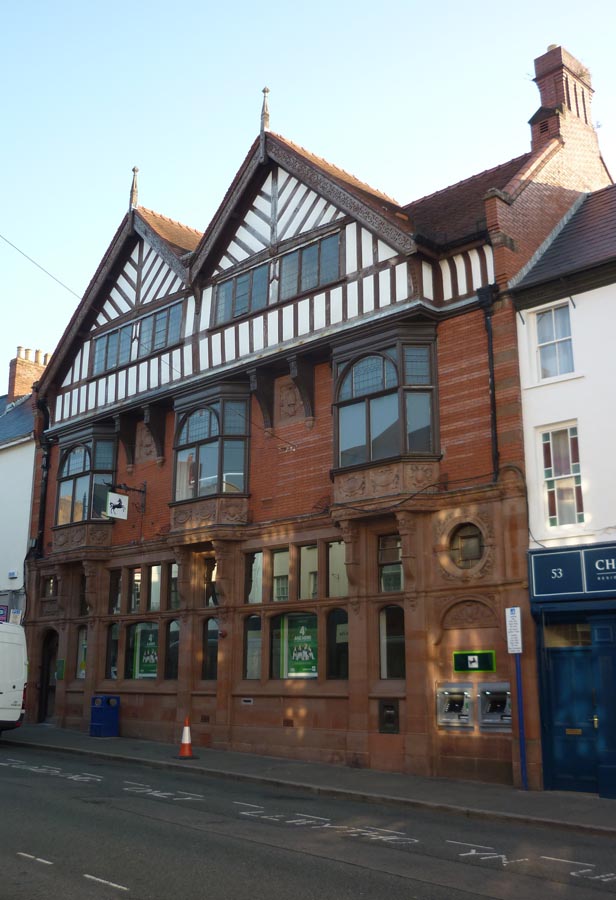 No 55                        No 54
2015
---
About the building
See also 55 Cross Street
Source : Abergavenny Local History Society Survey 1980:
No. 54 : Frontage built in 1934
This was one house with no.55 until they were divided in 1811.   This was the larger portion and was let to Thomas Richards, timber merchant, who came from 51 Cross Street and who bought it in 1816 when Williams died.
Thomas Richards Jr, his son, succeeded to the business in 1860 and his grandson, Samuel Morgan Richards succeeded in about 1892.   He was then using the Tithe Barn, next to the Priory, as his warehouse. This also appears in the 1906 directory (see cutting in the Museum copy of original Survey)
In 1933, the northern half of the property (53-54 Cross Street) was demolished and replaced by the new extension to Lloyds Bank, maing a perfect match with the original part built in 1897.
Both parts are constructed in Staffordshire New Red Sandstone (note the banding caused by blown desert sand during its formation).   This stone is particularly suitable for fine carvinc, as opposed to the local Old Red Sandstone       (J Perkins)
Recent history
Text to come here.
---
Previous occupiers
Peake & Williams (Floral Hall)
Greengrocer, florist & seedsman
Florist (Nurseryman in Grosvenor Road)
Abergavenny Cycle Company (moved to 52 Cross St in 1920)
Abergavenny Cycle Company
(at 25 Nevill Street in 1862)
Timber Merchant (at no.51 in 1801)
---
Other information
Thomas Richards (Timber Merchant) – leased this property from William Williams in 1811 when it was first divided and bought it in 1816
Source : coflein.gov.uk
"Built first in 1895-7 and designed by A E Lloyd-Oswell and purpose-built as a bank.  The bank was later increased in size from one gable to two in 1933.  The Jacobean/domestic revival style is an eclectic mixture as if influenced by both Richard Norman Shaw and George Skipper of Norwich.  The first part built is to the left (no.55) which had one gable and two oriels.  The only sign of the differing parts now visible is the slight variation in the first floor brickwork"
"The ground floor is faced with pink Alveley sandstone ashlar, the first floor is red brick with stone dressings and the  attic is timber-framed and rendered with a red plain tile roof and red brick stacks.  Jacobean/domestic revival style.  Two storeys and attic with seven bays on the ground floor, three on the first floor and two in the attic;  this was partly the result of being built in two phases.  The ground floor has doorways at either end, although the right-hand one is blocked and now contains ATMs.  They are arched, with carved squinches and have scrolls above.   Bank to left and House to right.  The left one has a 2-light ogee arched window above and the right one a moulded bulls-eye.   The next bays in are narrow ones framed by pilasters and with an arched window with a smaller plain one in the mezzanine;  this is framed by carved brackets which support the oriel above."
"The next bays in again are wider and have 3-light windows below and 4-light above all with stone mullions.  Finally the centre bay repeats the outer ones under the oriels.  The first floor has three large oriel windows with areas of brick on either side.  The oriels are canted and have 4-light windows with transom, arched head and carved apron.   The attic floor has two large gables with applied timber framing and render.  These gables oversail the lower storey and are supported on large paired brackets ornamented with swags and grotesques between the oriels.  Between these brackets, there is a stone beehive in low relief, the emblem of the founder bank.  Each gable has paired 3-light windows with leaded lights and a king post with herringbone struts above, barge-boards with strapwork decoration, spike finials.  Rainwater good having castellated heads with foliate emblems.  Plain roof with large ornately detailed gable stacks."
"Included for its special architectural interest as a fine late C19 purpose-built bank designed in a richly decorated manner by A E Lloyd-Oswell.   It also forms part of the main group of historic buildings in the centre of Abergavenny."
"Rear elevation not fully inspected but it has a scalloped tile-hung central gable with hipped roof and small paned casement windows.  Altered lower rear wing with concrete tile roof.
"The ground floor has been altered in the late C20 but the C17 style strapwork ceiling survives over the main banking hall.  Upper floor not seen at resurvey"
John Newman: The Buildings of Wales Gwent/Monmouthshire, Penguin 2000, p105
Louis Bannon, Remember Abergavenny,  Vol I, Old Bakehouse Publications 1995, pps9-11
Chris Barber, Abergavenny in old Postcards, European Library 1995, pl9, 11
Abergavenny Local History Society, Abergavenny Street Survey 1979-84 (alphabetical) Kept in archive at Abergavenny Museum.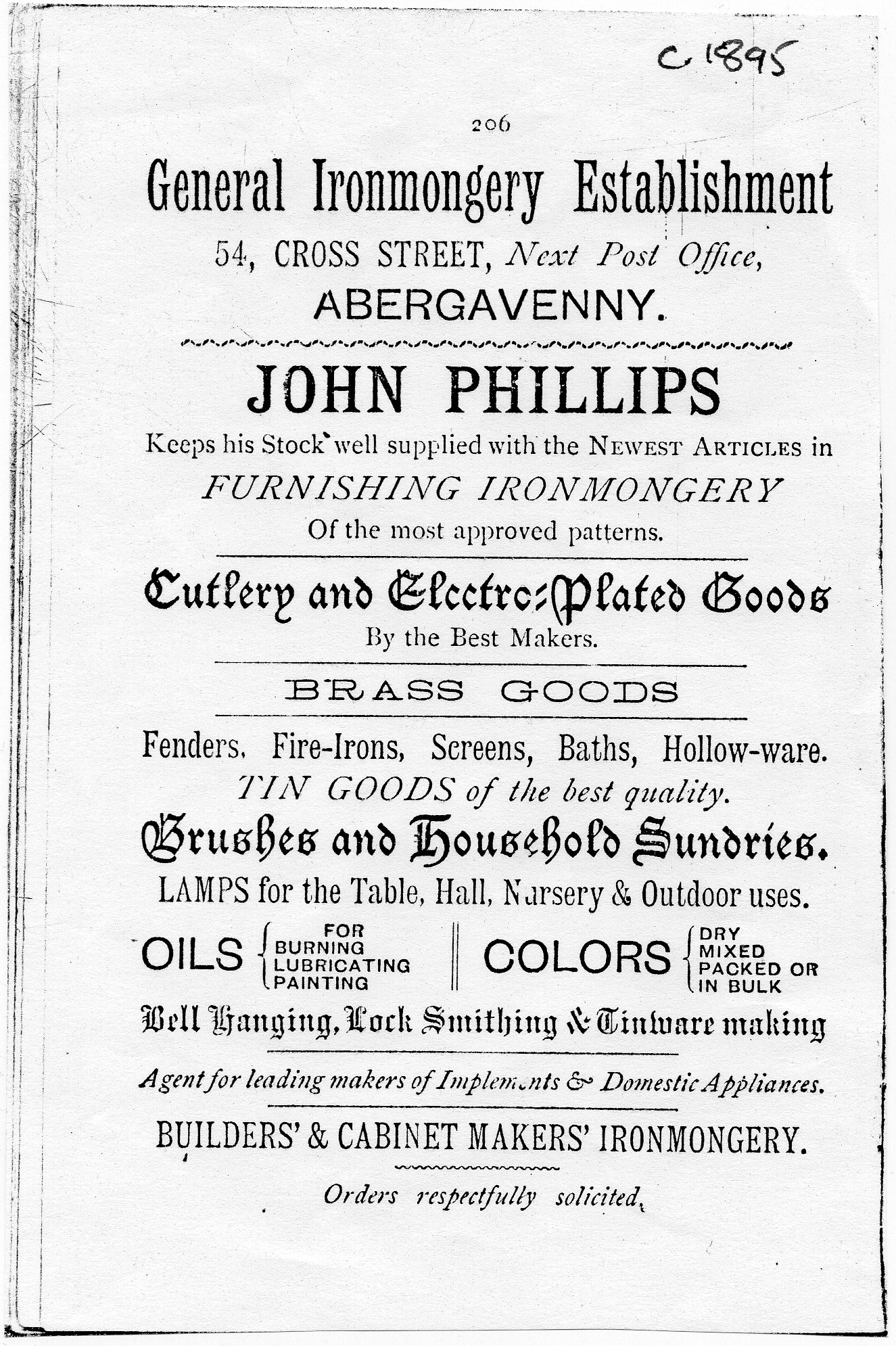 If you have any further information about this property please email alhs@live.co.uk