56 Cross Street
Main details
Address:
Present Occupier:
Present Owner:
Ground Floor:
Other Floors:
Date when first used by present occupier:
56 Cross Street
Cariad Wales
??
Newsagents/tobacco/Welsh gifts

?20…
Before and After Images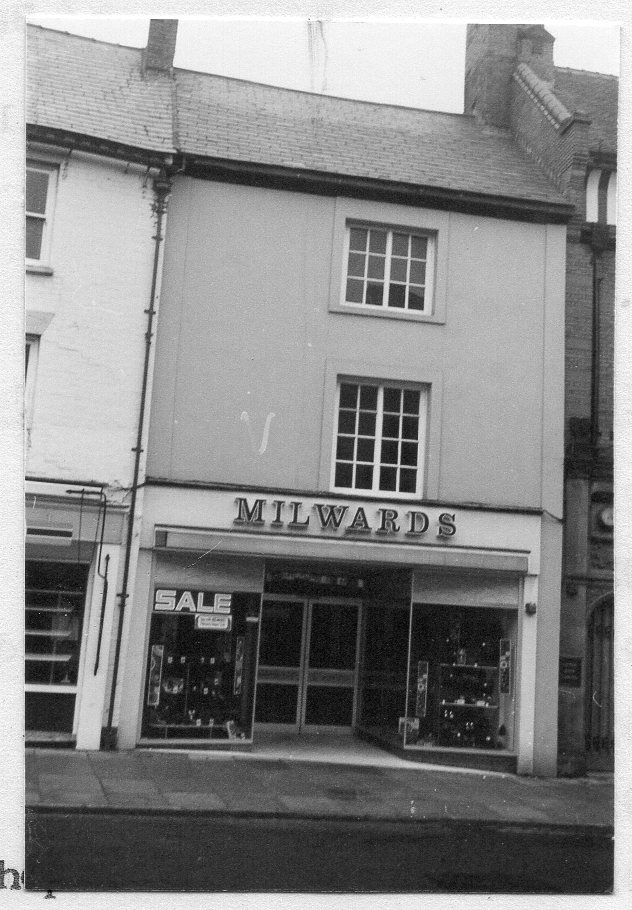 1979/80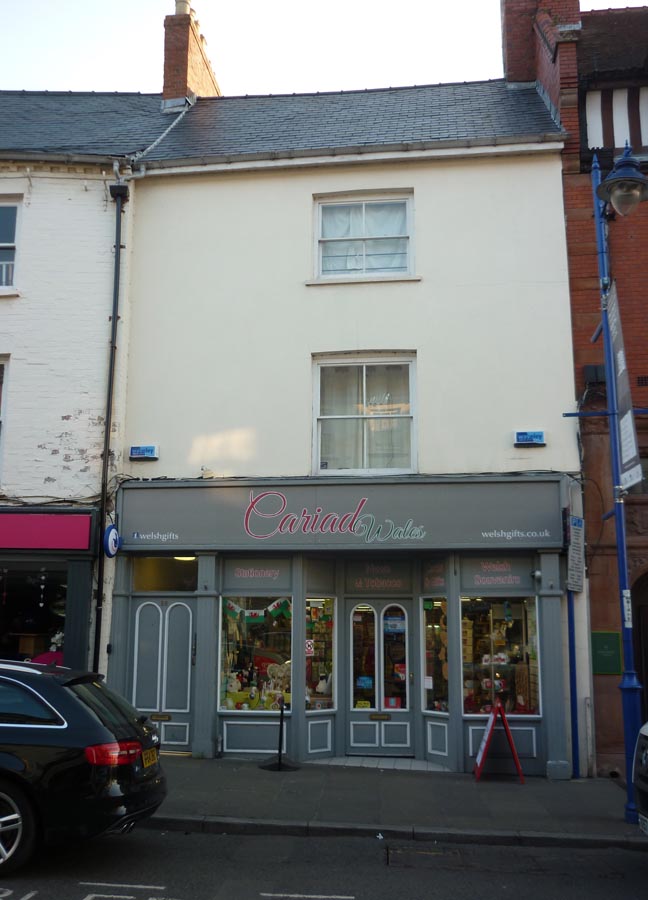 2015
---
About the building
19th century building (source : Welsh Office)
source from Abergavenny Local History Society survey 1980:
There is a cellar, not in use.  Slate Roof.
Known as "London House" 1865.    Until at least 1930, there was a croquet lawn in the small garden at the back of the house.
Recent history
Became "Staceys" Newsagent/greetings cards prior to current shop – ?year – ads from 1990s/2000s
At time of last survey: still occupied by Milward & Sons Ltd, owner Edmund Turner & Co Ltd.  Retail footwear.  Occupied on this site from 27 February 1922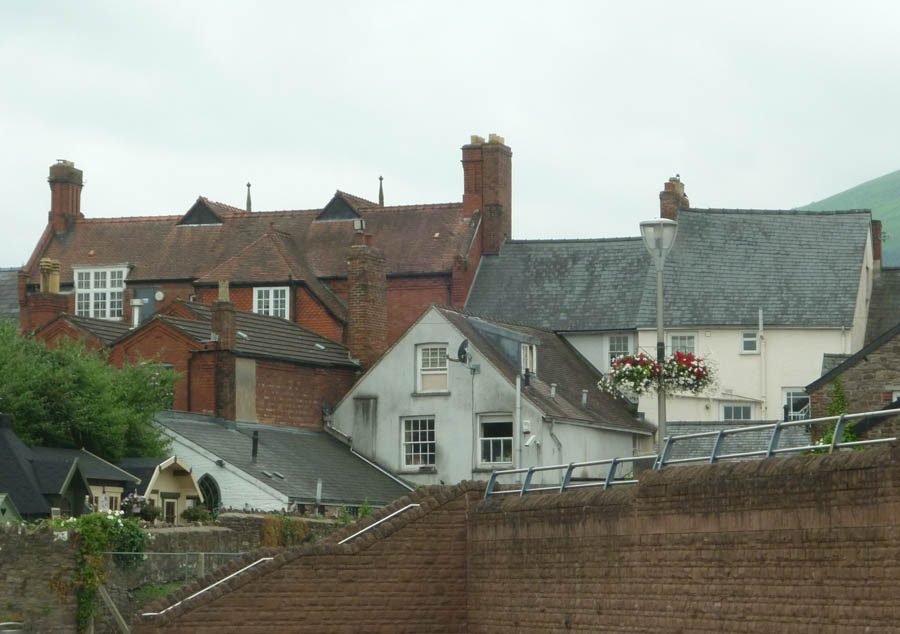 View from Brewery Yard – Nos 54/55                  56                      57
---
Previous occupiers
Property acquired by E Turner & Co of Reading, Berks
Bootmakers  (? had moved from 22 Cross Street)
"London House" Linen & Woollen Draper
"London House" Linen & Woollen Draper
William Williams (miller) & Thomas Daw
---
Other information
In 1818, Williams Williams, miller, was responsible for taking up the old water pipes in Cross Street and Tudor Street and relaying new iron pipes brought from Llanfoist Wharf at three shillings per yard.  (Improvement Commission)
Copy of letter from Milward & Sons Ltd
The 1921 Abstract of Title with the Deeds traces the freehold Title back to July 1832 when the proprety, described as then being in the occupation of himself (i.e. William Williams) and his son-in-law Thomas Daw, Grocer, was specifically devised to his daughter Caroline, the wife of Thomas Daw, and after her death to Thomas Daw himself.  The property stayed in the Daw family until the Conveyance to  Edmund Turner & Co Ltd (the Miss C T A Williams who conveyed the property to the Company appears to have been a niece of Thomas William Daw who died in 1910)
In 1908, the property was leased for a term of 14 years, to Henry Charles and Herbert Brewer Charles and it would appear that their lease may have been acquired by Edmund Turner & Company as, at the time of the 1922 Conveyance, the Company was described as being in occupation of the property.
There are no plans with the Title Deeds as the description of the property throughout is "all that messuage or dwellinghouse and shop situate in Cross Street Abergavenny in the County of Monmouth known as number 56 Cross Street with the stable and other buildings and the garden ground and other Land thereto belonging or occupied therewith".
Schedule of title deeds and documents relating to freehold premises No.56 Cross Street Abergavenny in the County of Monmouth
1908 July 11th : Lease and copy Lease made between Thomas William Daw of the one part and Henry Charles and Herbert Brewer Charles of the other part
1911 January 14th:  Assignment made between Henry Charles and Herbert Brewer Charles of the one part and Joseph Hoxton of the other part
1921:   Abstract of title
1922: Supplemental Abstract of title
1922 February 27th: Conveyance made between Catherine Theresa Annette Williams of the one part and Edmund Turner & Company Limited of the other part
1929 July 11th: Assignment and Release made between Trevor Straker Bowes and Eveline Queenie Prosser Bowes of the one part and Edmund Turner & Company Ltd of the other part
Adverts Abergavenny Chronicle:
1942 : ad for Turners, Boot Depot, "also chiropody"
1952/1954 Milwards Shoe Sales;   1960 : Milwards ad "young lady required as cashier & general office duties"
1969 : Milwards ad "staff required aged 15-17";     further ads for Milwards in 1971/1972
1991 and 2000 : ads for Staceys Printed Stationery/greetings cards
Source : coflein.gov.uk
Early C19 building, first recorded in 1811.  Smooth rendered and painted front with a natural slate roof.  Double depth plan with entry on the left.  Three storeys, one window.  The ground floor has a recessed central entry shopfront with panelled stall-riser and plate glass display windows.  Two vertical panel house door with transom light to left, deep fascia over the whole width.  The first floor window has had its cill raised, 2 over 2 pane sash;  similar saller one in the floor above;  a photograph of c1900 suggests that both windows had keyed heads at that time.  Moderate pitch plain roof with red brick stack on right gable"   (Source : Cadw Listings database) S Garfi 17/11/06
If you have any further information about this property please email alhs@live.co.uk