57 Cross Street
Main details
Address:
Present Occupier:
Present Owner:
Ground Floor:
Other Floors:
Date when first used by present occupier:
57 Cross Street
St David's Foundation
??
Charity Shop

23 August 2005 (opening of shop)

Before and After Images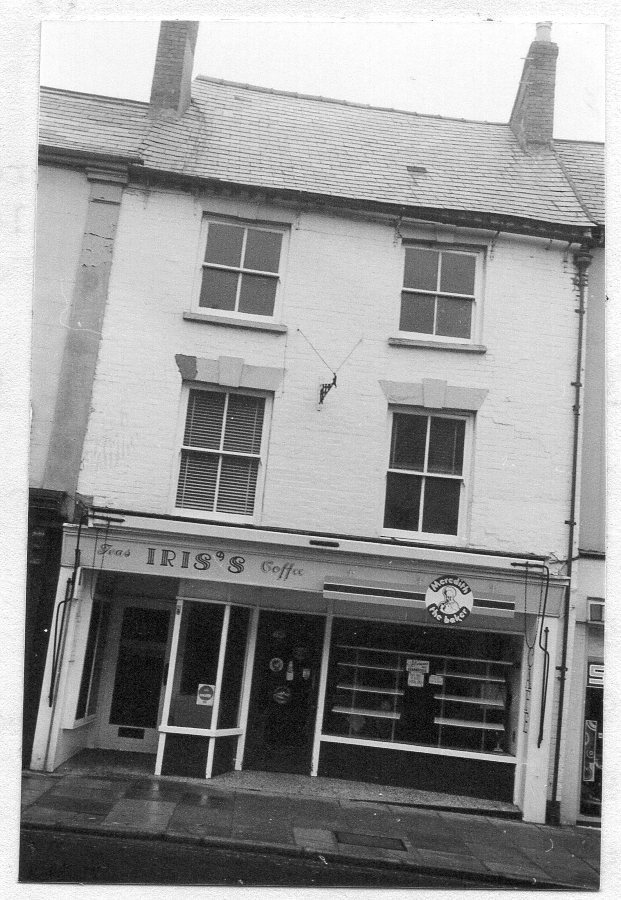 1979/80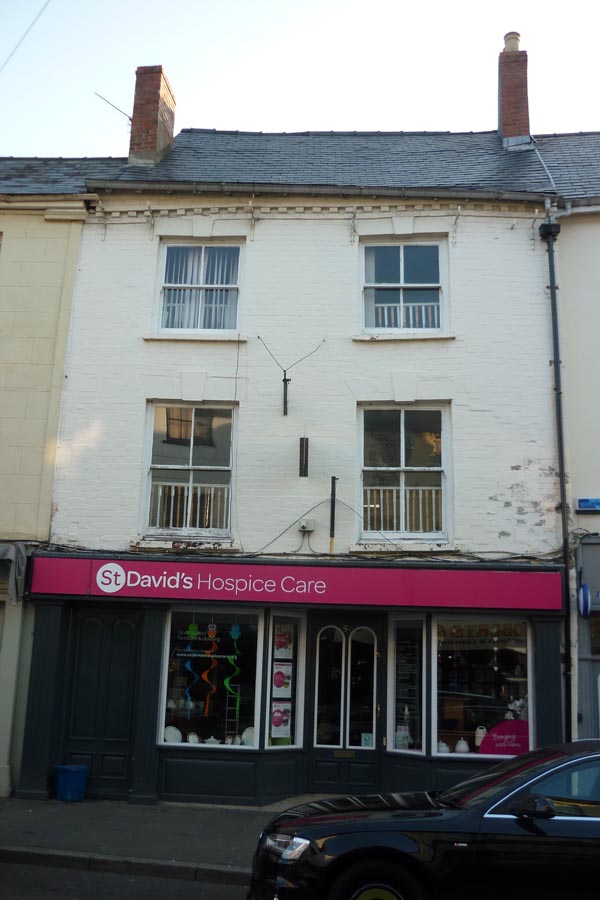 2015
---
About the building
Source : Abergavenny Local History Society Survey 1980:

Late 18th or early 19th century (Welsh Office)
Brick.  Keystone in architraves. Cellars have been filled in.   Dentil cornice.  Slate roof (Welsh Office)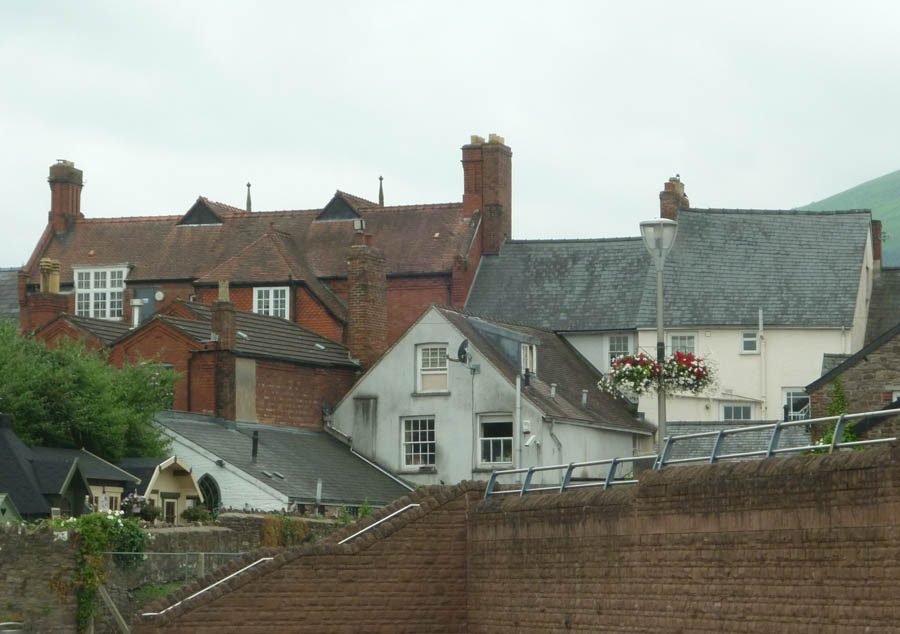 View from Brewery Yard – Nos 54/55                 56                      57
Recent history
At time of last survey, photograph shows the cafe sign as "Iris's"
According to adverts in Abergavenny Chronicle, there were various firms of quantity surveyors/accountants at times during 1970s/1980s and 1990s.   Assuming these were upstairs offices
c. 1976 Meredith's Bread Shop (Harry Kear bought Meredith's but trades under same name)
c.1960s : Alderton – Baker
c. 1939-1955 : Dorothy's Cafe (D Lewis)  – House & Shop
---
Previous occupiers
Meredith's (see "Recent History")
W H Butt (residence over shop)
Tailor & Clothier (were at no.7 High St in 1926)
William Harwood Staines (from 1920)
Outfitters (sole agent for Tress Caps)
---
Other information
Source : Abergavenny Local History Society Survey 1980:
Mrs Butt was the daughter of Delafields, Brewers of the King's Arms. She lived to be 103
Isaac Restall formerly worked for William and Elizabeth Lewis of no.55 Cross Street and Elizabeth bequeathed him the tools of her trade.
Photograph of Advert (c.1895) "E Restall, Practical Hatter, 57 Cross Street, Abergavenny.  Established 1808.   Christy's felt and silk hats.  Scarves, Ties, Gloves &c.  Paris Hats Cleaned and Re-trimmed"
Adverts in Abergavenny Chronicle:
1938 :ad for  W H Butt – clothing and outfitters
1971 : ad for L J Briggs & Evans, quantity surveyors (?was this upstairs)
1982/1984/1988/1989 : ad for Iris's Cafe – sandwiches/cakes/wedding cakes
1988 : ad for Building Survey Service, from 1 September (?was this upstairs)
2000 : ad for  Chat's Cafe
2000 :ad for  Gratton Smith & Co, Accountants (?was this upstairs)
2005 : ad for St David's Foundation, Charity Shop, opening 23 August 2005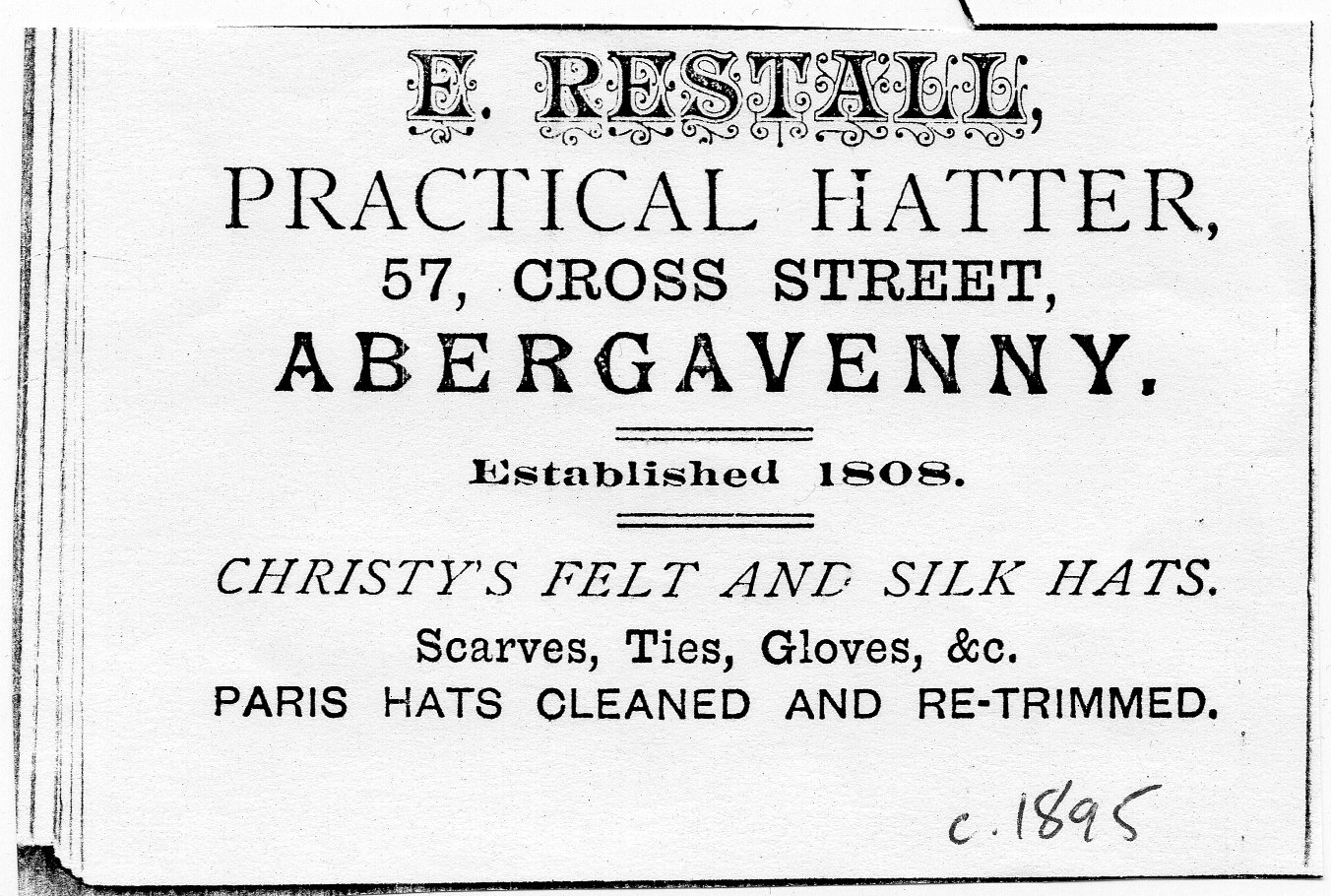 If you have any further information about this property please email alhs@live.co.uk