57 Frogmore Street
Main details
Address:
Present Occupier:
Present Owner:
Ground Floor:
Other Floors:
Date when first used by present occupier:
57 Frogmore Street
Barclay's Bank Ltd
Bank
Offices
around 1920
Before and After Images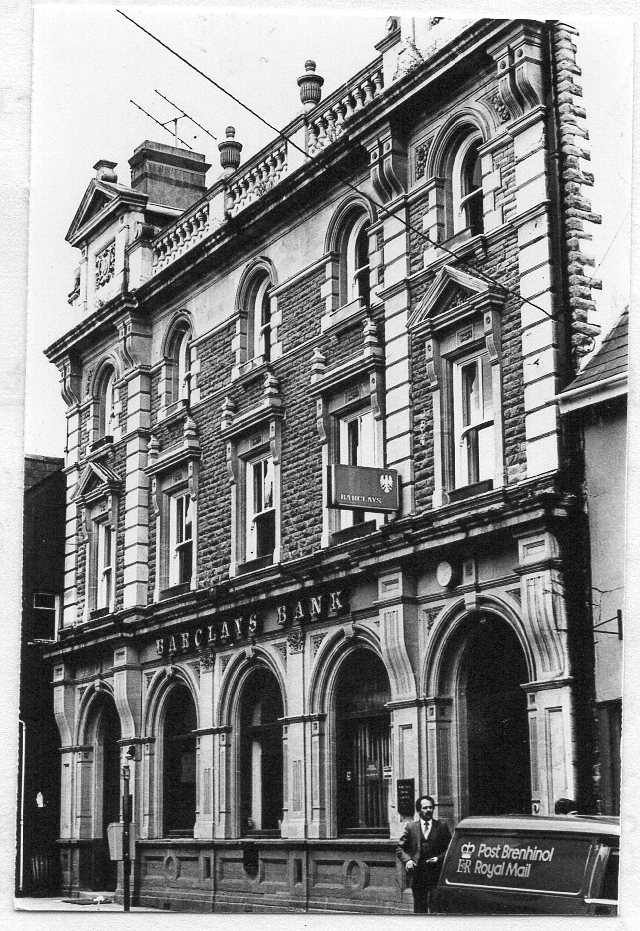 1979/80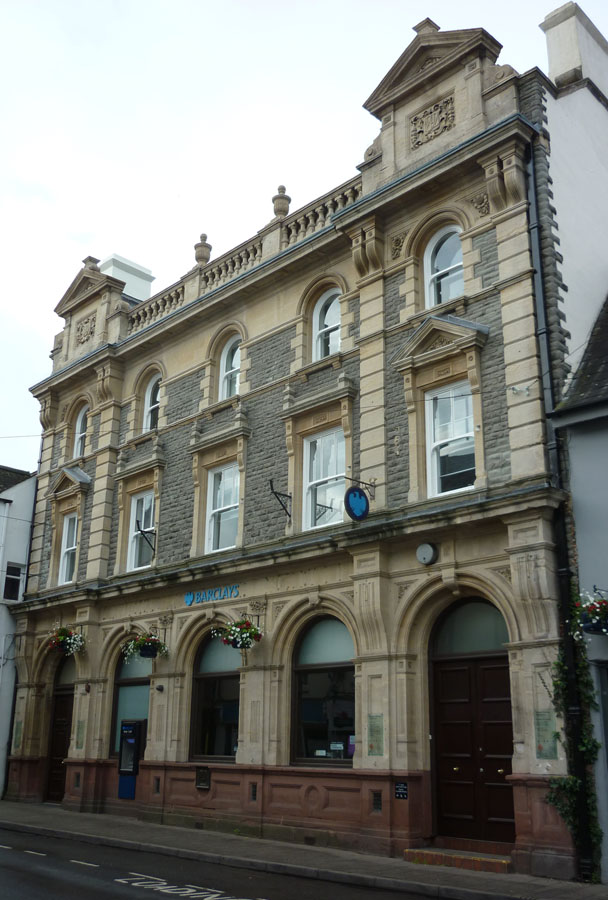 2016
---
About the building
The new facade was finished in 1892. (Date on front) A Georgian Pedimental house. Photo in Abergavenny Museum. The new frontage was added to the old building. Constructed of golden Bath stone, with panels of pennant sandstone and a red sandstone base. (J Perkins)
Residence of Gen Kinsey on 1834 map. In 1839 rate book, the land stretched from Lewis' Lane to Baker Street.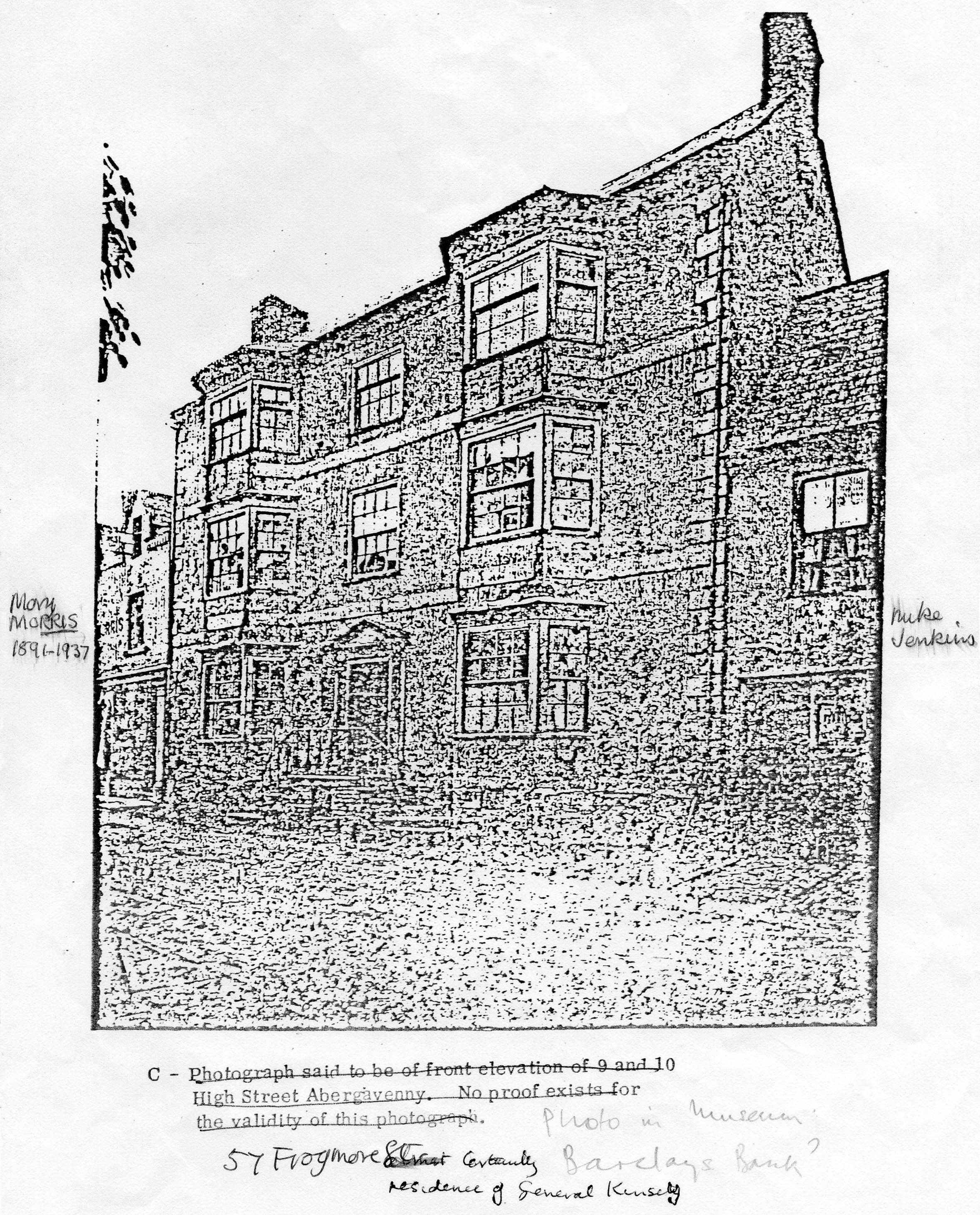 Recent history
1988: Barclay's Bank Ltd
!978: 57A, advert. for shorthand typist for White Williams & Co Barclay's Bank Chambers
1975, 1973: 57A, White Williams & Co Chartered Accountants Barclay's Chambers
---
Previous occupiers
Birmingham District & Counties Bank
—
Surgeon General member Royal College of Surgeons
Elmes Yelverton Steele (d. 1881, chairman local magistrates in 1871)
Mansion, gardens & stables
---
Other information
Residence of Robert Morgan Kinsey, attorney, sheriff in 1798,during the latter part of 18th century. Before 1792 he moved to 7 Nevill Street where Mrs Joan Morgan Kinsey, widow (his mother?) lived in the apartments, now no 5, and his brother General William Kinsey of the Madras Army, came to live here until he died in 1837.
William Kinsey was the grandfather of Elmes Yelverton Steele (who had a son of the same name) who continued to live here until at least 1879 (and whose wife came from the West Indies), and William Steele, who both founded familes of doctors who took a prominent position in the town, and their tradition continued until recent times.
William lived at no 7 Nevill Street which was part left to him by Samuel Hopkins, the ironfounder in 1817. (Thacker & deeds of no 7 Nevill Street).
Bradney states that bear baiting took place opposite this house.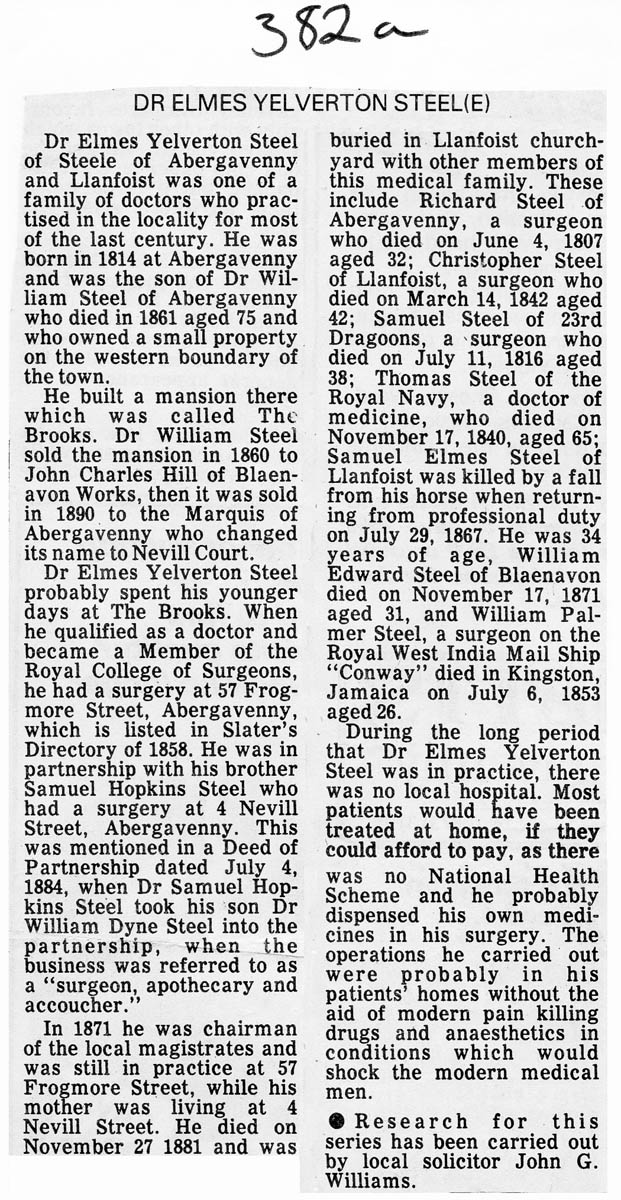 If you have any further information about this property please email alhs@live.co.uk