63 Frogmore Street
Main details
Address:
Present Occupier:
Present Owner:
Ground Floor:
Other Floors:
Date when first used by present occupier:
63 Frogmore Street
William Hill Bookmakers
—
Betting shop
—
Before and After Images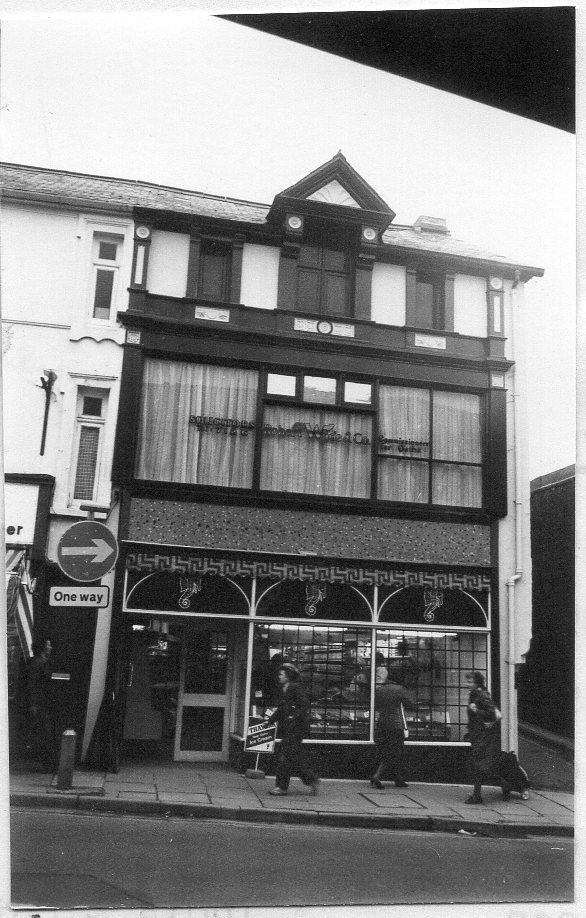 1979/80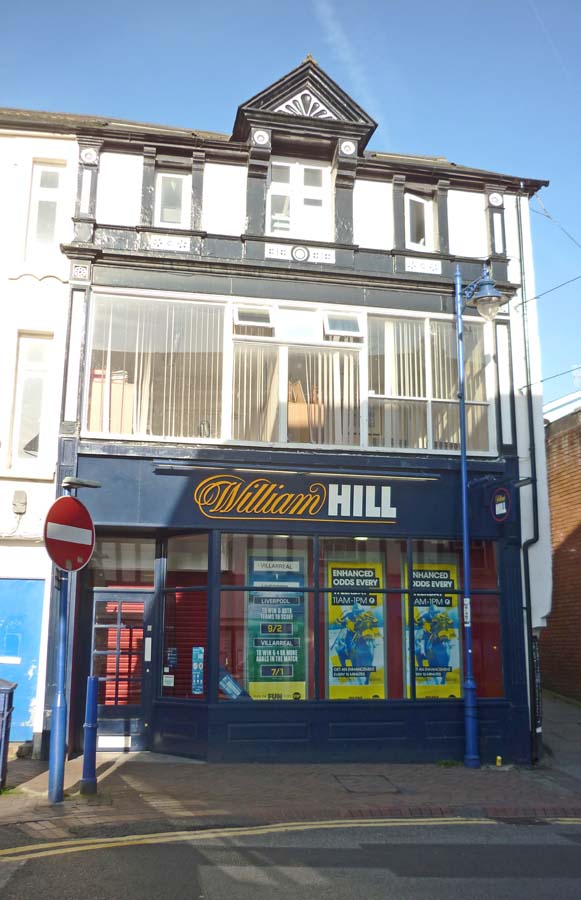 2016
---
About the building
See also information under 64 Frogmore Street as the two buildings were in common occupation until the mid 1800s.
A new frontage must have been put on this half probably, from the style, in Edwardian times.
Outbuildings at the rear include a bakehouse and stables.
1823: Mr Lewis to provide 33 cast iron pillars for lamps
1827: Lewis & bros produced the first iron lampstands for the town.
Lewis' Lane was altered and improved in 1833 (Minutes of Improvement Commission)
Description in 1875 from Gabb mss D.591.17.50: Tubal Cain ironworks "messuage and shop on West side of Frogmore Street occupied by James & Hampton. Smith's shop at back thereof and iron warehouse there; stable ground, garden and adjoining yard" (abbutals given).
Recent history
1989: Robert & Wade & Co, solicitors + Nutties, muesli, honey, cheese etc ,previously Country Corner
1988, 1984: Pinches bakery in front part of the shop
1982, 1980 " Country Corner" selling cheeses, cooked meats, herbs & spices.
1981: Robert & Wade & Co, solicitors, new practice started 1 Sept. at Raglan Chambers
1981: L Bannon, Warehouse household goods, rear of Country Corner, later Hippo Campo
1972- 1979: Hippo Campo Butcher & frozen foods. office & store rooms.  Home freezer discount store opening 27 June 1972.
1962: Burtons General Store, Advert. "Provision Hand required (Burton's Speedy Service Store)" 22 June 1962
1961: Burtons stores, grocers
1960: Burtons Advert "van driver required"
1959: Burtons, Advert "food prices slashed"
1958: Burtons, "speedy service stores, grocer, re-opening 21.10.1958
---
Previous occupiers
taken over in 1956 by Associated British Foods
Rate books & local knowledge
Joseph Burton & Sons Ltd.
India & China Tea Co.
(also bakery in Lion St. 1901-1906, possibly to 1920)
"         " /also 1892-1899,  Edwin Hampton
"         "/Tubal Cain ironworks. Iron foundry at rear.
"         " (manager Ozeman Watkins)
—
Edwin Hampton employing 17 men & 7 boys
Ironmongers. Tubal Cain ironworks, brass & ironfounders
James & Co (186? to 1876)
late J A Lewis Ironmongers
Ironmonger employing 14 men
Ironmongers
Lewis' Lane Iron Foundry
---
Other information
Lewis' Lane Iron Foundry made the iron railing for Hyde Park for Benjamin Hall. The same mould was used for the gates at St Mary's Church. After the iron foundry closed, the premises became a garage and stables for the India & China Tea Co.
Also at the rear: Liberal Club (upstairs) and the first legal Catholic Chapel following the reformation.
In 1958, the store converted to self-service but still delivered to town & country. Successful sefl-service trade led to Associated British Foods buying Bonds, 9, Frogmore St and building Fine Fayre, supermarket, leading to the closure of Burtons in 1971.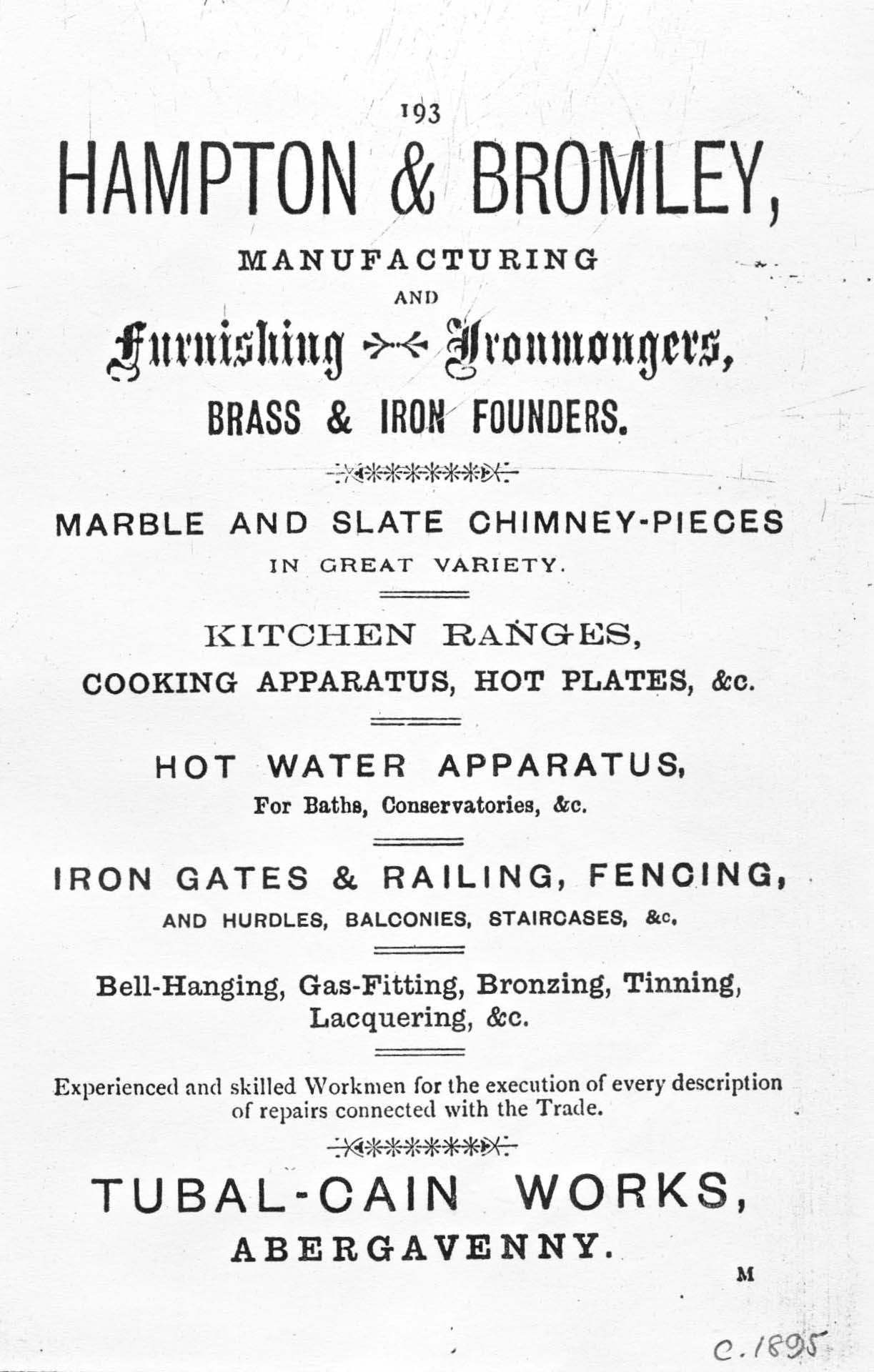 If you have any further information about this property please email alhs@live.co.uk