7 Cross Street
Main details
Address:
Present Occupier:
Present Owner:
Ground Floor:
Other Floors:
Date when first used by present occupier:
7 Cross Street
Revue

men's clothing
Accommodation
2018
Before and After Images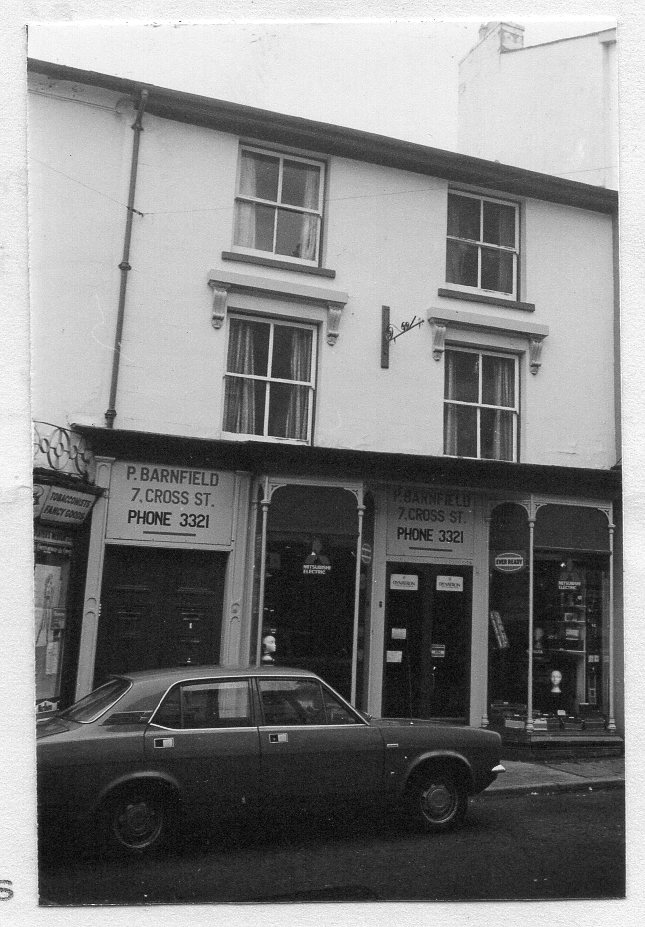 1979/80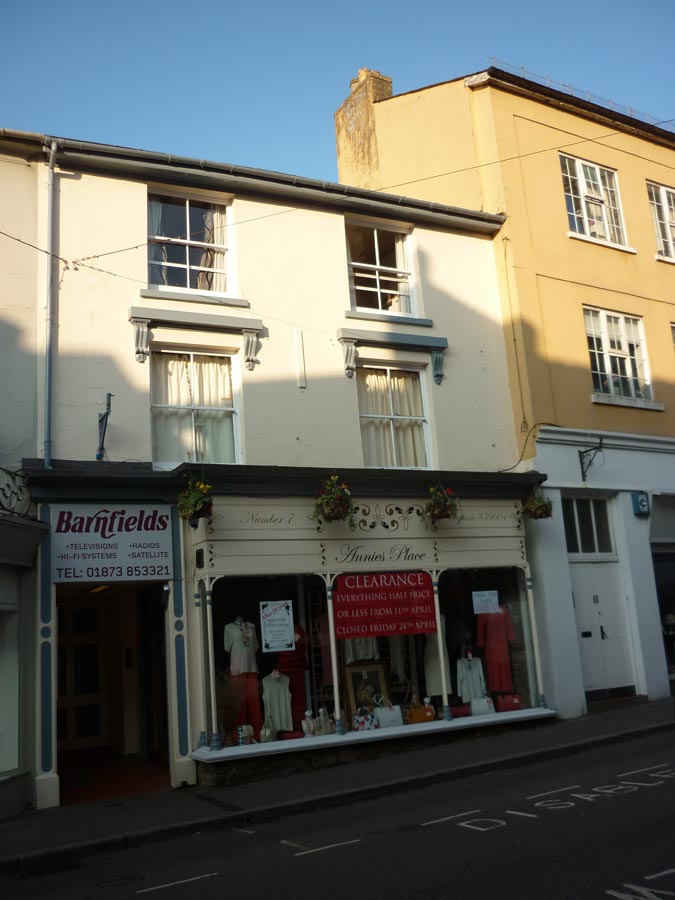 2015
---
About the building
Date : stylistically 17th century at rear.   Nos. 7 and 8 are timber-framed buildings, floors overlap upstairs
Original windows were 19th century, but shop windows were renewed in 1986 in similar Art Nouveau style
There is a beam in the attic which has moulding on the upper (i.e. unseen, side of the beam.  ?Was it an old ship's beam (source Mr Barnfield).
The rear part of the premises were two cottages in the early part of 20th century (source : Mr Sadler)
During renovations in 1985, the stone side walls were exposed showing, on the right, a large blocked-up windows and a wide archway leading into the passage between nos. 6 and 7, from what must have been the back of the original house.  However, the house must have been extended over this area before about 1600, as there is a beam with slots for panelling behind the front room and a further panelled wall with a Tudor arched doorway at the back of the shop.   This leads to a further room with a finely moulded oak mullioned window
In the front room, the stone corbelling can be seen for a fireplace on the first floor. The beautifully moulded ceiling beams are supported on iron replacement jetty posts inside the shop window and a further pair of iron pillar replace what must have been very substantial oak posts (as the existing beams do not quite meet each other).
In the cellar, there is a substantial Tudor-shaped arch or bridge spanning the whole room, which supports the stone paved passage running between this house and no. 8 (source : B M Pullen)
(all above sources quoted in Local History Survey of 1980)
Recent history
From approx Sept 2018 : Revue – Men's clothing, moved from no. 39 Cross Street (part of Gunter House building)
Adela@7 : from 2015 : closing April 2018 (to be combined with the other Adela shop next door)
Known as Annie's Place – ladies' fashions.   This closed due to retirement of the owner in April 2015, having been in the property for 25 years.
Prior to that, at the time of the 1980 Local History survey, owner/occupier was Peter Barnfield, Radio, TV and Hi-Fi Sales and Repairs.   He had been in the property since 1962
Advert in Abergavenny Chronicle in August 1962 shows "William Davis, Wine Merchants", moving to 46 Cross Street under the name of Fosters Aug.    (Note previous Local History Survey of 1980 quotes the name of "Gilbeys" moving to 46 Cross Street (as Dominics) in 1962.   Peter Dominics were a chain of wine merchants
---
Previous occupiers
Wholesale & Retail Grocer
Whoelsale & Retail Grocer
Wholesale & Retail Grocer
Wholesale & Retail Grocer
Wholesale & Retail Grocer
Wholesale & Retail Grocer
Wholesale & Retail Grocer
Wholesale & Retail Grocer
Wholesale & Retail Grocer
Wholesale & Retail Grocer
---
Other information
For additional images from 7 Cross Street click 
* here *
.
See previous occupiers.   Son of John Harris Conway (Wholesale & Retail Grocer until 1871), also called John Harris Conway, ran a brick, lime, coal and salt merchants from 11 Nevill Street, circa 1875
Advert for William Davis, grocer,  in Abergavenny Chronicle in 1948 quotes the "first consignment of Smedley's Quick Frozen Foods"
If you have any further information about this property please email alhs@live.co.uk