70 Frogmore Street
Main details
Address:
Present Occupier:
Present Owner:
Ground Floor:
Other Floors:
Date when first used by present occupier:
70 Frogmore Street
Miles Morgan Travel Agent
—
Travel agency
Accommodation

Before and After Images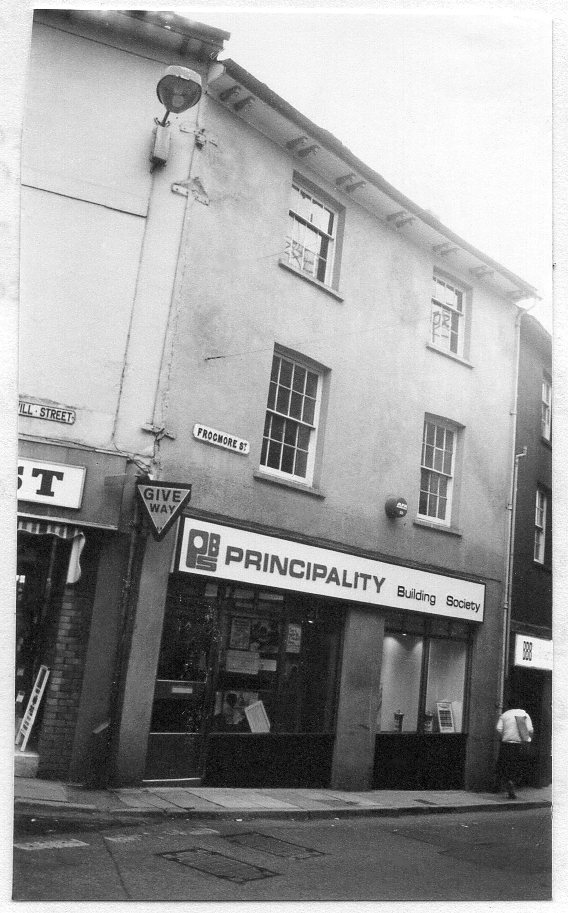 1979/80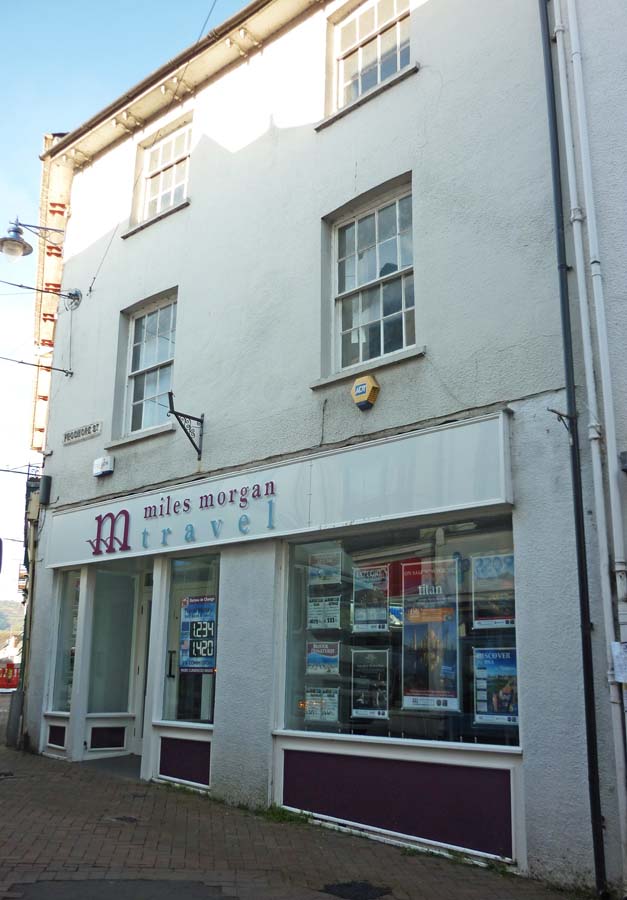 2016
---
About the building
This is the beginning of Frogmore Street which was outside the North Gate.
Recent history
1977: Principality Building Society Branch Office
1967: The Beaumont Cafe Restaurant 'newly opened' (Abergavenny Chronicle)
1963- 1977: L. Carpanini, Beaumont Cafe
1962: Victor Freed, Electrical Goods, Special purchase 4.1cu ft HMV Polar Star Refridgerator 20.6.1962.
1959: Leslie's Stores Ltd, furnishers, radio & TV specialists, Hoover agents.
1958: Masters, Men's & boy's clothes + Leslie's Stores, grand opening with Lenny the Lion, 28.11.1958
1952: Masters & Co, clothiers
1942: Masters & Co, clothiers, Advert. for lady assistant
---
Previous occupiers
Pawnbroker, cabinet maker & watch maker
Pawnbroker, watchmakers, jewellers
Pawnbroker, clothier, watchmaker
Pawnbroker employer 22 men
 "            "
(Nathan Isaacs was in Nevill Street in 1822)
---
Other information
Schedule of Deeds and Documents relating to 70 Frogmore Street  (L C R Search):
24.June 1895        Conveyance               Y R P Herbert, Esq (1)    T J Masters, Esq  (2)
9 July 1895           Mortgage                  T J Masters Esq  (1)    T R P Herbert Esq  (2)
7 October 1912      Re-conveyance           W H Warlow Esq  and anor (1)   G Masters Esq  (2)
19 November 1912  Lease                       Messrs G & A Masters  (1)   Masters & Co   (2)
17 February 1923    Conveyance               Messrs G & A Masters  (1)  Messrs Masters & Co  (2)
19 February 1923    Mortgage                   Masters & Co  (1)    Nat. Prov. and Union Bank Ltd (2)
14 April 1958         Conveyance                Masters & Co  (1)    Leslie's Stores Ltd   (2)
4 August 1961        Conveyance               Leslies Stores Ltd  (1)    Sydney Freed Esq   (2)
4 September 1961  Conveyance               Sydney Freed Esq   (1)   Paulday Properties Ltd  (2)
6 November 1962   Lease                       Paulday Properties Ltd  (1)  Hadley Bros. Ltd  (2)
25 March  1966     Conveyance               Paulday Properties Ltd   (1)  Co-operative Insurance Soc. Ltd  (2)
1 August 1974       Conveyance               Co-operative Insurance Soc. Ltd  (1)  Westshire properties Ltd  (2)
1 August  1974     Copy Legal Charge       R T Taylor & Co Ltd  (1)  Co-operative Insurance Soc. Ltd  (2)
17 September 1974 Deed of Release        Co-operative Insurance Soc. Ltd (1   Westshire Properties Ltd  (2)
31 March 1977      Surrender                  John James Properties Ltd  (1) Westshire Properties Ltd  (2)
15 July 1977         Deed of Release         Barclays Bank Ltd  (1)   Westshire Properties Ltd  (2)
If you have any further information about this property please email alhs@live.co.uk