7A and 7 Nevill Street
Main details
Address:
Present Occupier:
Present Owner:
Ground Floor:
Other Floors:
Date when first used by present occupier:
7A :


7: Aug 2020: Eclipse : Nicola Taylor; Solution-focused hypnotherapist

Before and After Images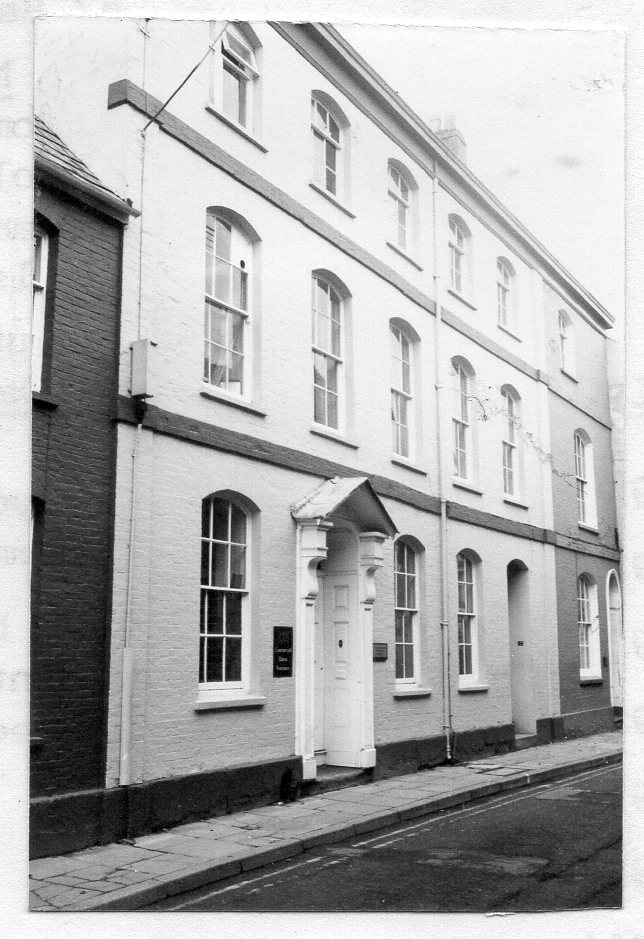 1979/80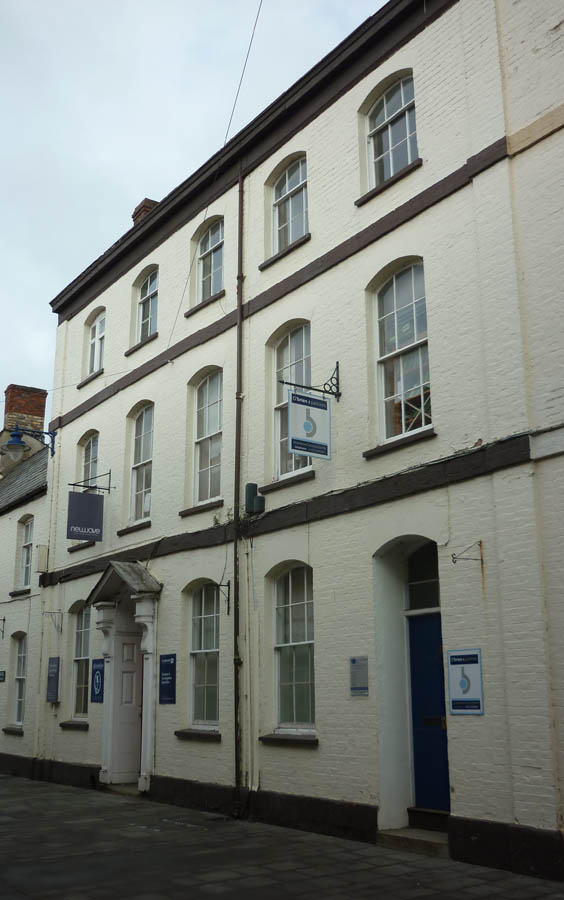 2016
---
About the building
7 and 7A were part of the same building. As was no 9 until it appears as a separate dwelling in 1858. It is difficult to separate out no 7 from no 5 also as they frequently appear in the same deeds.
Early deeds referring to the Kings Arms are more likely to refer to no 7 as this was the Kings Arms in 1712: John Hanbury of Pontypoole and John James of Aber "corvicer" leased the premises for three lives of Joshua James, Thomas James his son and Mary James his daughter at £5 p.a.
In 1735 April 30. The lease for John Hanbury (now of Carleon) and Wm Walters, is for the Kingshead Inne situated within Rother Street, Abergavenny and abutting to a tenement of Catherine Richards, widdow on one side to the tenement of James Bridge, miller, of the other side to the town wall….and a field in the possession of Howell Williams backwards and fronting to the said Rother Street. On May 1, release of the fee as before for £115, and "is now in the tenure of Jehosophat Jones and his undertenants. May 19: Lease for a year between Jehosophat Jones of Abergavenny, gent and Mary, his wife and Wm Walters of Abergavenny, gent., Kinshead Inn, Rother Street ward.
Description of no 7 in 1810: All that substantial Brick fronted tenement or Dwelling house with a large yard stables and brewhouse offices and apartments adjoining and belonging as full large and ample tenement as the same for for many years previous in the occupation of ROBERT MORGAN KINSEY and as the same have since been in the occupation of Mrs CAROLINE KINSEY, widow of Robert Morgan Kinsey.
Description in 1930: messuage, dwelling house, garden, stable-garage, outbuildings, yard.
Recent history
No. 7A : from 2019 – 2022 : Gwagle, Shared Workspace;   moved to 43 Frogmore St (upper floors)
August 2020 : seen on Facebook : No. 7 changed to "Eclipse" – Nicola Taylor, Solution-focused Hypnotherapist
No.7 : from ?   Skin Science Wales (skinsciencewales.co.uk) Private Skin Clinic ;   also at no.7 : Hey Baby (abergavenny.heybaby4D.co.uk) Private 4D Ultrasound Clinic for baby scans;    also at no. 7 Sarah Field Beauty
No. 7A : Gwagle, Shared Workspace     gwagle.co.uk   From approximately June 2019 : space for workers to use flexible shared office space, with free coffee, fast broadband and showers;   also at  no.7A : Jerboa Websites (jerboamedia.com) websites and design solutions
No. 7A : From ? to ??  Brien & Partners, Accountants
see also information under nos 5 and 9
1931: conveyance of nos 5,7,&9 Nevill Street from Mrs E M Steel to Mr Arthur Murgatroyd Cunliffe for £800.  No 5 occupied by Messrs Parsons & Jollife, No 7 was occupied by Mrs M E Steel, no 9 was the surgery. The butcher at the back of no 9 was John Harrison Hall.
1952: conveyance of Nos 7 & 9 from A M Cunliffe to James Noel Duggan and Gerald Aubrey Hill for £2450.   Cunliffe kept no 5.
1964 – 1970: Peter, hair stylist. 1968- 1975: Commercial Union Assurance (moved on 1 July 1968).
1988, 1989: British Nursing Association employment agency
1993: Leslie Beckett FTII tax specialist
---
Previous occupiers
and her sons, Arthur Dyne Steel solicitor of Hereford and Hugh La Fontaine Steel, masseur
The Misses Saville and Malcolm
---
Other information
Extracts from deeds and other legal documents see also no 5 & 9 or click
* here *
1773
: A marriage settlement between John Morgan, clerk of the first part, and Anna Maria Tindal (his future wife) of the second part, and John Woodroofe, clerk and Jonathan Buttall of the third part. (John Morgan came from Chelmsford)
1808
: John and Anna Maria Morgan now had seven children: Anna Maria, wife of Thomas Frost Copp of Chelmsford, Margaret Sophia wife of James Alleyne Hendy of Chelmsford, Phyllis Elizabeth Mary Morgan, Catherine Wilhelmina Morgan (all over 21), Eleanor Mary Morgan (20) Louisa Jemima Morgan (18) (D.1815), John Woodroffe Morgan (14).
1810: Indenture March 24. Thomas Jones of Usk and Alexander Jones, executors. Thomas Hill of Stafford, Samuel Hopkins of Monmouthshire and Lewis Osborne, co-partners in the Abergavenny Bank. Eleanor Mary Morgan of Chelmsford, Thomas Hill, the younger, of Prestwood, Staffs.
Samuel Hopkins then paid £1400 to the capital of the bank partnership of T Hill, the elder, Samuel Hopkins & Lewis Osborne for absolute purchase of their interest in the property.
1813
: Samuel Hopkins died and left his portion to William Steel, surgeon, of Abergavenny.
1817
: The Reverend John Woodroofe Morgan, having inherited the portions belonging to his deceased parents and his sister Louisa Jemima, sells the property to William Steel, already part-owner, who now occupies it. 1833: William Steel borrows £3048.15s from William Augustus Gott and others.
1838
: The property is mortgaged to William Augustus Gott of Plymouth, Thomas Steel of Abergavenny, surgeon and Baker Gabb of Abergavenny for £3245.7s.9d and the still unrepaid £3048.15s.Part of the property is now occupied by William Steel (at no 7) and part by Miss Reynolds (no5). Thomas Gabb occupies no 11.
1848
: William Steel willed his estate to his wife Harriet Steel (D.1883), Elmes Yelverton Steel, his nephew (D. 1881) and Baker Gabb.
1861
:Augustus Gaul Gott, son of W A Gott and sole surviving executor, sold the property to John Berry Walford for £8000.
1862
: The mortgage was transferred from John B Walford to Samuel Hopkins Steel (who lived over no 3 Nevill Street) and Elmes Yelverton Steel (who lived at 57 Frogmore Street).
1884
:August 2. Conveyance of two houses in Nevill Street from Dr Samuel Hopkins Steel to Dr William Dyne Steel for £1200. Aug 3. William Dyne Steel mortgaged the property to Dr Samuel Hopkins Steel for £1226 (recovertance 1892). The property was then occupied by No 5: James Edward Hill, No 7: The Misses Savill and Malcolm, No 9: the lower floor by Thomas McGraith, tailor, and the upper floor by the Misses Savill and Malcolm, at the back was William Davies, butcher.
If you have any further information about this property please email alhs@live.co.uk