9 and 10 High Street
Main details
Address:
Present Occupier:
Present Owner:
Ground Floor:
Other Floors:
Date when first used by present occupier:
9 and 10 High Street

Natwest Bank
Banking / other floors : offices
1822
Before and After Images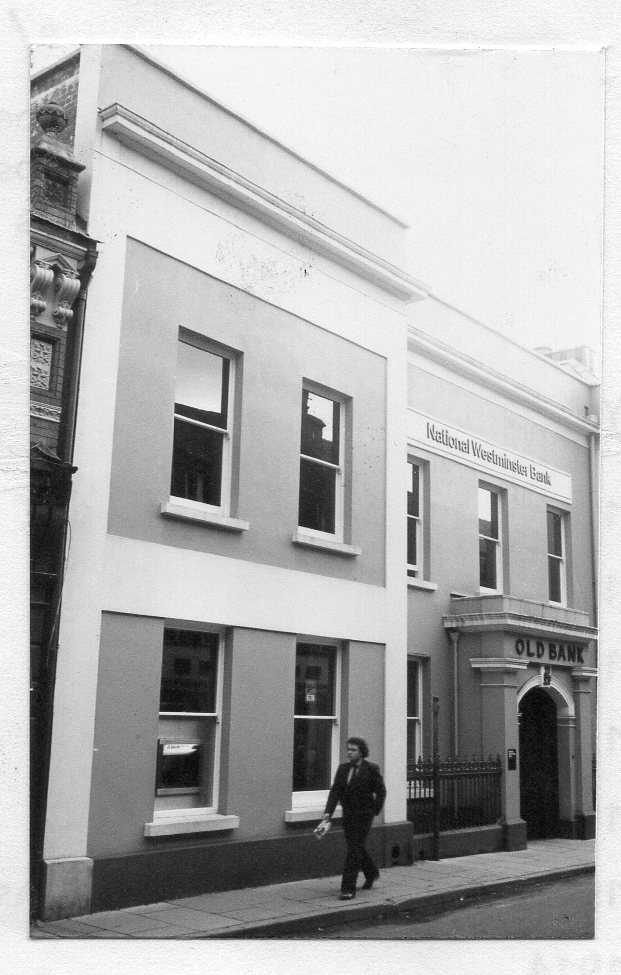 1979/80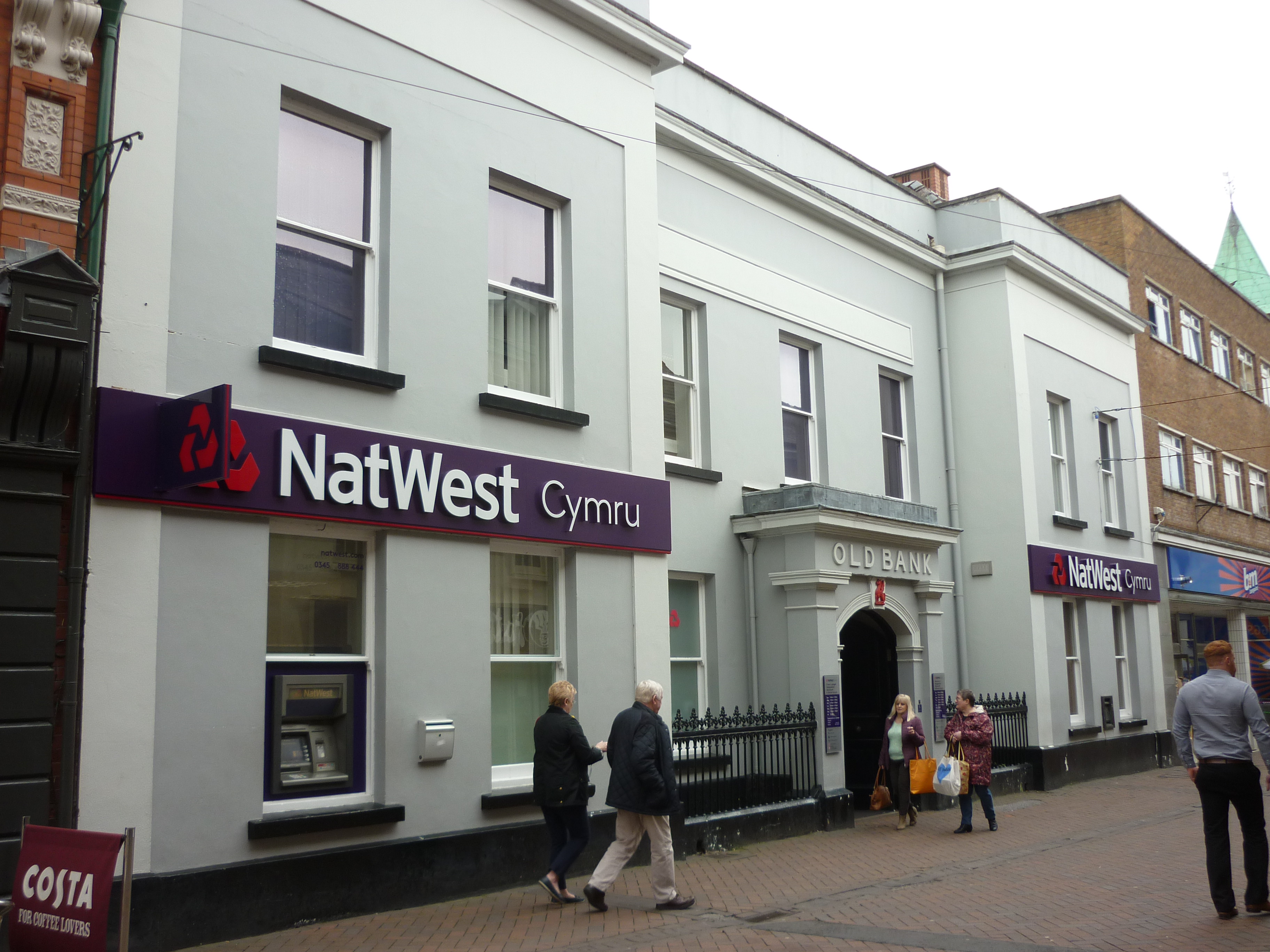 2016
---
About the building
Source : Local History Survey 1980
Grade II listed building, on account of rear elevation internal details and proportions of street façade.
Main staircase mid 19th century, elegant design with straight balusters and wood handrail; oval lantern. First floor corridor with fielded panelled doors. In the south east wing there is an earlier 18th century staircase rising to the second floor.
Ground floor banking hall with doorways and fireplaces in three walls forming a symmetrical composition; round arched doorways with moulded architraves; Gothic fireplaces.
Barrel vaulted cellar with old vault door of iron with slots for locking bolt.
The Welsh Office says early 18th century for the rear elevation, mid 19th century for the frontage but recent renovations have proved that the original house, no. 10, is very much earlier, having an ~"upper cruck construction with timber-framed walls filled with wattle & daub".  Also it is on a lower level than the rest of the building.  The upper cruck trusses can be seen in a good state of preservation on the 2nd floor
---
Previous occupiers
National Provincial Bank Ltd. (no.9)
Arthur Lucas, Resident & Bank Manager (no.10)
National Provincial Bank Ltd. (no.9)
National Provincial Bank Ltd.(no.9)
National Provincial Bank Ltd.(no.9)
National Provincial Bank Ltd.(no.9)
National Provincial and Union Bank of England Ltd.(no.9)
Charles Thomas Denstone-Edwards, Resident & Bank Manager (no.10)
National Provincial and Union Bank of England Ltd.(no.9)
National Provincial Bank Ltd.(no.9)
National Provincial Bank Ltd.(no.9)
National Provincial Bank Ltd.(no.9)
National Provincial Bank Ltd.(no.9)
National Provincial Bank Ltd.(no.9)
Manley Ashwin, Residence & Bank Manager (no.10)
National Provincial Bank Ltd.(no.9)
Manley Ashwin, Residence & Bank Manager(no.10)
National Provincial Bank Ltd.(no.9)
Manley Ashwin, Residence & Bank Manager (no.10)
National Provincial Bank Ltd.(no.9)
Manley Ashwin, Residence & Bank Manager (no.10)
National Provincial Bank Ltd.(no.9)
Manley Ashwin, Residence & Bank Manager (no.10)
Jan 15th: Bought by National Provincial Bank of England from the Monmouthshire Agricultural and Commercial Bank.(no.9)
Bailey, Gratex, Williams, Nicholson, Milman & Bailey Jnr.(no.9)
William Gwynne, Residence (no.10) (Worked at no.8)
Bailey & Co. Bankers (no.9)
George Ackrill, Residence & chemist; accident insurance (no.10)
Bailey, Gratex & Williams, Bankers (no.9)
George Ackrill, Residence & chemist (no.10)
Before this date, no.9 was part of the garden of no.10 (see Wood's 1834 map)
George Ackrill, Residence & chemist (no.10)
Bailey & Co, Bankers (no.10)
Hill & Morgan, Bankers (no.10)
Hill, Hill, Osborne & Co, Bankers (no.10)
---
Other information
For more images of 9 & 10 High Street click
* here *
Source : Abergavenny Local History Society Survey 1980:
The part of the bank that was once No.10 High Street was always used as a residence until after 1937.  The front door has been replaced by a window, below which a foot scraper is still to be seen.  Once incorporated into no. 9, it lost its individual identity.     During the renovations in the 1980s, it could be seen how the Bank developed with no.10 becoming a residence of the manager and a new wing, then the Bank being built in the garden.  These are the two wings projecting at the rear.    Later, the middle was filled in, in two separate stages.  A new frontage was designed to unify the hotch-potch of buildings inside, in which there were several staircases, none of which connected more than two floors
Some of the posts held by the residents of No.10 were :
1920 : Denston-Edwards : Treasurer of Abergavenny Union, Rural District Council, Victoria Cottage Hospital, District Nursing Fund, Borough Free Library.  At the time, D H James seems to have been the Bank Manager
1901-1910 : D H James : Treasurer for Sanitary Purposes, Union & Rural District Council, Victoria Cottage Hosital, District Nursing Fund, Free Library
1891 : Manley Ashwin : Treasurer to the Improvement Commissioners, Union & Rural Sanitary Authority, The Corporation
No. 10 High Street : National Westminster Bank Ltd
The first bank in Abergavenny in 1792 was the partnership of Thomas Hill of Stafford, Samuel Hopkins & Lewis Osborne. They were the developers of the Blaenavon Iron works, their bank was at 5 Nevill Street.  By 1810, it was known as the Abergavenny Bank and moved to 10 High Street in 1822, known as Hill, Hill, Osborne & Co, Bankers
1834-45: The first recorded owner is John Walter Roberts Esq, Ormely Lodge, Ham, Surrey
1841 : The property was described as a "Capital messuage or mansion house with the lawn and garden there unto belonging …."
1845 : The property passed to his son, Reverend William Walter Roberts, Clerk in holy orders, of 76 Kensington Gardens Square, London
1909 : It appears that the Roberts family did not occupy the property, at least after 1839, when Mr John Walter Roberts leased it to William Morgan for 99 years at £150pa.   Mr William Morgan leased the property to the bank
John Wood's map of 1834 shows the "Old Bank" slightly set back from the road and occupying only the north side of the plot (i.e. no.10) and surrounded by an L-shaped garden.  However, the T Morrice map of 1800 shows a continuous frontage along High Street and the shape of the building at the back is clearly seen
If you have any further information about this property please email alhs@live.co.uk